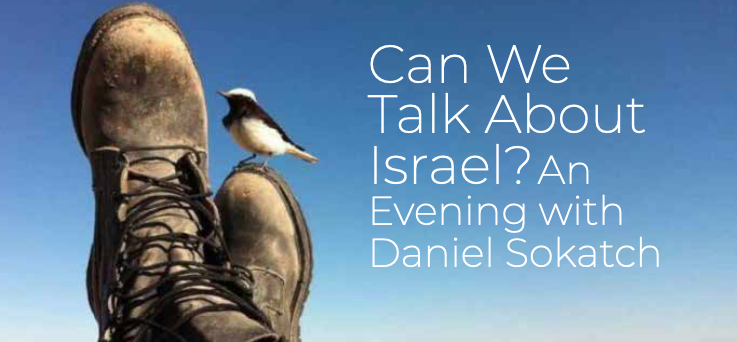 In 2022, Israel360 will continue its series of regularly occurring programs that consider the many aspects of Israel – modern and ancient – from diverse viewpoints and approaches. Some sessions will have a cultural, political or military focus, while other events will examine Israeli history, sociology or the peace process.
The January event features Daniel Sokatch, author of Can We Talk about Israel?: A Guide for the Curious, Confused, and Conflicted, a supreme­ly nuanced discourse of the Israeli-Pales­tin­ian con­flict, past and present. It is broad in scope, yet detailed in analy­sis, thought-pro­vok­ing for the well-informed, yet acces­si­ble for the new learn­er.
It is the story of that conflict, and of why so many people feel so strongly about it without actually understanding it very well at all. It is an attempt to grapple with a century-long struggle between two peoples that both perceive themselves as (and indeed are) victims. And it's an attempt to explain why Israel (and the Israeli-Palestinian conflict) inspires such extreme feelings.
Daniel Sokatch has served as the Chief Executive Officer of the New Israel Fund (NIF) since 2009. Before joining NIF, he served as the Executive Director of the Jewish Community Federation of San Francisco, the Peninsula, Marin and Sonoma Counties. Prior to his tenure at the Federation, he was founding Executive Director of the Progressive Jewish Alliance (now Bend the Arc).
Can We Talk About Israel? An Evening with Daniel Sokatch
When: Thursday, Jan. 13  at 6:30 pm
Where: Zoom with Q&A to follow
Price:   $5
Registration: oregonjcc.org/authorseries
The event is co-sponsored by the Mittleman Jewish Community Center and Neveh Shalom's Israel360.