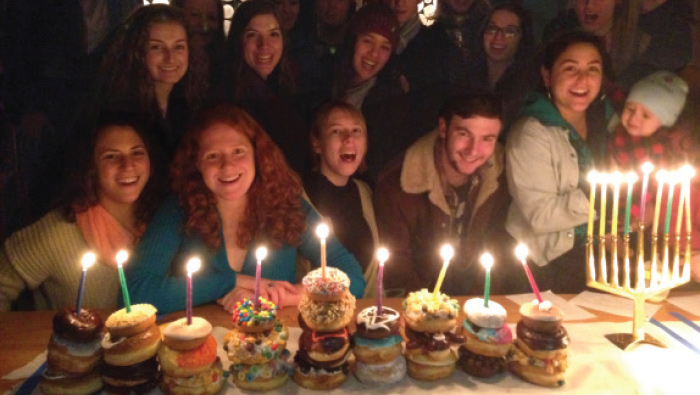 By Alex Raphael
Peer Network Engagement Intern ay Lewis & Clark College
Last year, my first year at Lewis & Clark College, I was sad to realize I was missing the first night of Hanukkah at home. On top of that, due to the school calendar, I had missed the annual Hillel Hanukkah Shabbat which was the weekend before Hanukkah began. I expressed my desire to be able to light candles on the first night to some of my Jewish friends who I learned felt the same way. With PDX Hillel's support we joined together, as only one of us had a hanukiyah, and decided to get together for a short time just to light candles and say prayers. I posted a message on a Hillel Facebook page the day of the event inviting anyone who would like to join us. I was surprised to have our group of four turn into almost 15 people!
This was the inspiration for my initiative as a Hillel intern this year. Hanukkah falls earlier in December so students will be at school for all eight nights. The first night, I am planning a pre-finals de-stresser Hanukkah celebration! Hanukkah is a time of joy and happiness and time together with family and friends. Hanukkah also tends to be the holiday that people who are not religious also participate in celebrating and I am looking forward to be able to bring people together for some fun while we are all at school before finals. There will be card games, classic dreidel with gelt, and potentially a craft of some kind so students can have their own hanukiyah for the following nights.
With the activities plus latkes and donuts, of course, I can't wait to have the community come together to celebrate the beginning of the Festival of Lights!
By Kelsey Kaplan
Portland State University Senior, JSU president
Every year for Hanukkah, JSU on PSU with PDX Hillel hosts a very special Hanukkah Shabbat for students. It's an exciting time of year and we always have a fabulous turnout of about 50 students. This year we are expecting close to 70 students! Our celebration includes a white elephant gift exchange in the giving spirit of Hanukkah, as well as candle lighting, dinner (with latkes and donuts of course!) and songs. It's always a festive time of year and students appreciate the community atmosphere Hillel provides, especially when it's a student's first time away from home. This year, our Hanukkah Shabbat will be on Dec. 4 at the Native American Student Center at Portland State University at 6 pm.