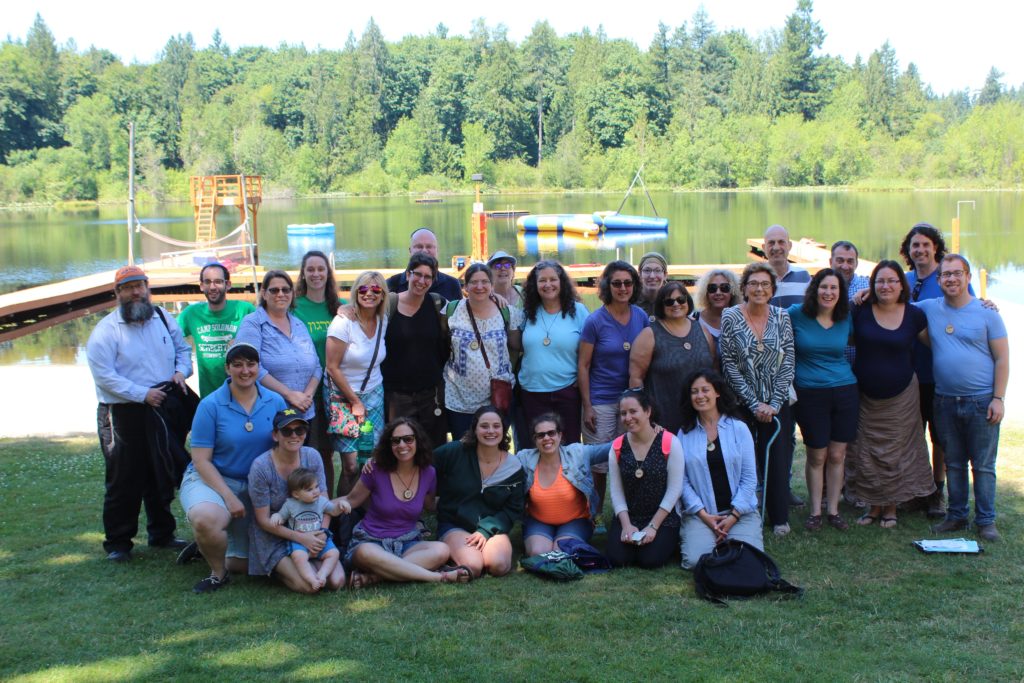 PHOTO: Participants at the Jewish Educators Day of Learning gather at Camp Solomon Schechter.
Camp Solomon Schechter launched its inaugural Jewish Educators Day of Learning, which was held on July 5-6, 2017, at its facility in Tumwater, WA. The event brought 30 Jewish educators together from throughout the Pacific Northwest for this event, free of charge. This year's theme was Israel education where participants learned methods of teaching about Israel through a value-driven approach, and they developed relational approaches emphasizing that Israel education is also about the people.
"I am so excited by the success of our inaugural year," says CSS Executive Director Sam Perlin. "Not only did participants learn different ways of incorporating Israel education into their curriculum, they got to know other Jewish educators from across our Pacific Northwest community – from Vancouver, BC to Eugene and the Olympic Peninsula to Spokane."
This year's Jewish Educators Day of Learning was generously funded by the Stan and Ethel Katz Briller Jewish Education Fund of the Oregon Jewish Community Foundation, the Jewish Federation of Greater Seattle, and Camp Solomon Schechter. The educational content was developed in partnership between Camp Solomon Schechter, StandWithUs, the Jewish National Fund, the iCenter for Israel Education, the Hillel at the University of Washington, and Panim Hadashot.
"Schechter is the perfect place for a Jewish Educators Day of Learning," commented iCenter Senior Educator and Consultant Shalom Orzach. "This place . . . this kehillah [community] . . . is infused with an overwhelming excitement for Judaism and a love of Israel in a natural setting." Participants saw first-hand that Schechter and their educational institutions share the same mission.  They experienced Schechter's ruach (spirit) with camp in full swing and confirmed that Jewish camp is the perfect place for campers to build Jewish community and Jewish identity.
Camp Solomon Schechter has a 63-year tradition of fun, friendship and Jewish education in the Pacific Northwest. We create a unique, welcoming and spiritual Jewish environment based upon the ideals of the Conservative movement, offering an innovative experience for youth of all denominations entering 2nd-12th grades. At Camp Solomon Schechter, Judaism and Joy are truly one!