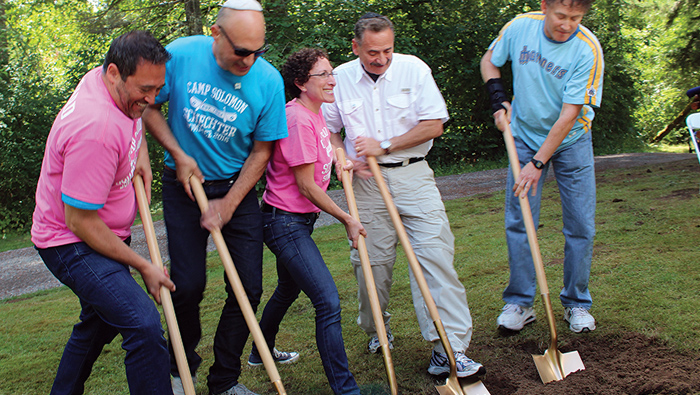 On July 10 a formal groundbreaking ceremony at Camp Solomon Schechter launched the start of major construction at the camp. From 60 to 120: The Campaign to Build Jewish Continuity is a $12 million multiyear project, beginning this fall, to refurbish the camp's facilities over the coming years.
Projects include:
Chadar Ochel (dining hall), where youth and staff gather to share meals and learn together, will be built in the 10 months between summer camp 2017 and 2018.
The infirmary will be redesigned into a Mirpa'ah (health center) to include two exam rooms, expanded medical bays, an office and a separate housing facility for medical staff.
Mercaz (sports & arts center) will provide a covered basketball court-sized outdoor space and enclosed classrooms to accommodate up to 60 kids at a time.
Misrad Kabalah (welcome center) will create an efficient operational nerve center for the entire camp.
A spiritual meadow and infrastructure improvements round out the plans.
But this campaign is about so much more than buildings. Talking about enhancing this cherished camp for the Pacific Northwest community, CSS Executive Director Sam Perlin said, "camp is kids … (and) Schechter is also about adults. That's because it's not just a summer experience or a school-years' experience. As we have found, it's a lifelong experience."
The facility currently hosts more than 500 campers and staff each summer and is used during the year by the Osprey Camp program, which works primarily with distressed school districts in Southwest Washington to provide students with a powerful application of science concepts as they live and learn in the outdoors. It also provides a unique rental venue for schools, nonprofits, governmental organizations, tribes and individuals to have conferences, retreats and special events.
Speakers at the groundbreaking also included CSS Board President Sarah Glass; CSS Board Vice President Andy Kaplowitz; representatives of major donors, including Jerry Cohen for the Samis Foundation and Jay Holzman for the Holzman Family; Tumwater Mayor Pete Kmet; and two CSS campers. Also in attendance were Tumwater Councilmember Debbie Sullivan, Tumwater Building & Fire Safety Official John Darnell and Lacey Deputy Mayor Cynthia Pratt.