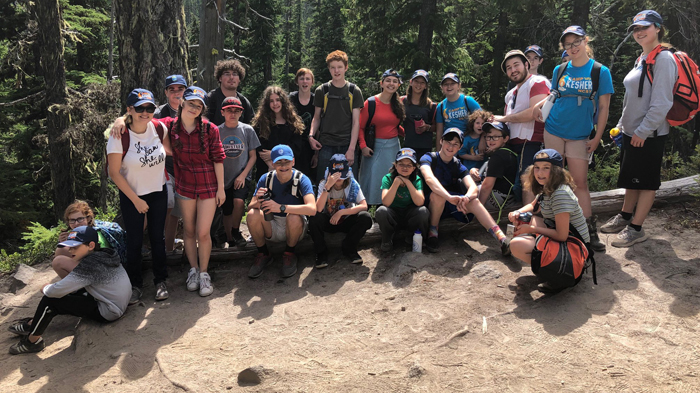 Photo: Camp Kesher's 2019 campers.
Camp Kesher is the newest overnight camp serving Jewish kids in Oregon and Washington. Its first week-long camp was held in 2019 at a lodge on Mount Hood. This year the 12-day camp will be located at Camp Lacamas near Lake Lacamas in Camas, WA.
"This place is better for us, Mount Hood was a great lodge, but there were no grounds," says Meira Spivak, camp direct at Camp Kesher and NCSY's Oregon director. "This is a real camp with cabins and an auditorium, and it's by a lake. We're accessible to Oregon and Washington – it's right on the border. It's a beautiful location and it will give us more space."
Meira started the camp because she realized that for many kids after their bar or bat mitzvah, after studying so hard for such a momentous occasion, they get kind of "burnt out" on Judaism.
"Unfortunately, for many kids, instead of it being the beginning of their Jewish connection, it turns into almost the end," she says. "I'm trying to undo that and I truly believe that the only way kids are going to want to stay Jewish long term is if everything Jewish is fun and enjoyable."
Camp Kesher is an outdoor-focused camp with activities like white water rafting, hiking, recreational activities and camping – all infused with a love of Judaism.
The day starts with Jew Jitsu, Jewish centered learning and activities, which for some campers may consist of formal prayer, and for others, it could be just a conversation. The choice is up to the individual.
"The kids are from all different backgrounds," says Meira. "We have kids coming who are affiliated and unaffiliated. No matter where kids are, we want to meet them where they are and give them a positive experience."
The staff of Camp Kesher is a combination of those with NCSY backgrounds and college and high school students with previous camp or youth group experience. "They're not counselors that are trying to go and hang out with each other at night. They are coming to make sure that every kid is having a good time, and that's our number one priority," says Meira.
The activities are also top-notch, and thoroughly planned. Meira jokes that last year's camp was only a week long, and she spent about a month planning each day. "We put so much thought into it, and we have so much experience in camping and traveling and working with kids collectively. We have a lot of resources and background with NCSY."
Another unique thing is that all of the food at Camp Kesher is homemade. Meira used to be a caterer, so she oversees the food preparation. They also work closely with the families of those children who have special diets so that they can accommodate their needs.
The 12-day camp is available to current fourth through ninth graders, and there's also a 3-day option for current third graders. There is a staff and training program for 10th through 12th graders, and those staff and trainers will receive a stipend at the end of the session.
The camp is also affordable for an overnight camp. "We feel that Jewish camp is a necessity; it's not even a luxury, and kids really need the engagement during the summer," says Meira. The camp is $1,150 for 12 days, including registration. Financial aid is also available.
"Everything we do – our programs are dynamic, exciting and they're run professionally, and that's the standard that we go for," says Meira. "We don't want Camp Kesher to be the best-kept secret in the Northwest."
For more information, visit campkesher.ncsy.org.