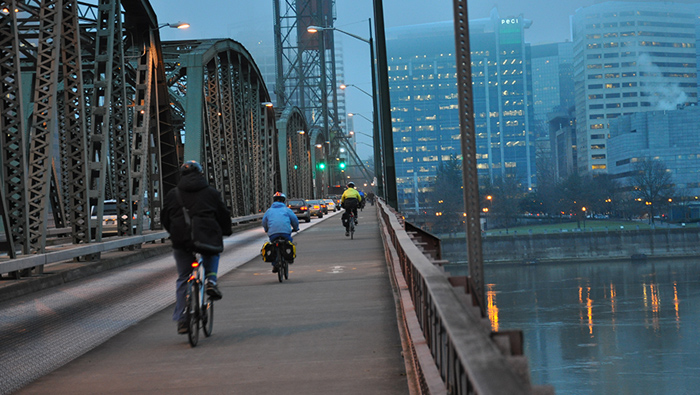 FINANCIAL
FIRST REPUBLIC BANK PRIVATE WEALTH MANAGEMENT
Rebecca DeCesaro, Senior Managing Director
Barbara Palmer, Regional Managing Director
947 SW Broadway
Portland, OR
503-471-4906
rdecesaro@firstrepublic.com
firstrepublic.com
First Republic is a client-focused private bank specializing in wealth creation and management. We offer an array of services to help both individuals and businesses meet their financial goals.
GRADOW CAPITAL MANAGEMENT
Steve Gradow, President
4800 Meadows Road, Ste. 300
Lake Oswego, OR
503-534-3636
steve@gradowcap.com
gradowcap.com
Confidence in your financial future begins with the sense that you have been understood: that your needs and goals have been recognized by individuals who listen and who provide clear explanations of critical information. Our advice is based on years of experience in financial markets and portfolio management. We rely on time-tested philosophies, objective analysis and an appreciation of individual concerns. GCM provides the vision to grow your wealth and clarify your financial future.
MORGAN STANLEY PRIVATE WEALTH MANAGEMENT
Robert Stolar, Managing Director
Adam Merino, Executive Director
Devin Marino, Portfolio Management Associate
522 Fifth Ave., 10th Floor
New York, NY
212-296-6329
fwgsa@morganstanley.com
The Family Wealth Group at Morgan Stanley PWM is a specialized team of interdisciplinary strategic advisors providing services including financial & investment planning, estate & family succession planning, philanthropic advisory and administrative services. The group is headed by Robert Stolar, JD LLM, a Managing Director and Private Wealth Advisor at Morgan Stanley. Drawing on three decades of investment and financial planning experience, Robert was recognized by Barron's as one of the country's top 100 financial advisors for 2016.
WEST BEARING INVESTMENTS A DIVISION OF FERGUSON WELLMAN
Josh Frankel, CFP
888 SW Fifth Ave., Ste. 1200
Portland, OR
503-417-1444
frankel@westbearinginvest.com
westbearinginvest.com
West Bearing Investments is founded on the investment principles, structure and expertise of Ferguson Wellman Capital Management. Using strategies managed by our local team of in-house analysts, clients benefit from diversified, consistent investment portfolios aligned with their long-term goals and objectives. West Bearing Investments is led by Josh Frankel, a certified financial planner, board member of the Oregon Jewish Community Foundation, past chair of Greater Portland Hillel and past president of the Oregon Club of Portland.
HEALTH
OREGON CLINIC
Locations throughout Portland
503-935-8000
Community@orclinic.com
Oregonclinic.com
Specialty Medicine with Commitment, Care & Compassion. The Oregon Clinic is a patient-centered medical and surgical specialty practice serving the Portland metropolitan area. Our 240 providers are dedicated to delivering the highest-quality individualized healthcare to every patient. And our compassionate team believes in a collaborative approach to ensure that the patient always comes first. We have 60 locations and accept most insurance plans.
PACIFIC AUDIOLOGY CLINIC
Doctor Alisa B. Weinzimer
Doctor Allison E. Bradley
5010 NE 33rd Ave.
Portland, OR
503-284-1906
5331 SW Macadam Ave., Ste. 395
John's Landing, Water Tower Building
Portland, OR
503-719-4208
info@pacoregon.com
pacoregon.com
Pacific Audiology Clinic is a women-owned and operated clinic. We are dedicated to your success in achieving better hearing. We pride ourselves in offering you high-quality assessments and various treatment options for all your needs.
RJ EDWARDS AESTHETIC CLINIC
R. Jessie Edwards, Practitioner
17620 Pilkington Road
Lake Oswego, OR
971-808-7077
info@rjedwardsclinic.com
rjedwardsclinic.com
A Board Certified Family Nurse Practitioner, R. Jessie Edwards RN, MN, FNP-BC is a member of the American Society of Plastic Surgical Nurses, American Academy of Nurse Practitioners, and Sigma Theta Tau International Honor Society of Nursing. Jessie was trained by Dr. Bruce Carter, MD, one of the foremost plastic surgeons on the west coast, and she still works with his protégé, Dr. Edwin Austin, MD.
INSURANCE
ALFRED J DAVIS COMPANY
Dick Davis, CPCU, Owner/Producer
Annie Duden, Producer
1010 SW 11th Ave.
Portland, OR
503-226-3801
Dick@alfredjdavis.com
Annie@alfredjdavis.com
For more than 69 years, the Alfred J. Davis Company, a privately owned regional insurance agency, is distinguished by our reputation of providing exceptional personalized service and unparalleled technical knowledge.  We are committed to building trusted relationships with our clients by consistently exceeding their expectations for personal service and providing them a professional and unique approach to handling their risk of a financial loss, which we hope they never face.
FOURNIER GROUP
Dirk Fournier, CEO
Cathy Rottle, Account Executive, Personal Insurance
Brent Clair, Account Manager, Commercial Insurance
510 SW 5th Ave., Ste. 701
Portland, OR
503-251-2255
info@fourniergroup.net
fourniergroup.net
Fournier Group is a full-service independent insurance agency headquartered in Portland. We serve people and businesses of all sizes across the Pacific Northwest. We keep what's important to you safe – your home, auto, personal property, small business or global corporation. We identify risks and provide solutions that give you peace of mind and confidence to pursue your dreams. As your trusted adviser, we treat you like a person, not a number, profit margin or liability.
HECHT GROUP
Tricia Hecht-Glad
425 NE Hancock
Portland, OR
503-542-1124
triciah@hechtgrp.com
JEWELRY
PACKOUZ JEWELERS
Rick Mahler, Owner
Ian Mahler, Sales
Kari Mason, Sales
522 SW Broadway
Portland, OR
503-228-3111
rick.mahler@packouzjewelers.com
packouzjewelers.com
Established in 1917, Packouz Jewelers is a family owned and operated business located in the heart of downtown Portland's historic Broadway district. With a continued legacy of offering the finest timepieces and jewelry combined with unsurpassed customer service, Packouz Jewelers has continued to bring a tradition of elegance and sophistication to Portland for nearly 100 years.
LEGAL
GEVURTZ MENASHE
Shawn N. Menashe, Managing Shareholder
Albert A. Menashe, Shareholder
Zachary J. Fruchtengarten, Shareholder
Marshal P. Spector, Of Counsel
115 NW First Ave., Ste. 400
Portland, OR
503-227-1515
info@gevurtzmenashe.com
gevurtzmenashe.com
Gevurtz Menashe has been helping families in Oregon and Washington with their legal needs for over 30 years. They have earned a nationally recognized reputation for providing superior legal representation throughout the Pacific Northwest. Whether your need is divorce, custody, parenting time, wills, trusts, probate or adoption, they will help protect what's most important.
ORGANIZERS
THE PRACTICAL SORT ORGANIZING SOLUTIONS
Sherri Curley, Owner
Portland, OR
503-462-4222
sherri@thepracticalsort.com
thepracticalsort.com
Looking to make your home more inviting, living spaces more relaxed, or work areas more efficient? The Practical Sort Organizing Solutions will help you conquer out of control rooms. We guide you step by step to achieve practical organization solutions. Free up your time, use coveted real estate prudently, and rediscover your space. Visit us at thepracticalsort.com. We will get you sorted. Member: National Association of Professional Organizers. Certified by: the Institute for Professional Organizers.
REAL ESTATE
THE HASSON COMPANY
Carolyn Weinstein, Principal Broker
Robin Weinstein, Principal Broker
25 NW 23rd Place, Ste. 4
Portland, OR
503-802-6415 Carolyn
503-802-6405 Robin
Weinsteinc@hasson.com
carolynandrobin.hasson.com
It takes smart, savvy expert Real Estate professionals to navigate the intricate Portland-area market and help clients seize opportunity when it strikes. Carolyn and Robin are agents who are that valuable weapon for finding hidden gems, negotiating great deals and delivering exceptional results. Only industry leaders like them can draw on their invaluable knowledge, connections and resources to pull out all the stops for their clients' ultimate satisfaction. 50 years combined experience isn't expensive, IT'S PRICELESS.
JEANNE PAUL TEAM
Windermere Stellar
Jeanne Paul, Principal Real Estate Broker
James Loos, Licensed Real Estate Broker
733 NW 20th Ave.
Portland, OR
503-497-5033
Team@JeannePaulTeam.com
JeannePaulTeam.com
PROACTIVE, PROFICIENT, PROFESSIONAL. The Jeanne Paul Team brings an unmatched breadth of talents, depth of experience and energy level to the Portland real estate market. Windermere Stellar
JOE MENASHE
Realty Trust Group
600 Avenue A, Ste. 200
Lake Oswego, OR
503-784-1855
joemenashe@realtytrust.com
JoeMenashe.com
Joe Menashe, a native Portlander, has been helping people buy and sell homes for more than 25 years in the Tri-County area. Joe brings a wealth of knowledge to every real estate transaction. His professional analysis and marketing is spot on, giving sellers a winning experience. Buyers always benefit from Joe's strategic approach and representation. Visit Joe Menashe's website for up-to-date client reviews and see why working with Joe was the best choice for them
KEITH BERNE, RE/MAX EQUITY GROUP
Keith Berne, Broker
6245 SW Capitol Hwy.
Portland, OR
Phone: 503-734-6646
kberne@equitygroup.com
keithberne.com
LORRAINE ROSE, (W)HERE REALTY
Lorraine Rose, Principal Broker
503-703-8666
lorrainerosepdx@gmail.com
where-inc.com
"When you are moving in, moving out or moving up, call Lorraine Rose." With more than 30 years experience in Portland, Lorraine Rose is one of Portland's top Realtors.