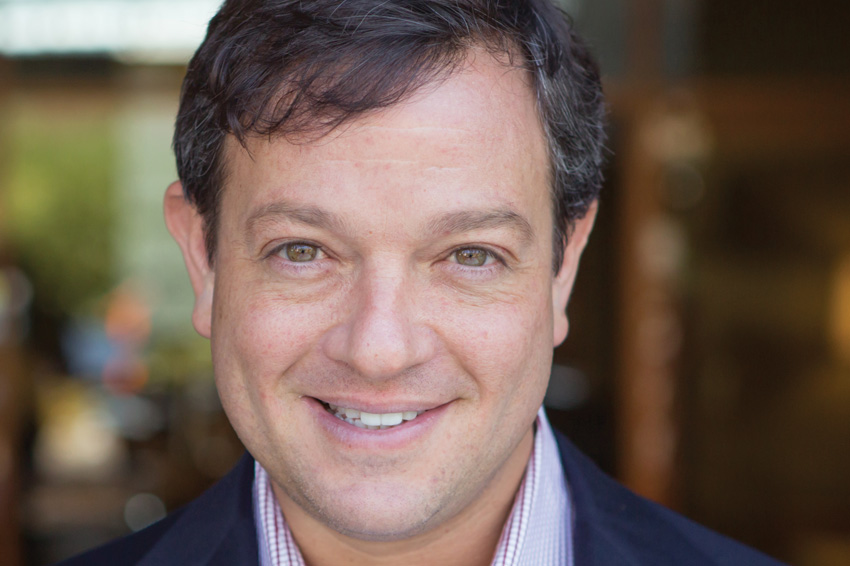 Meriwether Group founder and CEO David Howitt guides entrepreneurs as they "birth newness into the world."
With more than 20 years in product development, branding and business strategy for both start-ups and Fortune 100 companies, David knows how to help dreamers bring their ideas to fruition.
Following graduation from Lewis & Clark Law School, he helped his wife, Heather, and her mother, Tedde McMillen, launch Oregon Chai in 1994. In just one year, sales of the home-brewed teas jumped from $20,000 to $200,000, and after six years in business distribution had spread to 40 countries. During that time David worked for Adidas, where he led the legal department for four years followed by another four in licensing and business development. After selling Oregon Chai to the Kerry Group in 2004, David founded the Meriwether Group to help other entrepreneurs reach their goals. He has helped companies such as Dave's Killer Bread, Voodoo Doughnut, Stumptown Coffee, Pendleton, Salomon, Klim, Bloch, Living Harvest and ABC Carpet & Home.
This month he plans to meet with a prospective client in Israel and says he is looking forward to deepening his connection and engagement with the nation known for its prodigious number of start-ups. His only previous trip to Israel was 31 years ago when he was 15. The "profound and amazing" three-week trip was with his grandmother, Lena Howitt, z'l. "She was a really important person in my life," says David. "She was a very kind and smart woman and played a critical role in my life."
The Meriwether Group, which now has a team of 12 people, offers support in three primary areas: funding, acceleration and exit strategy. It can fund a business with debt or equity. "We can roll up our sleeves and bring our collective understanding, experience, Rolodex and knowledge to become an extension of the (company's) team to help it grow," he says. "When the founder is ready for an exit or partial exit, we help sell, liquidate …"
"At Meriwether we believe … the entrepreneur is the modern day hero," says David. He says entrepreneurs have a significant impact through their creation of "the products, services and technologies we collectively use," which is why Meriwether helps them on their journey.
He believes "and" is a very important word. People don't need to choose between financial security and happiness. He chose his company's name as a reflection of the dual nature of life that is possible.
"Meriwether is from Meriwether Lewis of Lewis and Clark," David explains. "I chose the name because I felt it supported the power of and. Lewis and Clark were lawyers, Harvard educated, East Coast traditional, blue blood, society types – and they were explorers, adventurers who charted new paths. I felt that this would embody the ethos we wanted to bring into the world. Namely, that we could be both astute business counsel, lawyers, MBAs, executives and explorers, artists, creatives, hippies, musicians and lovers of life."
The Dalai Lama says, "The planet does not need more successful people. The planet desperately needs more peacemakers, healers, restorers, storytellers and lovers of all kinds."
David disagrees. "The world needs CEOs and lawyers and doctors who are also poets and artists. When we are both, we can heal the world," he says.
When he was growing up, tikkun olam (heal the world) was a phrase David often heard from his grandmother. David believes another Hebrew phrase – Ruach Elohim, the breath or spirit of God – also plays a role in that process. "God breathes into us; when we live from our divinity inside of us, that is how we repair the world," says David.
"Fundamentally my purpose, and that of Meriwether Group, is to help people to live from their Ruach Elohim in hopes we can be a small part of tikkun olam."
To further help others in their journeys, this past year David wrote Heed Your Call: Integrating myth, science, spirituality and business, published by Atria Books and Beyond Words, both divisions of Simon & Schuster.
His book shares the journey of successful entrepreneurs using the "road map" revealed in mythology and described by scholar Joseph Campbell as The Hero's Journey."We use The Hero's Journey, a formulaic map of life," which appears not just in ancient myth, but also in films such as "The Wizard of Oz," "Star Wars" and "Avatar."
David's own journey was not the path he set out to follow. He grew up in Grand Rapids, MI. His parents, Dennis Howitt and Leslie Vandenhoot, divorced when he was young. After earning his bachelor's degree at Denison University, he headed for Oregon in 1991 to begin law school at Lewis & Clark, intending to "be an environmental lawyer and go save some trees."
"When I was moving here, I met a blond, hippie girl in Telluride, CO, who went on to become my girlfriend and then my wife, Heather," says David.
After tasting Chai tea while on a trip to Southeast Asia, Heather announced she wanted to start her own business. Starbucks was taking off and revolutionizing coffee drinks, but "if you liked tea, you were stuck with a mug of hot water and a tea bag," says David. "She brewed at home with her mom, and I provided business support."
When he graduated, David took a job at a large law firm to provide financial stability for the family. But he soon realized a large firm "was not a good fit for me." Through networking, he landed a job serving as corporate counsel for Adidas. During his eight years there, he continued to support the growth of Oregon Chai (which he notes his Jewish friends all want to pronounce "hi").
The combination of product development in big business and growing an entrepreneurial start-up was an excellent preparation for launching Meriwether Group and for writing Heed Your Call.
He says he's a prime example of being able to be a CEO with financial stability and a luxury car, and also a happy, creative person involved with his family.
David and Heather have a 15-year-old son, Sawyer, and a 12-year-old daughter, Hailey Lena (named in memory of David's grandmother). Like many families, they are not affiliated with a congregation, though they do attend High Holiday services and Hailey has spent several summers at B'nai B'rith Camp.
"We light Shabbat candles on Friday night and try to observe Shabbat as a day of rest," says David.
The family also celebrates the holidays with their good friends and neighbors, Todd and Levia Friedman, whose children are the same age as the Howitt kids. During Passover David says they try to ask their children questions relevant to both the holiday and their own lives. His favorite question is "If you had to leave home with one day's notice, what would you bring and why?"