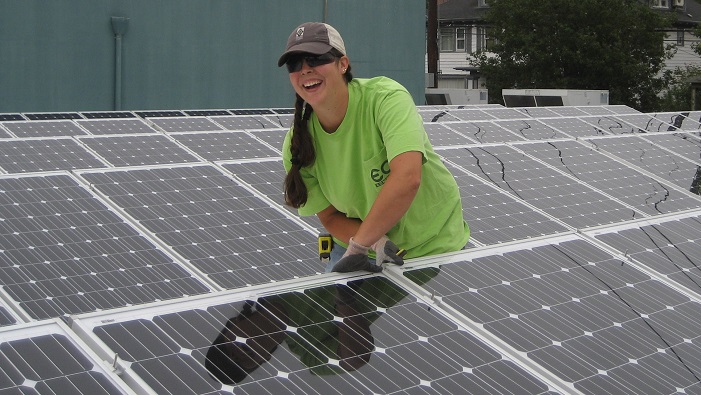 PHOTO: Solar panels help power PP&R's Matt Dishman Community Center. The bureau's East Portland Community Center, Wilson Pool and Southwest Community Center also have solar panels. Photo courtesy of Portland Parks & Recreation
Artists Rep receives $7 million donation
Artists Repertory Theatre announced on Feb. 2 that it had received an anonymous donation of $7 million. This historic gift is in support of Artists Rep's mission to produce intimate, provocative theater and provide a home for artists and audiences to take creative risks.
This is the largest donation made to Artists Repertory Theatre in its 35-year history and one of the largest gifts ever made to an Oregon arts institution. The funds are unrestricted and have been made available immediately.
This exceptional contribution has allowed Artists Rep to pay off its mortgage and other debt. Earlier this month, news reports focused on financial challenges, leadership transition and Artists Rep's intention to sell half of its property to create a sustainable home and operating model for the organization. Artists Rep will proceed with the sale of the building.
This gift gives Artists Rep the stability to examine and consider this building project from all angles and make the best decisions for the organization throughout the process. Artists Rep will maintain the south side of block, located on Morrison Street, between SW 15th and SW 16th Avenues. The plan empowers Artists Rep to remodel the south half of the block in a way that right-sizes its facility by creating two theaters, multiple rehearsal spaces and offices, including space for the many theater organizations that call Artists Rep home via its ArtsHub residency program. Artists Rep looks forward to working with the buyer, Wood Partners, the City of Portland, the ArtsHub companies, audiences and the neighborhood throughout this process.
artistsrep.org
Portland Parks and Energy Trust partner for sustainability
Portland Parks & Recreation earned more than $250,000 in rebates in 2017 for the bureau's efforts toward energy efficiency and sustainability. The savings to taxpayers are thanks to PP&R staff efforts and a partnership with the Energy Trust of Oregon.
The bureau will be reinvesting those rebates to launch an energy- and water-saving project at 48 sites, which marks an effort toward sustainability on a much larger scale.
Portland Parks & Recreation is making a significant contribution toward the City's commitment to using 100% renewable energy by 2050. This mark was established by a unanimous City Council vote in 2017, and Portland's elected officials continue to recognize the importance energy efficiency plays in reaching that achievement.
"Portland Parks & Recreation is leading the way towards sustainability and energy efficiency," says Portland Parks Commissioner Amanda Fritz. "Our city must move towards sustainable practices as soon as possible. PP&R's programs, sites and staff are becoming a model of how city government can embrace sustainability while reducing costs to taxpayers."
Portland Parks & Recreation earned $267,191 in rebates from Energy Trust of Oregon in 2017, and thanks to ongoing energy-saving efforts, the bureau has another $120,841 in further credits earned for next year already. The credits were awarded in large part for upgrades to various building-control systems.
portlandparks.org | energytrust.org
Nominations are due for Jewish professional award
Nominations for the 2018 Laurie Rogoway Outstanding Jewish Professional Award are due at noon March 2. The award was established four years ago to honor Laurie Rogoway, a pillar of Jewish professional leadership for over 30 years in Portland.
The purpose of this award is to recognize an individual currently working in a professional capacity at a Jewish communal organization in Greater Portland. This is for early to mid-career professionals (minimum three years in Portland Jewish community). The nominee must demonstrate outstanding professional work and a commitment to the field of Jewish professional leadership.
The award will be presented at Federation's Annual Meeting on June 14. The recipient will receive up to $1,800 to participate in a professional development experience. 
For more information or a nomination form, contact Caron Blau Rothstein at caron@jewishportland.org or 503-245-6449.
Jewishportland.org
Biz Ins & Outs submissions
Oregon Jewish Life welcomes submissions of news items for our Business Ins & Outs column. Please submit a brief write-up (up to 200 words), contact information (phone, email and/or website) and a photo of the person or product (attached jpg at largest available size). Submissions should be sent to Editor-in-Chief Deborah Moon at deborah.moon@ojlife.com by the 10th of the month for inclusion in the next month's issue.