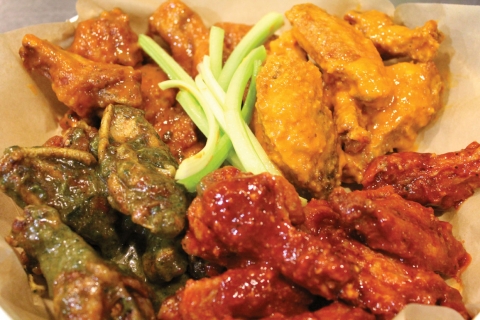 Fire on the Mountain Buffalo Wings has become a Portland institution since its opening in January of 2005. The restaurant is garnering national acclaim for its creative sauces, and it recently took home second place in the Creative Barbecue category at the National Buffalo Wing Festival.
Portland wasn't always so blessed with buffalo wings. Before the arrival of Fire on the Mountain, our city was voted the "Worst City for Wings" in the United States. Restaurant co-owner Jordan Busch moved here, in part, to fill this culinary void. "I was living in Colorado," he explains. "At the time, a friend of mine had just moved out to Portland, and he told us that there were no wings restaurants at all."
Busch had always had a penchant for chicken wings. He grew up attending a Reform temple in Long Island, NY, where he began to experiment with making hot sauces as a high-school student. "I used to make spicy peanut sauce way back in high school, and I even gave it to a teacher. I also made it at Super Bowl parties for friends and sold it at concerts and parking lots in Long Island." This peanut sauce is now a best-selling item on the Fire on the Mountain menu. Simultaneously sweet and spicy, it is inspired by Thai cuisine.
At any given time, Fire on the Mountain features 12 different sauces, all of which are Busch creations. He finds inspiration at restaurants and by improvising in the kitchen. "Sometimes I'll just go into the restaurant and throw things together. I like combining bold flavors, like fruits and spicy peppers." Many of his sauces feature this winning combination: raspberry habanero, mango chipotle, and whisky pomegranate.
The restaurant's El Jefe sauce is so spicy that it was recently featured on the Food Network's "Outrageous Food" program. "I'm a chili head, a hot sauce fanatic," says Busch. "I wanted to make something that was hard for me to eat." Fire on the Mountain runs an El Jefe Challenge: if a diner can beat Busch's record by eating 15 El Jefe wings in less than three minutes and 30 seconds, he will receive a T-shirt and a photo on the wall.
When asked why he is so obsessed with wings in particular, Busch replies that they make for a communal atmosphere. "All people from all walks of life are into big plates of wings. I like the concept of a casual wing joint where people get a little messy and eat spicy food and listen to some good music." Fire on the Mountain now operates three restaurants in Portland as well as a brand-new location in Denver. The newest Portland location, a family-friendly eatery in Fremont, features an expanded menu, a microbrewery, a private party room and a patio with a fireplace. "For now, this is our ultimate vision," says Busch.
Fire on the Mountain uses only free-range, organic chicken for its wings. Vegetarians also find something to cluck about; the restaurant is famous for its vegan chicken wings, which are surprisingly close to the original. A stick of sugar cane mimics the chicken bone. Many of the dipping sauces are vegan as well. Other non-meat options at the restaurant include pizza, salads, and French fries. During Hanukah last year, he added latkes to the menu.
Fire on the Mountain Buffalo Wings is open seven days a week. For more information, visit www.portlandwings.com.
Food and travel writer and jazz pianist Kerry Politzer is a recent transplant from New York. She greatly enjoys the Portland food scene. She has written for WHERE Traveler, IN New York and Dessert Professional. She publishes a log on the Portland-NYC culinary scene, The Rose and the Apple.