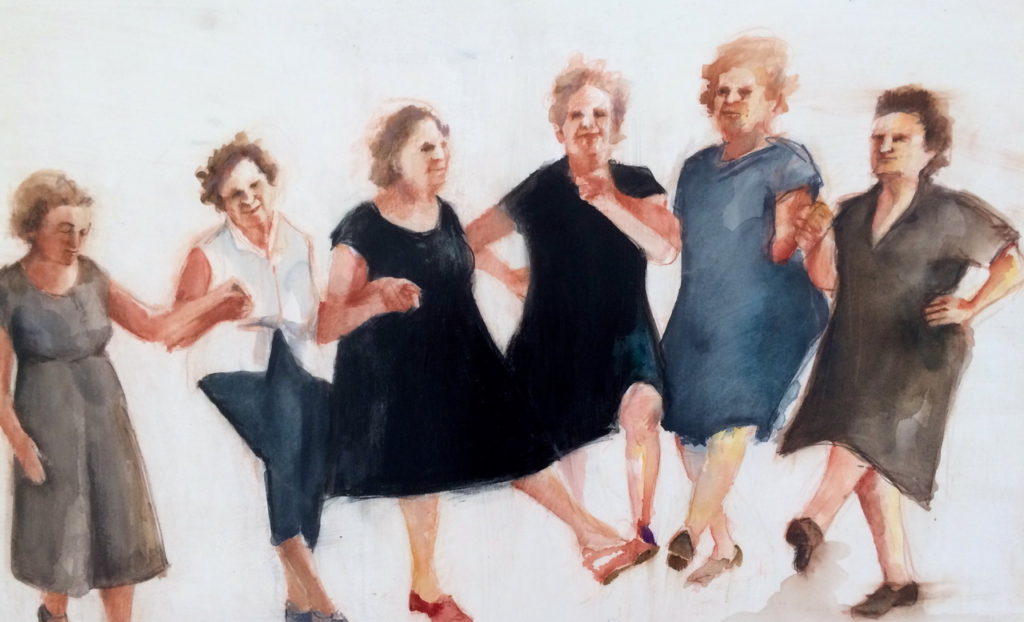 IMAGE: Drawing of Jewish women dancing from a series of Jewish drawings by Jared's mom, Jeanne Goodman. Jared is using a drawing from the series to illustrate each of his programs.
Jared Goodman hopes a little sweetness can help bridge some of the chasms that have opened up in the current divisive social climate.
Jared created Morgan St Theater five years ago to bring people together over ice cream and stories. This year his popular dessert pop-ups will have the added dimension of combatting anti-Semitism thanks to a grant from the Regional Arts and Culture Council.
"I believe anti-Semitism, like all forms of hatred, comes from not being exposed (to a group of people)," says Jared. "So I wanted to put myself in front of them to expose them to Jewishness."
"I will share stories about three moments that define my Jewishness," says Jared.
He will accompany each personal story with a retelling of a classic Jewish tale and a dessert inspired by that story. For instance, Jared was inspired to bake challah after reading a piece on Shabbat by Abraham Joshua Heschel. His retelling of that story will be accompanied by a sundae featuring waffled challah French toast. In a story by Isaac Bashevis Singer, a character dreams of eating a blintz, so that tale will be accompanied by lemon buttermilk ice cream wrapped in a blintz and topped with a fruit sauce.
The Jewish Project will be in three venues on Portland's Eastside and three in Portland's Pearl District, including one performance at the Oregon Jewish Museum and Center for Holocaust Education. To help attract non-Jews to the performances, Jared is donating some tickets to groups active near each venue so that price will not be an obstacle for people wishing to attend. The final performance at Woodlawn Methodist Church is presented in partnership with Don't Shoot Portland and Woodlawn MIC (Multicultural Impact Collective). Following that performance, a panel discussion will explore identity and assimilation for Jews and other marginalized communities.
Jared has seen the power of stories, both at his programs and also at home. Both of his children, Lena, 6, and Jonah, 2, are devotees of PJ Library, which each month delivers free books and music to enrolled children ages 6 weeks to 8 years.
"PJ Library is a fantastic resource," says Jared as his Jonah enthusiastically shows off one of his new books.
Jared wants to share the magic of stories with the community; his performances are kid-friendly for older children who will sit and listen not play on an iPad.
Performances will be Nov. 8, 10 and 17, and Dec. 1, 9 and 15. Times and locations vary. More information and tickets are available online at morgansttheater.com/tickets.