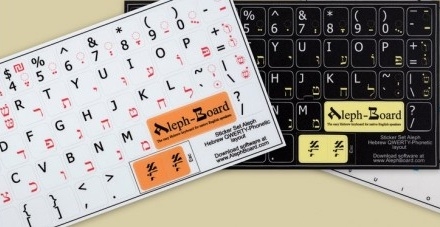 Bruce Morris designed a keyboard and supplemental software so he could touch-type his Hebrew homework for cantorial school. Then, when he and his wife were studying at an ulpan in Israel, he loaned the keyboard to her to type one of her poems in Hebrew.
She refused to give it back.
Noting his wife, Cassandra Sagan, is a poet not a techie, he says he was surprised that she was typing easily within 10 minutes.
"That experience made me realize it's not just me," he says. "When I saw how easily she learned it, I realized I had to com- mercialize it."
"The whole deal is if you are an English touch typist, the sounds are going to match," Bruce explains. "I have taught many, many people to use it in 10 minutes."
Bruce's keyboard pairs each Hebrew letter with the English letter with a similar sound. While existing software (such as Microsoft Word and Davka Writer) offers users an option to use a similar layout, no keyboard existed before Bruce found a manufacturer in Tualatin that could produce his economically. He also has developed supplemental software that makes it easier to type vowels and final letters in Hebrew.
When Bruce made the original keyboard for his own use, he bought three sets of Israeli Hebrew letter stickers to have all the letters he needed. Since Israeli Hebrew typists don't use vowels, he says it was hard to find sticker sets with vowels. So in addi- tion to selling keyboards, he also sells sticker sets so people can convert a laptop or other keyboard to his system.
Bruce also modified existing Hebrew software with supplemental software that comes with his keyboards and sticker sets. His supplement uses the number keys to type Hebrew vowels automatically (an additional keystroke is required to type a number); other programs also use the number keys for vowels but require multiple key strokes. Since Hebrew has no capitals, Bruce's software uses the shift key to type "final" Hebrew conso- nants; this method is used in some, but not all, other programs so his software standardizes the practice.
In a fun twist, he labels the escape key the "Oy" key, since users might be tempted to say "Oy Veh!" just before they need to "escape."
Israeli keyboards are based on the same principle as English "QWERTY " keyboards (named for the first row of letters). Both keyboards were developed in an era of manual typewriters and arranged keys so that common letter combinations would be far enough apart so the typewriter arms for the letters would not jam. The resulting Israeli keyboard has no relation to where an American touch typist would expect to find Hebrew letters.
The journey to a new keyboard began when Bruce was help- ing lead services at Congregation P'nai Or after the accidental death of the Renewal congregation's founding rabbi, Aryeh Hirschfield z"l. Bruce had been involved in Jewish music since high school, when his youth group leader was noted Jewish songwriter and performer Debbie Friedman z"l. Since she did not read music, he helped her proof the galleys for the music book to accompany her album "Sing Unto God."
Rabbi Goldie Milgram, who came to serve P'nai Or for the Jewish holidays following Rabbi Aryeh's death, inspired Bruce to pursue formal cantorial training.
Of that first encounter, Rabbi Milgram says, "My soul soared to work with such a flexible, intuitive, spiritually capable, musically talented cantor."
Rabbi Milgram says she also is impressed by his "long-needed" keyboard, which she says, "must come from his outside-the-box capacity for understanding what is needed and manifest- ing it in healthy ways grounded to Judaism and Jewish practice."
Recalling Milgram's visit, Bruce says, "She told me, 'You should be a hazzan.' She said she'd already written my recom- mendation to the Aleph ordination program. It's kinda hard to ignore that."
He enrolled in the Renewal movement's distance-learning program for rabbis and cantors in 2010. Both cantors and rabbis take many joint online classes – classes meet at set times with teachers and students interacting via webcams – though cantors, of course, take more music classes while the rabbinic students spend more time studying Talmud and other texts.
"When I got into the school, I discovered while studying Hebrew that I was trying to learn the words and grammar and then having to hunt and peck to do my homework," he says. "It was horrible. The idea of Hebrew QWERTY was out there, but there was no hardware."
So he made his own and looked for ways to share it.
The first keyboards came off the production line last April, just in time for Bruce to share it with Jewish Renewal founder Rabbi Zalman Schachter-Shalomi, who was in Ashland for an annual Renewal Shabbaton. Reb Zalman was encouraging and told Bruce that he had had similar ideas decades earlier.
In an interview with Oregon Jewish Life, Reb Zalman said, "When I got my first computer, it was a CPM system, and I had to type Hebrew. I opted for designing a way in which an aleph would be on 'a' and ayin on 'e,' a chet on 'x' and so on. I was able to program my dot matrix printer to produce those letters for me when I used the proper control codes. Earlier I had designed the same thing for the IBM Selectric typewriter, but I could not get the company to make me that symbol ball."
Now, decades later, he is delighted that Bruce has developed the hardware to bring that idea to fruition.
"Whenever I had to type Hebrew alone or enter it into a text in English, I found that the Israeli keyboard was cumbersome and difficult to work," Reb Zalman says. "I enjoyed working with Bruce's keyboard because my mind processes Hebrew letters closest to English ones. I recommend it warmly to people for entering Hebrew in ways that the fingers feel happy."
Bruce says the Aleph-Board keyboard and stickers have been selling well, especially when he takes them to Jewish conferences. Both are available online and at Jewish bookstores, including Everything Jewish in Southwest Portland. Keyboards (models for PC and Mac) are $59.95 and sticker sets are $9.95. Both come with information to download the software to modify existing Hebrew typing programs.