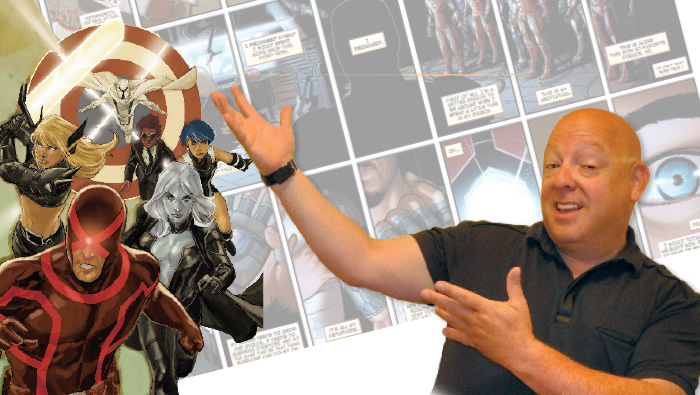 About a year after his parents divorced, 6-year-old Brian Bendis arrived at the Passover seder clutching his drawing of Spider-Man and announced that he would be "the artist of Spider-Man."
His mother is amazed at how close he came to predicting his future.
Today at 48, Brian doesn't illustrate Spider-Man, but he does write the full script (which includes instructions for the illustrators) for three Marvel comics, including The Ultimate Spider-Man and Guardians of the Galaxy, and has earned five Eisner Awards. His final issue of X-Men comes out this month, and then he begins writing Iron Man this fall. He previously scripted The Avengers for nine years, much longer than most of Marvel's writers stay with "one book."
"I did about 100 issues of X Men," says Brian. "When you are done, someone else takes over. It's like a relay race. It keeps the characters vibrant decade after decade."
After his first declaration about his future, Brian continued his fascination with Marvel superheroes and says that starting in sixth grade and continuing into his mid-20s he repeatedly submitted his work to Marvel comics.
Brian grew up in Cleveland attending the Hebrew Academy of Cleveland – a coed day school through sixth grade and the boys' school from seventh to 12th grade. He was a member of Young Israel and NCSY.
After graduating from the Cleveland Institute of Art with a degree in illustration and photography, he worked as an illustrator for several years.
"I was very ambitious, more ambitious than talented," says Brian. "When I stopped hounding them and worked on my own comics – that's when they called."
He had written several graphic novels, including the crime noir Goldfish, Jinx and Torso. He based Torso on Elliot Ness's first challenge after leaving Chicago – the hunt for the first known serial killer on American soil. At the time Brian was working for the Cleveland Plain Dealer and had access to its extensive archives on the topic. "That's the book that got Marvel's attention.
"Marvel called and hired me," says Brian. "I thought they had hired me as an illustrator."
When he asked what he would be illustrating, the Marvel executive said, "You know you are a writer, right? Your illustrations are terrible. But your writing is where it's at."
After the shock wore off, Brian says he realized, "You want to work for people who tell you the truth. He teamed me up with some wonderful illustrators, and we were off to the races."
While illustration turned out not to be the key to his career, it was the key to his family. He met his wife, Alisa, when she contacted him to create illustrations for the Cleveland Hillel Foundation. They started flirting and married a year later.
In 2001 with his Marvel career fully entrenched, the couple decided they wanted to move to a new city where they could raise their family. They had friends in both Seattle and Portland who spoke highly of the Pacific Northwest communities. When Alisa visited Portland to explore, she was so enchanted she soon called Brian to say she had bought a house.
Brian arrived in Portland Sept. 11, 2001, with a truck full of their belongings. But Alisa was stranded in Cleveland for another month when that day's terrorist attacks shut down the nation's airports.
But once settled the couple prepared to expand their family. Since Alisa had been told she could not have children, the couple planned to build their family through adoption. While exploring adoption, Alisa became pregnant and their first daughter, Olivia, was born 12 years ago. The couple now has four children, two biological and two adopted, "but there is no difference on our end," says Brian.
Olivia will become a bat mitzvah this fall at Congregation Beth Israel. She attended Portland Jewish Academy through sixth grade and now attends Northwest Academy. Her three younger siblings, Sabrina, 7, Tabitha, 4, and London, 2, all attend PJA. They adopted Sabrina from Ethiopia and Tabitha domestically. Many of the family's friends have also expanded their families with adoption and "talk about it and discuss it. It is all very positive."
In addition to running a household of four busy children, Alisa also runs the family business – Jinxworld, overseeing the business end of the video game, TV, movie and publishing projects that Brian creates. In addition to writing comics, his Powers comic books have just begun their second season of filming as a Sony TV online streaming series.
Brian also participates on the creative team that advises the Iron Man filmmakers. He was one of several members of the Marvel team invited to be part of a "brain trust" that read the early drafts of scripts, looked at clips and gave advice. After the success of the first movie, the informal creative committee was turned into a formal group of advisors for the subsequent Iron Man films.
Brian says he gets two major benefits from being a film adviser: "I get to see movies before my friends, and they know I can't talk about it. … My great joy is mixing with these marvelous filmmakers in the high-end storytelling meetings that inform me in my own writing."
But Brian isn't the only creative mind in the family. When she was 7, Olivia drew on both her family's experience and her father's creative impulse to ensure her own future. When Brian returned from his annual Marvel Comics retreat in New York City, Olivia asked him what he did on his trips.
"I told her we tell each other stories we want to make into comics," says Brian. "She pitched something completely original and Marvel published it."
Olivia's creation, Takio, is about two sisters – one adopted, one not, who both have superpowers, "unique superpowers, beautiful innocent ideas," says Brian, noting sales of the graphic novel are sufficient to pay for Olivia's college.
At those same New York meetings, the trend toward cultural sensitivity in comics has been a hot topic in recent years.
"Another writer had written something about Mutant being the new 'M' word, but he didn't have a character make the point," says Brian. Drawing on a personal experience from his teen years, he has Kitty Pryde, one of his characters in All New X-Men, (see panel at left) proclaim: "I'm Jewish. I don't have a quote unquote Jewish-sounding name. I don't look or sound Jewish, whatever that looks or sounds like … so if you didn't know I was Jewish, you might not know… unless I told you. Same goes for my mutation.
"I am Jewish. I am a mutant. And I want people to know who and what I am."
"The response to the panel was very nice," says Brian. "The allegory was so clear and couldn't be more important in today's climate."
Brian says today's comic books are created for a demographically diverse audience.
"There is a massive movement to write not just for guys and not just for kids," he explains.
While some comics are created by adults for adults (adult in subject matter, not porn), most of Marvel's comics are designed more for all ages from sophisticated children to young adults and adults.
"It's like a movie with substance but no swearing or sexual content," Brian says. "The Marvel Universe philosophy is to write up, don't write down to them. Give them thoughts they have to think about."
"X-Men is an allegory about race. We use the challenges of the mutants and hold it up to what we see going on in the world around us."
When Marvel asked Brian how he'd like to "start Spider-Man from scratch," he jumped on the opportunity to create a superhero that children of color could relate to. Miles Morales, a black-Hispanic teen, debuted as The Ultimate Spider-Man in 2011 in Ultimate Marvel, a parallel universe that re-imagines the characters.
The challenge was, there was no problem with Peter Parker as Spider-Man. "It's not like Spider-Man needed fixing. For Miles to work, Peter has to die … no one was looking for Peter to die; that can be upsetting," explains Brian. After months of conversations, an idea arose that allowed the change. "If Peter dies saving his aunt in a way he couldn't save his uncle, and Miles knows it, Peter's story continues through the eyes of a new kid. … With great power comes great responsibility."
"A lot of kids of color think, 'I could be Spider-Man,' " he says. "The roar of approval was so loud and so emotional. … Miles added something that is beautiful."
Created in Marvel's alternate universe, this fall Miles moves into "the Marvel Universe" and he will be "the Spider-Man."
Looking back, Brian believes his fascination with superheroes began as a subconscious search for a strong male role model. He is proud to have played a role in ensuring that today's youth – whether they are boys or girls, white or of color, or those who are differently abled – can find a role model that reflects their face in today's comic books.
Brian says the pleasure he discovered as a young reader of being transported to a different existence is taken to the next level when he creates those worlds for others.
"It's a magical thing to create an experience for lots of people," he says. "So much is shared with the audience. To transport them based on the strength of my own writing and the art of collaborating is very, very special – and clearly something I'm addicted to."