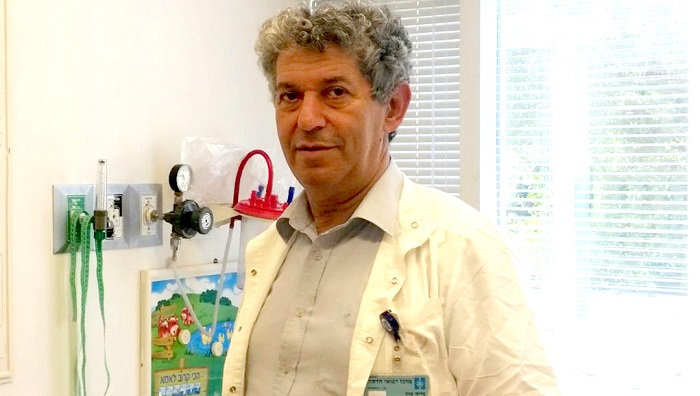 HMO recommends new screening protocol worldwide
Story and photo courtesy of Hadassah
Researchers at Hadassah Medical Organization in Israel have linked the essential role of the BRCA2 gene to puberty and healthy ovary development and function, announced Ellen Hershkin, National President, Hadassah, The Women's Zionist Organization of America Inc., which owns two world-class research hospitals in Jerusalem.  The study published in the New England Journal of Medicine, reveals a new role for the BRCA2 gene and highlights its importance to the puberty process.
Dr. David Zangen, director of pediatric endocrinology at HMO is principal investigator of the study. His collaborative team includes Professor Levy-Lahad at Shaare Zedek Medical Center and Dr. Offer Gerlitz at the Hadassah-Hebrew University School of Medicine, both based in Jerusalem.
Dr. Zangen recalls the origin of the study: "A few years ago, a mother brought her teenage daughter to see me at HMO. … (I)n imaging studies no ovaries could be detected.  Fast forward a few years, and the girl's sister came to see me and she, too, did not reach puberty, and she also had no ovaries."
Through full gene sequencing, Dr. Zangen and his collaborative team discovered that both sisters had the same mutation of the BRCA2 gene.
Dr. Zangen and the team knew that BRCA2 has a crucial role in DNA repair and explains: "Throughout our lives, our bodies' cells undergo cell division. When all goes well during this process, the DNA is copied exactly. But when it does not, the body must collect the mistakes and correct them."
"Uncorrected mistakes can lead to cancer or to other disasters," Dr. Zangen adds.  "And so, it was for these two sisters.  Because the correction failed to occur, they failed to develop ovaries."
As Dr. Zangen relates, "If the mistakes are left to their own devices, the cells may divide in uncontrolled ways such as in cancer, or they may not be able to divide properly into a sperm or an egg as required for fertility. Therefore, if the corrections don't occur properly, a girl will either not develop ovaries at all or produce only a limited number of eggs, which may result in early menopause under the age of 35-40 or even earlier in her 20s. She may also be at greater risk for developing ovarian cancer."
In the case of the two sisters, the investigators were able to zero in on their lack of DNA repair by taking a biopsy and exposing the tissue to radiation.  When they did so, they found that the DNA broke and was not being corrected.
Because of the discovery of the BRCA2 mutation in the sisters, Dr. Zangen screened the mother for the mutation. He found she was a carrier of the BRCA2 mutation and did further screening, including medical imaging. The mother, it turns out, had ovarian cancer. "Her cancer was diagnosed at a much earlier stage than it would have been if we had not found the BRCA2 mutations in her daughters," Dr. Zangen says, adding her daughters are at a greater risk for breast and ovarian remnant cancer.
"According to our research, an ovary that does not produce eggs, degenerates," says Dr. Zangen. "Teenage girls who suffer from mutations in this gene may not go through the process of puberty as was evident in the case presented in our study. If they don't reach puberty and are found to lack ovaries, they should be screened for mutations in DNA repair genes such as BRCA2. This is certainly now the protocol at HMO and we recommend that it should become the protocol all over the world."
Hadassah, the Women's Zionist Organization of America Inc., is the largest Jewish women's organization in the United States. hadassah.org