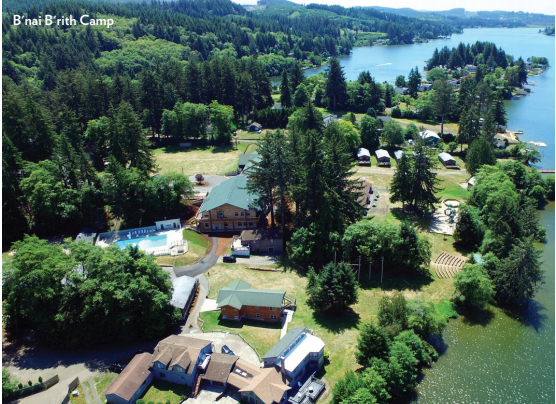 B'nai B'rith Camp may be celebrating its 100th anniversary next year, but they have achieved another milestone recently. BB Camp is one of the first camps in the country to get an accreditation from the National Inclusion Project. The National Inclusion Project is a nonprofit organization, founded in 2003, dedicated to promoting the inclusion of children with disabilities in activities with their non-disabled peers.
Before the beginning of camp last year, brand new cabins were completed on the south side of the campus, and all were made compliant with the Americans with Disabilities Act.
"You can get to those cabins in a wheelchair and go up to the second floor because we created bridges rather than staircases," says BB Camp's Executive Director, Michelle Koplan. "It's beautiful and amazing and right now, we are doing the north side cabins and five of the six of those buildings will also be ADA accessible."
Their goal was to make every cabin's second floor ADA accessible by a bridge, but the last one proved to be too much of a challenge. The architects were designing a long walking bridge, like the ones you see across roadways, from the pool deck to the second floor of this cabin.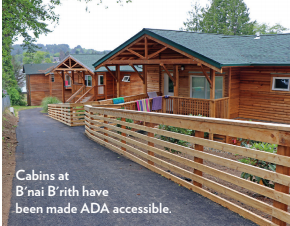 "We were really trying to do it, and then in the end – the way the land was shaped there, they couldn't get it to work where it would be safe and actually bear a load," says Michelle.
Last year of the almost 600 overnight campers they served, 135 children had special accommodations.
"We're are a totally inclusive camp," says Michelle. "Our philosophy is that every child should have the opportunity to participate in Jewish camping, so we don't separate anybody. Every cabin has children of all kinds because we are all different, right?"
The new north side cabins will be completed before this summer camp season starts, and then the last major project left will be to complete a brand new "field house," a term used at universities that refers to indoor sports areas. This area will also be ADA accessible.
"There will be accessibility from the gym through the locker rooms to the pool," says Michelle. "So the entire campus will be completely accessible for every child. That's the very last project, and it is supposed to be done by our 100th anniversary next year."
She continues, "It's amazing to think 100 years ago somebody thought, 'Let's make sure there are great spaces for the Jewish communities in Oregon,'" referring to BB Camp and some of the other Jewish organizations in the state that are also approaching the milestone anniversary.
In 2020, BB Camp will begin the celebration with all kinds of 100th-anniversary events and activities. Their summer camp offers 2-, 3- and 4-week sessions from June 30 through Aug. 18 and is located on the shores of Devil's Lake just outside of Lincoln City, OR.
For more information, visit bbcamp.org.