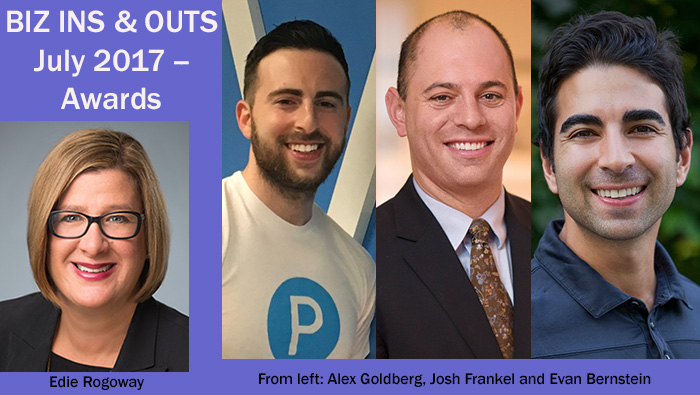 Attorney Edie Rogoway Wins OCDLA President's Award
Attorney Edie Rogoway was named the recipient of the 2017 Oregon Criminal Defense Lawyers Association's President's award for her pro bono work organizing volunteer attorneys and interpreters to assist people affected by President Trump's Muslim travel-ban Executive Order.
The award acknowledged Ms. Rogoway for "… standing up for the defenseless and holding those in positions of power accountable for the harm they cause …for being a rock of strength and a beacon of hope for people subject to abuses of power."
Edie's family belongs to Congregation Beth Israel.
Edie has been a criminal defense attorney in Portland for 17 years.  She is in private practice at Rogoway Law.
503-750-3480 | edie@edielaw.com | edielaw.com
Goldberg, Bernstein, Frankel Among 40 Under 40
This year's Portland Business Journal's 40 under 40 list includes at least three members of Portland's Jewish community – Alex Goldberg, Evan Bernstein and Josh Frankel. "The 40 accomplished young business leaders who will shape the Portland economy in the future" were honored June 23 and featured in the June 24 Business Journal.
Alex Goldberg is the founder and CEO of Provata Health (provatahealth.com), a startup that partners with employers, health plans and hospital systems to deliver digital programs that are scientifically designed, tested, and proven to change behaviors and generate significant health outcomes. Provata launched commercial products to the market Oct. 1, 2013.
"I have been fortunate to gain national attention as a thought leader in digital health," says Alex. "Forbes dubbed Provata as the startup 'leading the digital health revolution.' Other media outlets including Inc. magazine, Entrepreneur, the Huffington Post, and Geekwire have celebrated our vision to transform the wellness industry into a science-backed prevention strategy that improves health behaviors, delivers real outcomes and lowers medical costs.
Of his selection as one of the 40 under 40, Alex says, "I am truly honored to be recognized alongside the previous and current honorees. They have made some incredible impacts across Oregon and our country. "
Goldberg went to preschool and kindergarten at Portland Jweish Academy and became a bar mitzvah at Congregation Neveh Shalom. He is a former board member of Reading Results, a nonprofit dedicated to improving child literacy.
"I am able to continue my commitment to community development and civic involvement at Provata," says Alex. "For instance, our digital health solutions incorporate charitable contributions as an effective means to both drive participant engagement and give back to the community. Since 2013, I am proud to say that our company has donated hundreds of thousands of meals to Oregonians through the Oregon Food Bank. I've also implemented policies to encourage our employees to give back to the community, providing additional days of paid time off to volunteer at the charity of their choice."
Josh Frankel is executive vice president of West Bearing Investments (westbearinginvest.com), the division of Ferguson Wellman that caters to clients with $750,000 or more in their investment portfolios.
"It was a tremendous honor to be recognized by the Portland Business Journal as a 40 under 40," says Josh. "The award is a tribute to my company, colleagues, professional business partners and our clients."
Josh co-chairs the Professional Advisor's Group of Oregon Jewish Community Foundation. He was recently named vice president on OJCF's executive committee. Josh and his wife, Dr. Amy Swerdlin Frankel, are members of Congregation Beth Israel. They have two children and one more due Sept. 3.  Ethan will be 5 in September and Hannah is 3 in September. September will be a busy birthday month in the Frankel household.
Josh was featured in a 2013 ORJL article (https://orjewishlife.com/josh-frankel-takes-west-bearing-bull-horns/) when he helped launch the West Bearing Investments.
Evan Bernstein is director of leasing & acquisitions and a partner of Pacific NW Properties (pnwprop.com).
"What an incredible honor to be named to Portland Business Journal's Forty under 40 list," says Evan. "I'm truly grateful for so many wonderful people in my life who inspire me on a daily basis and have helped me become the man I am today. I have the best family in the world, a phenomenal support system of friends, unbelievable mentors and amazing teammates at Pacific NW Properties. I'm so lucky that I get to work in a dynamic commercial real estate industry with
Any  current Jewish affiliations I should Include?  JRE PDX (Jewish Commercial Real Estate Professional Group) co-founder, Committee Member for NCYS's "The Q." The family are members at Congregations Nevah Shalom, Beth Israel and Shaarie Torah.
Hailey (Stern) and Evan Bernstein met as counselors at Camp Solomon Schechter in 1999; in 2008, Evan chartered a plane back to Schechter to propose to her on the big hill where they
Evan has twice been featured in Oregon Jewish Life articles this year – one a story on local property developers (https://orjewishlife.com/developers-bullish-on-portland/) and one a story on enduring relationships forged at camp (https://orjewishlife.com/enduring-relationships-great-things-grow-from-friendships-started-at-camp/).