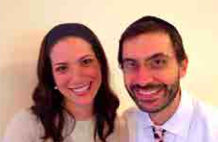 April Slabosheski Joins OJMCHE as Educator
The Oregon Jewish Museum and Center for Holocaust Education has hired April Slabosheski for the new position of Holocaust educator. April grew up in rural Wisconsin and earned her undergraduate degree at the University of Wisconsin-Milwaukee and her master's degree at the University of Michigan. Her graduate thesis in Jewish studies focused on theories of memory as applied to artists whose parents were survivors of the Holocaust. In 2013 April attended Leo Baeck Summer University in Berlin and studied Holocaust memory and interpretation as it affects international communities.
She conducted independent research on Christian German clergy and congregations and their interpretation of Jewish history after the Holocaust. Working at the Ann Arbor Hands-On Museum, April presented outreach educational programs to Michigan students. She gained experience in curriculum development and classroom teaching as well as working with students in various grades and from different cultures and parents, teachers and volunteers.
OJMCHE Director Judith Margles says April was selected from a highly competitive pool of applicants. "April presented herself with the precise set of skills that we were seeking – an individual highly trained in Holocaust history and with hands-on experience in museum education." April says she looks forward to "working with the Portland community, the Holocaust Memorial and the Speakers' Bureau of Holocaust survivors to make Holocaust studies at OJMCHE a place for learners of all ages to feel comfortable asking difficult questions, and listening to their emotions as a part of intellectual inquiry." ojmche.org | 503-226-3600
Major grants validate PPI's new leadership
Portland Piano International recently received two major grant awards – $90,000 from the Creative Heights initiative of the Oregon Community Foundation and $20,000 from the Maybelle Clark Macdonald Fund.
The Oregon Community Foundation grant is the largest received by PPI in its 37-year history. PPI is among the first 13 arts nonprofits to be awarded funding under OCF's ambitious Creative Heights program, made possible by a $150 million 2012 gift from estate of Fred W. Fields to advance arts and education. Creative Heights encourages nonprofits to take the creative risks needed to move their organizations, and their arts, forward.
The Creative Heights award affirms PPI's institutional progress under the new leadership of Artistic Director Arnaldo Cohen (appointed October 2012) and Executive Director Ellen Bergstone Wasil (appointed August 2013). In Cohen's inaugural, 2013/2014 season, Portland Piano International: produced six sold-out recitals; increased subscriptions 42% from the previous year; launched a sponsorship program; forged a partnership with the music department at Lewis & Clark College; and reimagined the PPI Summer Festival.
The Creative Heights grant supports PPI's development of a series to introduce audiences to brilliantly talented young pianists and to commission new solo works for them to premiere in Portland.
The $20,000 dollar-for-dollar challenge grant from the Maybelle Clark Macdonald Fund begins the public phase of a fundraising campaign, launched in December 2012, to provide PPI with funds for new initiatives and to sustain it into a reinvigorated future.
portlandpiano.org | 503-228-1388
Rabbi Gadi and Eve Levy Join Portland Kollel
Rabbi Gadi Levy and Eve Levy are the newest additions to the Portland Kollel, a community education and outreach organization whose aim is to strengthen and inspire Oregon's Jewish community.
Rabbi Gadi is the Kollel's education director, and Eve is the director of women's programming. Before coming to Portland in August, they spent four years in Denver, working with The Jewish Experience.
A native of Toronto, Eve is a grandchild of Holocaust survivors, which she describes as "the biggest influence in my life" and the source of her passion to share the joys of Jewish life with others.
Rabbi Gadi was born in South Africa, where his father – originally from Morocco and a veteran of the Six-Day War – served as the rabbi of a synagogue near Johannesburg for many years.
The Levys met in Israel, where both moved as teens to further their studies. They lived in Jerusalem until moving to Denver in 2010.
Among her first projects in Portland, Eve is taking 18 women from Portland on a nine-day trip to Israel in December in collaboration with the Jewish Women's Renaissance Project. The highly subsidized trip is similar to Birthright – and while this year's trip is full, Eve says to get in touch with her about next December's trip.
She is also working on additional programs, including a Portland version of a popular mother-daughter bat mitzvah program she pioneered in Denver.
Rabbi Gadi, described as "an idea guy and passionate teacher," seeks to inspire people on their Jewish journeys.
In Portland he wants to focus on "high-level adult education, without the need for a lot of background." Projected programs include a "Jewish University" as well as seminars on Jewish thought and practice.
He also uses every opportunity to teach, often with a bit of good humor. In his response to the ALS Ice Bucket Challenge, Rabbi Gadi – in a suit, white shirt and tie – delivered a short meditation on Jews and water, especially during Rosh Hashanah. Then, with a very Portlandesque eco-consciousness, he declined to employ good drinking water for his dousing, opting instead for chicken soup – presumably room temperature.
"We are very excited about Rabbi Gadi and Eve joining the Kollel," says Rabbi Tzvi Fischer, head of the Portland Kollel. "They are a tremendous asset for our team and a resource for the entire Jewish community in Portland."
eve@portlandkollel.org or rgl@portlandkollel.org 503-245-5420 | portlandkollel.org
Business Ins & Outs welcomes submissions of news items. Send brief and a photo to Oregon Jewish Life Editor-in-Chief at deborah.moon@ojlife.com.