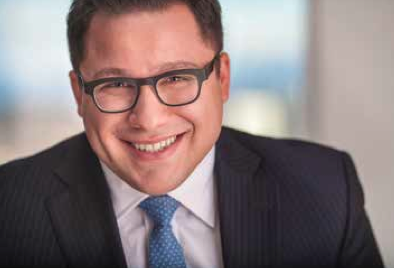 JONATHAN SINGER JOINS MILLER NASH
Miller Nash welcomes Jonathan Singer to the firm's Portland office as an associate. Singer joins the litigation practice team, where he will focus on civil litigation with an emphasis on securities, products liability and other commercial matters.
"(W)e are happy to have Jonathan, a fourth-generation Oregonian, return to Portland to contribute the unique experience he gained in Washington, DC, to our established litigation practice," said Kieran Curley, the firm's managing partner.
Singer is the son of Peter Singer and Sharon Stern and the grandson of Helen and Jerry Stern, all of Portland. His other grandparents, David and Anne Singer z"l, also lived in Portland for two decades.
"I grew up at Neveh Shalom and have been a member of Ahavath Achim in the past, but I have not yet formally joined a synagogue since moving back to Portland this month from Washington, DC, where I practiced law for three years at O'Melveny & Myers," says Singer. "My practice in D.C. afforded me the chance to work regularly with the White House, cabinet-level officers, and congressional committees, and in matters all around the world. But Portland has always been home. So when the opportunity arose to work at Miller Nash, one of the premier full-service law firms in Portland and the Northwest, I jumped on it."
Singer received his law degree from the University of California, Berkeley School of Law. He earned a bachelor of arts in politics from Pomona College. Jonathan.Singer@MillerNash.com | MillerNash.com | 503-205-2324
EDIE ROGOWAY LAUNCHES ROGOWAY LAW
Rogoway Law, a Portland employment, civil rights and personal injury law firm, opened Jan. 1, 2014.
Edie Rogoway, a Portland native, has been practicing law for 14 years – all in Portland. For the past four years, she and a partner had a private practice. Her new office is at 6312 SW Capitol Highway, Suite 1102, Portland. In her new private practice, she says she "welcomes the opportunity to continue serving our community."
"I chaired Impact (the Jewish Federation of Greater Portland's annual women's event) in the spring of 2013," she says. "I'm on the MJCC/PJA finance committee. I spoke at last year's Maimonides dinner, spoke at the Friends of the Center Dinner a few years back honoring Jerry Sadis, and am very involved with Rejewvenation at BB Camp each fall."
Rogoway and her husband, Nathan Van Ness, are the parents of 7-year-old Georgia Van Ness, a second-grader at Hayhurst Elementary. Georgia attends Hebrew school at Gan Israel.
edie@edielaw.com | edielaw.com | 503-334-0331
LAUREN BLOOM HANOVER JOINS PROFILE THEATRE
Lauren Bloom Hanover is the new director of education and community engagement for Profile Theatre. Each year Profile produces a season of plays devoted to a single playwright.
Hanover oversees the company's education programs for students including the Inside Out: Community and School Tour, the Hands On Theatre Program and the internship program. Additionally Hanover manages the theater's education programs for adults including the In Dialogue Series that presents talkbacks and other supplemental programming to explore the featured writer's world. Hanover will develop and maintain strategic partnerships with community groups and organizations to realize Profile's mission of "engaging with our community to explore that writer's vision and influence on theatre and the world at large."
Growing up in California, Hanover belonged to Barah, where she prepared for her bat mitzvah with the late Rabbi Jerry Winston. More recently, she has attended services in San Rafael at Rodef Shalom, where her mother has been part of the choir for several years. Hanover came to Profile from the San Francisco Bay Area where she was education program manager with the San Francisco Shakespeare Festival. A teaching artist for many years, she has worked with Marin Theatre Company, ForWords Literacy Lab and the Shakespeare Society in New York. As an actor, she has performed with the Alabama Shakespeare Festival, Columbia Stages, Capital Stage, Just Theater and The Actor's Company Theatre in New York.
profiletheatre.org | 503-242-0080
CEDAR SINAI PARK, DEBBI BODIE EARN NATIONAL HONOR
Cedar Sinai Park will receive the Jewish Programming Award from the Association of Jewish Aging Services of North America in recognition of the Hesed Shel Emet Jewish Burial Project for the needy. The project was initiated by CSP Chief Development Officer Debbi Bodie in collaboration with Rabbi Ariel Stone of Congregation Shir Tikvah.
Hesed Shel Emet brought together Jewish agencies, rabbis, cemeteries, Hevra Kadishas and local funeral homes to assure that low-income members of the Jewish community be guaranteed a dignified Jewish burial despite the lack of family resources with which to cover that expense.
"Hesed Shel Emet means ultimate kindness," says CSP CEO David Fuks. "This kindness is an essential responsibility of any Jewish community. We are very proud that Debbi Bodie's and Ariel Stone's passionate leadership … (developed) a systemic approach to solving a fundamental problem."
Bodie will receive this recognition on behalf of CSP and the Jewish community of Oregon and Southwest Washington at the conference of the Association of Jewish Aging Services of North America in Jacksonville, FL, in late March.
"While l am honored to see this project recognized, I am very pleased that it represents the efforts of an entire community coming together and that so many donors have stepped forward to assure that resources will always be available to address this important need," says Bodie.
Since the project's inception in 2010, 29 burials have been provided.
The project is supported by gifts by community members and endowed funds within the Oregon Jewish Community Foundation. These funds include the Min Zidell Hesed Shel Emet Endowment Fund, The Lubliner Endowed Fund for the Needy and the Community Endowment Fund of OJCF.