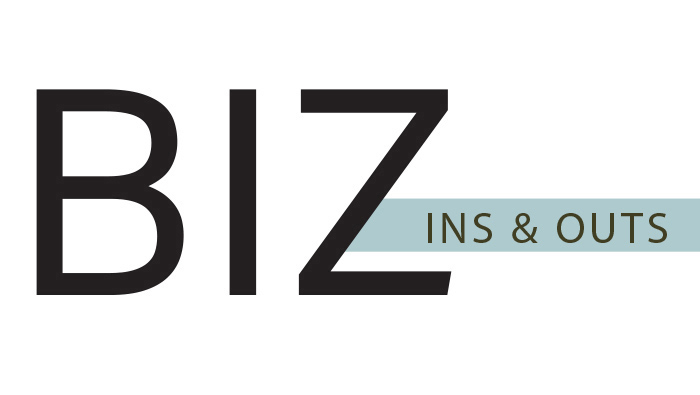 David Fuks returns to Cedar Sinai Park as interim CEO
David Fuks has been hired as the CSP interim CEO following the April departure of former CEO Sandra Simon. David had served as CSP CEO for 18 years before he retired Sept. 8, 2015.
The search for a permanent CEO has begun.
CSP will also be hiring a permanent Robison Home administrator. Kelli Cannon is the interim administrator during that search.
"We are always aware of our Jewish identity and our commitment to our mission: Cedar Sinai Park provides residential and community-based care to our elders and adults with special needs, allowing them to live with comfort, independence and dignity in a manner and in an environment based on Jewish values," says CSP Board President Liz Lippoff. "We are totally optimistic about our future."
cedarsinaipark.org
MJCC sends Len Steinberg to conference
Len Steinberg joined nearly 500 other JCC professionals from across North America at the JCCs of North America Professional Conference, which provides a variety of professional development opportunities for those who work in a variety of positions in Jewish community centers.
Len is the program director of the Mittleman Jewish Community Center. He took part in a job track specializing in program directors and middle managers.
JCC Association of North America holds the conference every two years.  The conference provides JCC staff a chance to build their network, gain insight into their peers' work, learn best practices in their field and discover what's new and cutting-edge in JCCs across the continent. The conference also included several sessions on security issues led by outstanding leaders in crisis communications and the security field.
JFCS Executive Director Carrie Hoops takes post at William Temple House
Jewish Family & Child Service has announced that Carrie Hoops will be leaving as executive director, effective May 5. She has accepted a new role as executive director at William Temple House, a 52-year-old social services agency in Portland that provides counseling and emergency assistance to people in need.
"We are thankful for Carrie's leadership," says Les Soltesz, JFCS board chair. "In particular, she was key in planning and carrying out the consolidation between JFCS and Cedar Sinai Park. Carrie's experience and energy have been indispensable."
Carrie joined JFCS as interim executive director in April 2014 and was appointed executive director July 1, 2015.
"My time with JFCS over the past three years has been incredibly gratifying," says Carrie. "It's been an honor to be a part of this agency and community, and the consolidation with Cedar Sinai Park is helping to align our programs so that clients have a stronger continuum of services."
The JFCS Board has begun a search for an interim executive director.
 jfcs-portland.org | 503-226-7079
Playwright Andrea Stolowitz receives patronage from Ronni Lacroute
Ronni Lacroute, longtime Artists Repertory Theatre sponsor and Portland arts patron, has committed to funding a five-year patronage for Artists Rep Resident Artist Andrea Stolowitz. For at least two of those years, Stolowitz will be embedded in Artists Rep's staff as the Lacroute Playwright in Residence.
"This is a remarkable opportunity for Andrea and for Artists Rep, made possible by the visionary support of Ronni Lacroute," says Sarah Horton, Artists Rep's managing director. "With targeted, game-changing support like this, individual arts patrons like Ronni can personally impact the work of playwrights and the future of theater-making in America."
The Lacroute Playwright-in-Residence position offers Andrea, a local award-winning playwright, an annual salary and discretionary funds to enhance and promote the development of her scripts and support her professional development. Andrea's five-year patronage will begin with a two-year residency at Artists Rep, where she can work on her writing and learn firsthand about the operating dynamics of regional theater. Andrea will bring the perspective of a working playwright to Artists Rep's operations.
"Offering Andrea this opportunity is exciting to me," says Ronni.  "This opportunity to be a playwright-in-residence is a dream come true," says Andrea.
artistsrep.org
JFCS hires three new staffers
Jewish Family & Child Service, a subsidiary of Cedar Sinai Park, recently added three new staff members. JFCS provides social services that improve the lives of adults, families and children in the Jewish and general communities.
Philip Gomez joined JFCS in February 2017 as lifeline services assistant, providing client and administrative support to the Emergency Aid, Holocaust Survivor Services and Partners programs.
Having experienced poverty in his youth, he is driven to fight for social and economic justice. Some of the organizations he has worked for, and been a member of, are the Industrial Workers of the World, the Communications Workers of America and Working America.
JFCS also welcomes to its staff two men named David.
David McGarry recently joined JFCS as a behavior support specialist for the Partners for Independence (Partners) program, which helps people with developmental disabilities boost their independence and community integration. David M.'s helping career began at J.B. Thomas Junior High School, in Hillsboro, where he served his seventh-grade class as a peer mediator. He would listen to peers in conflict situations and try to help them understand each other at a deeper level.
David M has worked over the past five years in direct care, case management and service coordination.
David Nyugen-Jackson is JFCS's new accounting administrative assistant. He has been involved in faith-centered organizations throughout his life, taking on multiple roles from cooking to administration. After obtaining an undergraduate degree in Spanish in 2015 and an MBA in 2016, David N.-J. had a short stint at an auditing firm but decided that nonprofit work was his passion. In the fall of 2016, he began working for JFCS as a temp.
503-226-7079 | jfcs-portland.org
OJCF to honor Harold Pollin
The Oregon Jewish Community Foundation has selected Harold Pollin as the foundation's 2017 Legacy Society Honoree. Pollin was instrumental in the establishment of OJCF, serving as its first president from 1988-1990, when the organization was known as the Portland Jewish Community Foundation.
"Harold's contributions to the foundation over the years can't be overstated," says OJCF Executive Director Julie Diamond. "We are thrilled to have this opportunity to acknowledge and thank him."
Pollin will be honored at OJCF's Annual Meeting and Reception to be held on June 21, 2017, at the Mittleman Jewish Community Center from 5:30 to 7:30 pm. No fundraising.
ojcf.org | 503-248-9328
Peter Lyman captures Service Award
Congregation Shaarie Torah will present the Harry R. Nemer Service Award to Peter Lyman at a special award dinner Sunday, June 11.
The Shaarie Torah Men's Club presents the Harry R. Nemer Service Award to members of Shaarie Torah in recognition of outstanding volunteer service to the congregation. For many years Peter served in a leadership role on various committees and on the Shaarie Torah Board of Directors; for the past three years, he served as treasurer of the congregation. Chairs for this year's event are Richard Cohen and Steph Kotkins.
The dinner honoring Peter will take place June 11 at Congregation Shaarie Torah located at 920 NW 25th, Portland. The cost of the event is $54 per person with dinner proceeds going to support various programs at Shaarie Torah. Reservations are required; sponsorships are available.
503-226-6131 | shaarietorah.org
Weinberg Foundation grant launches BB Camp's public capital campaign
The Harry & Jeanette Weinberg Foundation's Board of Trustees awarded B'nai B'rith a capital grant of $368,000, which completes the funding for the Mercaz Campus Center.
Weinberg Foundation Program Officer Stan Goldman praised BB Camp: "The Weinberg Trustees admire the impressive and powerful work that BB Camp is doing, especially for kids with disabilities."
The Mercaz Campus Center was completed in July 2017 using a no-interest loan of $750,000 from the Foundation for Jewish Camp. The building features new arts and crafts spaces, a flexible programming room and a new home for the BB Day Camp, which serves primarily low-income children from Lincoln County.
"The work we do at BB Camp is based on the concept of hachnasat orchim – welcoming the stranger," says Executive Director Michelle Koplan in thanking the Weinberg Foundation. "We pride ourselves on making our camp experience available to everyone."
The gift from the Weinberg Foundation propels BB Camp past the $9 million mark in the 10-year Second Century Campaign. The campaign has a goal to raise $13.3 million to completely rebuild the campus before the 100th Anniversary of BB Camp in 2021. Other early donors include Jeff and Judy Greenstein, Stan Litt, Don Loeb and the Loeb Family Foundation, Ken and Mary Unkeles, Howard and Linda Davis, David and Katie Gold, Howard and Wendy Liebreich, the Meyer Memorial Trust, the Ford Family Foundation, the Harold Grinspoon Foundation, the Marcus Foundation, the Jay and Diane Zidell Foundation and Charlene Zidell.
The public phase of the campaign will fund replacing all remaining cabins with sustainable double cabins, building a full-sized gym and auditorium, purchasing property adjacent to BB Camp's relatively small campus and improving the overall grounds. The goal is to raise $3.4 million additional dollars to fund these projects and $1 million in scholarship and capital endowment.