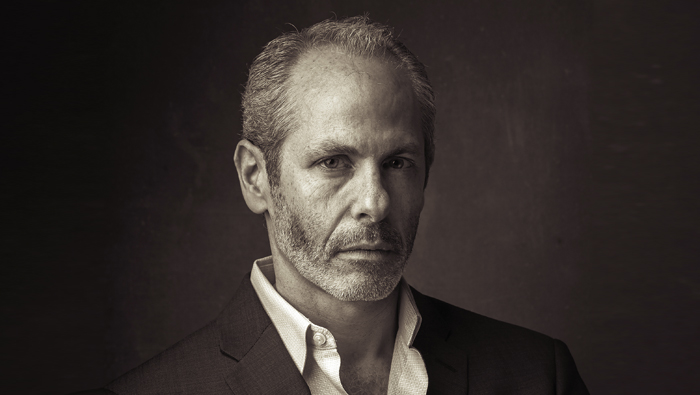 Local actor and director Michael Mendelson plays Judge Moses in the epic, relevant revival of Thornton Wilder's 1943 Pulitzer Prize-winning play, "The Skin of Our Teeth," coming to Artists Repertory Theatre this spring.
Wilder's classic spans the history of the world with numerous biblical references including Lilith, Cain and Abel, and Noah's Ark.
Michael calls Judge Moses a small, yet philosophical role that he is glad to play "being the only male Jew in the Resident Artist Company."
"This play is about the endurance of the human spirit in the face of huge catastrophes – how we survive and move forward," says Michael. "Judge Moses brings to the play the notion of how the world began out of nothing and will continue when we are all long gone."
"This comedic masterpiece spans the entirety of history, with one ordinary American family who lives through it all," explains ART's website. "Dad's just invented the wheel, Cain is throwing rocks at the neighbor kid, mammoths and dinosaurs lounge in the family room, and mom frets about how to get all those animals on the boat two by two. Through Ice Ages, biblical floods and political conventions, the Antrobus family of Excelsior, NJ, perseveres."
Michael says the play's broad themes of creation and catastrophe lend themselves to being seen in a fresh light by contemporary audiences each time it is reprised.
"When a contemporary audience sees it, they see through contemporary eyes," he says. "It is more poignant because of what is going on in the world."
For instance, a study that was published in the scientific journal Nature on March 30 projecting rising sea levels due to global warming set off a flurry of news stories. The New York Times wrote, "The total rise of the sea could reach five or six feet by 2100, the researchers found. That is roughly twice the increase reported as a plausible worst-case scenario by a United Nations panel just three years ago, and so high it would likely provoke a profound crisis within the lifetimes of children being born today."
That contemporary focus on flooding of coastal cities makes the flood scene at the end of Act II especially poignant, says Michael. In a booming voice, he quotes the fortuneteller: "Go back and climb on your roofs. Put rags in the cracks under your doors. Nothing will keep out the flood. You've had your chance. You've had your day. You've failed. You've lost."
That scene takes on fresh meaning when viewed through the lens of current events.
"Global warming, rising oceans, catastrophes we can't control and those within our control are all in the play," Michael says. "In a way art lets us see things we are unwilling to look at in reality. Through art we can see it."
Michael has acted and directed extensively in Portland since 1991, with a four-year break in New York. A member of ART's Resident Artists Company, he is a frequent performer in ART productions. He is also the artistic director of the Portland Shakespeare Project, which is "in residence" at ART during the summers.
"In a play not specifically Jewish, I think it's always nice to be able to embrace something of my own heritage to bring authenticity to it," says Michael.
Raised in Detroit, Michael became a bar mitzvah at Temple Israel, which was at that time the largest congregation in the city.
Jewish audience members may remember Michael from the 2007 production of "Address Unknown" by the Reader's Theater Repertory at the Portland Center for the Performing Arts. Written in 1938, the story is told in a series of letters between two California business partners, one a German Jew and the other a German gentile who returns to Nazi Germany. The gala opening benefitted the Oregon Holocaust Resource Center, which arranged for Holocaust survivors or their children to participate in a talkback after each performance.
In a 2012 interview with Oregon Jewish Life, Michael called those talkbacks with the survivors, cast and audience "some of the most poignant moments in theater I've had."
The Skin of Our Teeth
by Thornton Wilder
WHEN: May 17-June 19
WHERE: Artists
Repertory Theatre,
1515 SW Morrison St., Portland
TICKETS: 503-241-1278 or artistsrep.org