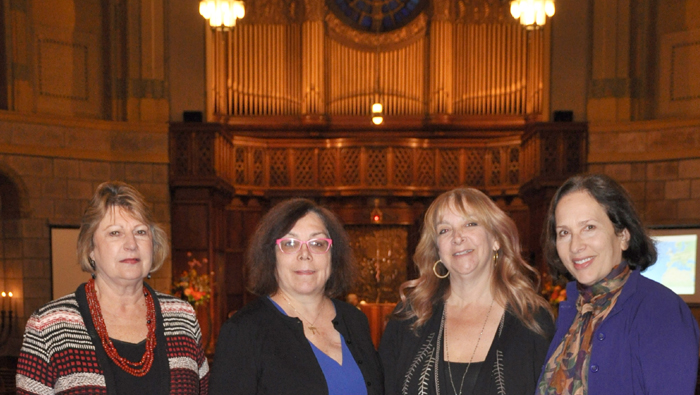 UPDATE: Because of several Spring break conflicts, Congregation Beth Israel has changed the date of the "Crossing Over" performance from March 30 to April 12. "We are all very excited with the change and our presentation will be on the third night of Passover giving the celebration deeper meaning," says Michael Allen Harrison.
Crossing Over is a powerful and recurring theme this year as the Women of Reform Judaism/Beth Israel Sisterhood celebrates its 100th anniversary.
The theme's first appearance was at the Sisterhood Shabbat Feb. 10-11.
"The weekend of Congregation Beth Israel Sisterhood's centennial Shabbat was, remarkably,  the time Jews tell the story of their exodus from Egypt and dramatic  journey to freedom by chanting the ancient poetry of the 'Song of the Sea-Parashat Beshallach,' " says  Beth Israel Senior Cantor Ida Rae Cahana. "Our seminal story defines us as seekers after freedom led by courageous leaders like Miriam and the women gathered to sing and dance in exhilaration after escaping Pharoah."
The theme will return with the presentation of an epic liturgical musical that focuses on the seventh day of Passover when the Israelites crossed the Red Sea and moved from slavery to freedom. On April 12 the community is invited to experience "Crossing Over: A Musical Haggadah."
"Crossing Over continues in this tradition of retelling our seminal story, expanding it in the Midrashic tradition to remind us of the many oppressed 'others' in our midst with whom we share a bond of empathy as well as a responsibility to act," says Cantor Cahana.
The sisterhood is bringing this theater event to the setting its creators envisioned. Crossing Over, composed by Michael Allen Harrison with book and lyrics by Rabbi Alan Berg, debuted at the Mittleman Jewish Community Center in 2012 and was most recently performed at Portland State University in 2014. But when the two men, both with strong ties to Beth Israel, composed the piece, it was with that congregation's historic sanctuary in mind.
"Beth Israel's sanctuary was the setting in our mind when we created Crossing Over," says Alan, who served as CBI assistant rabbi in the 1970s. "We are hoping for some amazing experiences for the audience as a result of being about to bring it to a new level in that setting. …This will mark the first performance in any synagogue's sanctuary. Crossing Over is, at its core, a prayerful drama. This production will be re-imagined I'm sure in some wondrous ways."
Linda Harrison, a past president of sisterhood and Michael's sister, says she brokered the plan with her brother, and he was delighted to include his creation with the sisterhood's celebration.
The Harrison family is a longtime member of Beth Israel, and Michael frequently plays the piano in the historic sanctuary.
"Michael plays for our Shir Shabbat. He's been an integral part of our musical program since I've been at Beth Israel," says Cantor Cahana.
Cantor Cahana, who has performed on Broadway and at Carnegie Hall, once again will sing in Crossing Over. She will be joined by Cantor Mark Saltzman of Congregation Kol Ami in Hollywood, CA, with whom she has frequently collaborated. The two cantors coproduced the 2012 American Conference of Cantors and Guild of Temple Musicians' Concert.
Other musicians performing in this reenactment of the seder are Aaron Meyer on violin, Linda Harrison on the flute, CBI Director of Education Ben Sandler, Kim Schneiderman, an African-American choir and some of Michael's students. Rabbi Emeritus Emanuel Rose will be the narrator.
Cantor Cahana says the production is "really building bridges with the community."
Also returning from past productions, this re-enactment of the seder will feature projections of pictures from the Passover Haggadah illustrated by Leonard Baskin, z'l.
Sisterhood President Lynn Gelber calls the presentation part of the sisterhood's community outreach.
"We bring the sisters out to get involved and participate," says Lynn, adding the sisterhood supports CBI in so many ways. "We step up to meet needs and participate in the inclusivity (our) temple is trying so hard to incorporate."
Linda adds that sisterhood's education and social action programs are award-winning – "We have made a difference." She says the group is always evolving, always moving forward. "We also take immense pride and have a lot of respect looking to the past and the women who laid the foundation."
Throughout this centennial year, the sisterhood is celebrating the past and looking toward the future.
Sisterhood and Ellen Bick, WRJ district past president, have compiled an overview of sisterhood's accomplishments, events and mission. WRJ founded NFTY, the Reform youth group, and the Jewish Braille Institute, for which Beth Israel women volunteered for decades converting Jewish interest books (very broadly defined) to Braille for the benefit of the blind.
Last year sisterhood's 251 members purchased for CBI 500 new High Holiday Prayer Books, including large print books. The group has received many WRJ Or Ami Light of My People and District Kavod Awards for exceptional programming. Members lead Tot Shabbats, send care packages to students and military personnel for Hanukkah and Purim, and run a gift shop to raise funds for youth programs and special projects.
Those and other achievements will be celebrated at the 5 pm, May 6 "Centennial Havdalah and Historical Perspective."
The Crossing Over themes of memory and freedom will make a final appearance this year at the Sisterhood Centennial Gala on Oct. 21.
For more information on sisterhood and centennial programs, call CBI at 503-222-1069.
For Crossing Over tickets (ranging from $18 for students to $72 for patrons), visit michaelallenharrison.com/crossing-over