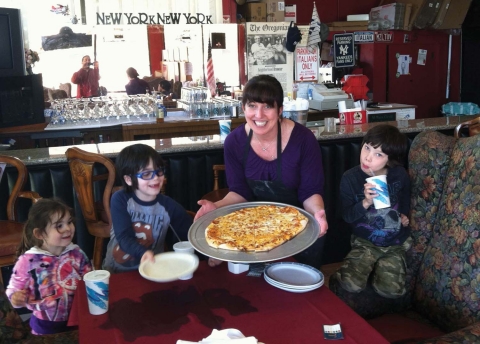 Bagels have been a hot topic in Portland lately, so here's a baker's dozen of fun places where dads and kids can bond over a quick nosh. Father's Day is a great day to thank the dads in your life with something local and delicious. Just remember to keep Portland schmeared!
Tastebud Bagels
3220 SE Milwaukie Ave.
In the 1963 song I Shall Be Free, Bob Dylan sang, "Now, the man on the stand he wants my vote. … He's eatin' bagels; He's eatin' pizza; He's eatin' chitlins."
Tastebud has the first two perfected.
What began as a family farm in Canby has morphed into a small Southeast Portland restaurant. At the heart of this fine establishment is a wood-fired brick oven that produces Montreal-style bagels boiled in malt water and then baked at high heat. The result is a little sweeter and a bit denser, but no less delicious than its New York counterpart.
The wood-fired oven also provides the pizza with a crisp/tender rustic. The toppings are seasonal and thus ever changing. Try a Caesar salad with bagel croutons.
Pizza is available in their dining room from 5 to 9 pm, Friday through Sunday – perfect for a weekend dinner with the little dudes.
Bagel Land
4118 NE Fremont St.
You and your progeny can experience some boiled and baked goodness from the friendly folks at Bagel Land. Make it a bagel and book combo by heading to nearby A Children's Place Bookstore to feed their minds after the bagelfest.
Slappycakes
4246 SE Belmont St.
This Father's Day keep your pappy happy with slappycakes. The best thing about Slappycakes is you make your own pancakes! You choose your batter and your toppings and then cook it up right on the built-in griddle on your table.
Skyline Restaurant
1313 NW Skyline Blvd.
Just say no to corporate burgers and head up Skyline Boulevard to hamburger heaven. Since 1935, Portlanders in the know have made this humble restaurant a permanent fixture on the culinary landscape. Food icon James Beard called Skyline's burgers one of the best he's ever had in a now yellowing review posted on the wall. Food Network Magazine placed Skyline at the head of their "On the Road" burger list.
Try their rich, thick milkshakes, available in more than 30 unusual flavors.
Café at the J
6651 SW Capitol Hwy.
It's the only kosher dairy restaurant in Portland certified by Oregon Kosher. This kid-friendly café is located in Mittleman Jewish Community Center. Its cereal cups are genius – plastic cups filled with different mixes of classic sugar cereals like Trix, Cocoa Puffs and Capn' Crunch. When my son Leo dumped his on the floor, restaurant owner Allen Levin was Johnny-on-the-spot with the broom, a kind word and a free replacement.
Stop by Tuesday evenings for a kosher meat dinner served up buffet-style.
Visit the café before Shabbat and score an Einstein's challah and pick up some kosher boiled bagels.
Kenny and Zuke's
1038 SW Stark St.
A Portland classic: an East Coast deli with a West Coast vibe. Their house cured and smoked pastrami, corned beef and tongue revive a dying art form … the Jewish deli. Kenny and Zuke's very own boiled and baked bagels perfectly complement the gravlax also made in house along with their amazing rye bread, knishes, rugelach and more. The flavors are all so rich and intense you'll wonder what you've been eating until now.
For more sandwich fun, check out Kenny and Zuke's Sandwichworks at 2376 NW Thurman St.
Kornblatt's
628 NW 23rd Ave.
If Northern Exposure's Joel Fleischman landed in Portland, he would feel right at home here. The only place in the Rose City to go for northern New Jersey-style sloppy Joes: triple-decker sandwiches made with thinly sliced rye, served with your choice of deli meat or cheese and interspersed with alternating layers of coleslaw and Russian dressing. I grew up on these and they simply cannot be beat.
A wide variety of smoked and cured fish includes kippered salmon, sable, whitefish salad and mouthwatering pickled herring in sour cream and onions. Of course, you'll need a bagel or two. Try a PLT (pastrami, lettuce and tomato) or a LEO (lox, eggs and onions).
Krispy Kreme at Beaverton
16415 NW Cornell Road in Beaverton
The perfect place for Father's Day, Hanukkah or anytime you need a doughnut fix, and 100 percent kosher. Your kids will delight in the sugary-glazed perfection that is Krispy Kreme!
Escape From New York
622 NW 23rd Ave.
Escape From New York not only has one of the best pies in Portland; but last Pesach they performed a true mitzvah for my family. Craving pizza, I took the kids to Escape with hope and one unopened box of Streit's Matzo.
In less time than it took to cross the Red Sea, they cooked up some of the best Passover pizzas I've ever tasted.
On the way out, show your kids the odd assemblage of action figures displayed in the front window. Mr. Magoo, Ringo Starr from Yellow Submarine, Superman and Minnie Mouse will earn a smile.
Blue Plate Special
308 SW Washington St.
I recently stopped by the Blue Plate Special for lunch. For a measly 10 bucks I was treated to a Tillamook grilled cheese sandwich and tomato soup, one of the best egg creams this side of the mighty Mississippi, plus a fat bag of candy to take home to the kids. In these hard times that is a square deal indeed.
New York, New York
7737 SW Barbur Blvd.
Owner Pat DeSiervi and daughter Dina will make you feel like part of the family when you stop by this charming old-school Italian restaurant. When I stopped by with my three very active little kids, Dina whipped up a perfect pie right before our eyes. She was so patient and kind with my three tiny whirling dervishes, as she plied them with lemonade and pennies.
The pizza was without a doubt one of the best, if not the best, I've had in Portland. The quality of the ingredients and heart and soul Pat and Dina pour into their food makes New York, New York stand head and shoulders above the rest. The wee ones will groove on kid-friendly dishes such as spaghetti and meatballs or cheese ravioli.
Two new bagel shops scheduled to open this summer:
Bowery Bagels
337 NW Broadway
Coming June 9
Kitchen Cru owner Michael Madigan plans to open an authentic New York bagel shop in time for Father's Day. Take your kids for a nosh when it opens.
Henry Higgins Boiled Bagels
601 SW Second Ave., Suite 2100
Coming Summer 2012
Leah Orndoff and Ulysses Christensen will apply their years of bagel expertise to the daunting dilemma of bringing Portland a better bagel.
Rich Geller is a freelance writer living in Portland with his wife and three children. Last year he published WonderDads Portland: The Best Dad & Child Activities, an informative guidebook for Portland parents with young children. Offering some 400 ways to bond with your children, the book features entries on local restaurants, street fairs and festivals, parks, historical sites, activities, restaurants, stores, sporting events and unique adventures. Primarily aimed at dads with kids ages 0-10, most content is suitable for older ages as well.