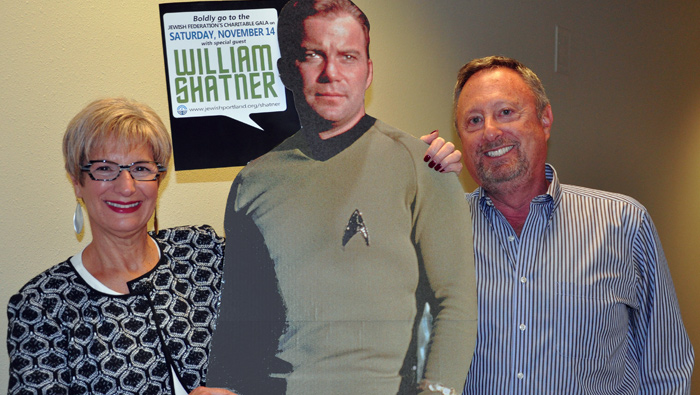 Jewish Federation of Greater Portland's 2016 Annual Campaign Gala
FEATURING:
Celebrity guest William Shatner, complimentary cocktails, heavy hors d'oeuvres, dancing, desserts, live music by Pressure Point
WHEN: 7 pm, Saturday, Nov. 14
WHERE: Mittleman Jewish Community Center, 6651 SW Capitol Hwy., Portland
WHY: Since 1920 the JFGP has been at the heart of our community – uniting us, meeting critical needs and saving lives around the world. This bold community enterprise relies upon your support.
COST: $75 per person; $36 discounted tickets for guests age 35 and under OR first-time-ever Federation event attendees
Cocktail attire is encouraged. Kosher dietary laws observed. Free valet parking
TICKETS: jewishportland.org/shatner
Jewish Federation of Greater Portland Gala co-chairs Kathy Davis-Weiner and Michael Weiner are looking forward to meeting the real William Shatner at the Nov. 14 "Benefit for the Future."
The gala committee wanted someone with broad appeal as their special guest for this annual campaign event. "William Shatner appeals to every generation," says Michael, noting all generations recognize Capt. Kirk, but younger generations also identify with him as the iconic Priceline.com "Negotiator" and his role as Denny Crane on "Boston Legal." A Scotch bar will serve up the amber liquid to help recreate some of the atmosphere of Denny sitting on the patio with a cigar and glass of Scotch.
"We want this to feel like a party and for people to be able to connect with him and have a dialogue," says Kathy.