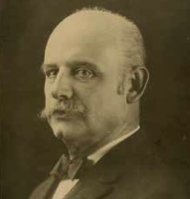 In 1928 Ben Selling was the inaugural recipient of the Portland Association of Realtors' "First Citizen" Award, honoring contributions to the city. His 70th birthday was celebrated throughout the town. And when he died on Jan. 15, 1931, the Oregon Legislature adjourned and flags flew at half-staff.
"Ben Selling Dies; City in Mourning,"The Oregonian proclaimed in its front-page story on Jan. 16. "Civic and Charitable Works of Jewish Leader Notable."
A man of modest habits and deep commitments, Selling helped shape the city and its Jewish community. In an essay, Rabbi Henry Berkowitz noted his "intense loyalty" to Portland and Oregon. "From the time he began his career as a newsboy in the last days of the Civil War," Berkowitz wrote, "he was active in the promotion of city and state welfare."
But Selling's greatest impact, he added, came from "a lifetime of unrivaled generosity in every conceivable field."
In addition to his work with and on behalf of many charitable institutions, Selling gave of himself generously.
"His private charity was ecumenical and extensive, all meticulously recorded in small notebooks that are now part of the archives," says Judith Margles, executive director of the Oregon Jewish Museum. "Donations to the Jewish Telegraph Agency, Portland Fruit and Flower Mission, a 'one-legged man' and 'coat for a poor girl' illustrate the depth of his generosity – and are one of the reasons that he is such an important figure in the history of our community."
In a 1926 interview in The Scribe, a publication for Portland's Jewish community, Selling said he strove to be a "good Jew" – which he defined as "One who follows the injunctions of Moses to give 10 percent of his income to the poor, and who treats his neighbor as he himself would like to be treated."
The story of the Selling family and the city of Portland begins soon after the founding of the city in 1851.
Ben Selling's father, Philip, the son of a rabbi, emigrated from Germany to the United States in 1849 and a year later found his way to California. There he married Caroline Auerbach, another German immigrant, in one of the first Jewish weddings in San Francisco. Ben was born April 29, 1852, and the family moved to Oregon 10 years later.
"The major portion of the life of Ben Selling ran parallel with the history of Portland," Berkowitz said, noting that the city had about 5,000 residents when the Sellings moved north – and grew to more than 300,000 during Selling's life.
Philip Selling opened a general merchandise store at Southwest First Avenue and Yamhill Street, and also was active in the community. In 1904, as the oldest member of Congregation Ahavai Sholom, he was honored with laying the cornerstone for its new synagogue on Southwest Park Avenue. The following year, the Council of Jewish Women thanked him for underwriting the entire cost of improvements to the Neighborhood House in South Portland. His will provided additional bequests to the Council, a Baby Home and other agencies following his death in 1908.
As a youth, Ben Selling attended the Beth Israel Religious School and then the Portland Academy, but didn't graduate with his class because his father needed his help in the store.
"During his school days, he was sent to S.F. (San Francisco) to attend school, remained there (a) few days, got homesick and returned on the same boat," his son, Dr. Laurence Selling, recalled in a handwritten reminiscence on file at OJM.
Dr. Selling also noted that his father worked for his grand- father "without any salary" until 1881, when he went into the wholesale boot and shoe business with F.E. Akin and H. Dosch. In 1893 he became involved in the Moyer Clothing Company, and in 1897 opened his own company, Ben Selling, Clothier, at the corner of Southwest Morrison Street and Fourth Avenue.
"For a period of over 30 years, that corner was a landmark in the life of Portland," Berkowitz said. "His store was a mecca for indigent students, bankrupt business men, itinerant beggars, traveling institutional solicitors, campaign directors, Old World rabbis and representatives of numerous other categories."
"The clothing business was of secondary importance," Berkowitz added. "From all appearances, (it) was maintained merely in order that the great philanthropist might have a headquarters for his charitable activities."
He led innumerable charitable campaigns and was often the first to give.
"Under Selling's leadership, Portland raised more per capita for survivors of the Kishinev pogrom (1903) than any other city in the country," Steve Lowenstein observed in The Jews of Oregon: 1850-1950. Lowenstein added that, during World War I, a national circular announced that Selling was one of six men in the United States willing to match 10 percent of what their entire state would give to assist Jewish war sufferers.
Lowenstein also wrote that Selling:
• Raised $10,000 for Chinese flood victims
• Raised $4,000 for Japanese famine aid
• Raised $100,000 for Armenian relief
• Personally bought $400,000 in World War I bonds, reselling
them to people of modest means for $1 cash and $1 a week.
The 1926 Scribe article credited Selling as the man who "broke the back" of the Panic of 1907 by taking over the claims of savings depositors. And in 1914, during an employment crisis, he set up – and funded – the Working Men's Club downtown, open from 6 am to 10 pm, which served more than 400,000 meals for 5 cents apiece.
"At one end of the room is a piano, an old-fashioned black- walnut cased piano from the home of Ben Selling," noted an article in The Oregonian, which called the Club "a new haven for the poor of Portland."
Selling believed in the importance of education and set up a scholarship fund, which continues today, to help students attend Oregon colleges and universities. "Monmouth Normal College (now Western Oregon University) alone is said to have educated close to 500 teachers" aided by the Selling scholarship fund, Berkowitz said.
What motivated him? "It was his firm conviction that giving should be done during a man's lifetime, when he could administer the money himself," Berkowitz said. "Over the period of many decades … he managed to give away several fortunes, and he had the joy of witnessing the great good that this money wrought."
Berkowitz added that the most remarkable fact was that Selling's income was comparatively limited. "He was willing to give away practically his entire income every year. His own needs were exceedingly modest. … He used to joke about his two suits a year, taken out of his own stock, and his plain little black bow tie."
Selling always gave with a "clearly defined social objective," Berkowitz said, explaining that he often would give loans to new immigrants to help them get a start. "He did not believe in pauperizing the people who came to him."
Laurence Selling recalled that his father helped "literally hundreds" of immigrants from Eastern and Central Europe. He cited "one of many examples: A Russian Jew who arrived in Portland and started business with 75 cents capital 17 years ago – aided by Mr. S – is now the owner of three stores, a handsome residence in Irvington and recently was one of three who purchased the shipyard in Seattle for a price in excess of $200,000."
Berkowitz described raising money for charity as Selling's "favorite pursuit," and said that, when he walked the streets of Portland, "every face greeted him with a smile."
"His memory will be written across the years as one who loved mankind and died in possession of life's chiefest treasure – a good name."