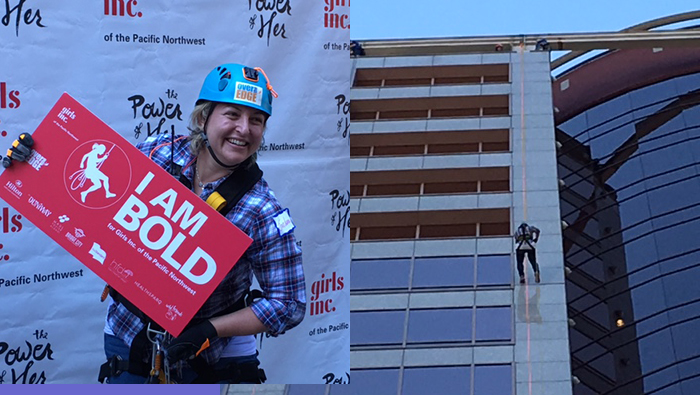 Jordana Levenick rappelled down the 24-story 1000 Broadway Buildings on July 15 supporting Girls Inc. Team Be Bold. As of July 17 Jordana's feat has brought in $3,959, exceeding her goal of $3,750. But she still hopes more people will donate to help all girls to be strong, smart and bold.
Jordana is the incoming B'nai B'rith Camp board president and sits on BBYO's adult advisory committee. Her two children, Sadie and Henry, are students at Portland Jewish Academy.
The daughter of Gloria Hammer and Michael Feves, Jordana wants all girls to have the support they need to grow strong.
On her fundraising page, Jordana writes: "Girls Inc of the Pacific Northwest…inspiring ALL girls to be STRONG, SMART and BOLD!  Join me and Team Be Bold in supporting this incredible organizations work.  I am grateful to the women who have raised me to be a strong, smart and bold woman.  I recognize not all girls have the opportunity to be raised in such environments and for that reason I am passionate about finding ways to make a positive impact on women's lives.  Empowered young girls become inspiring young women and I believe this world need inspiration…and a lot more love!
The process is fast, easy, and secure. I truly appreciate any support you can provide. It will benefit a great cause and give me the opportunity to get brave as I rappel down a SW Broadway building.  If you want to join me on my jaunt down the building please sign up to join my team!
If you can't make a donation at this point, help me reach my goal by sharing this page (https://www.classy.org/fundraise?fcid=996971) on Facebook and Twitter!  Or, even better, send an e-mail to friends you think might be interested in contributing and include a link to my page!
Thanks so much for your generosity and willingness to be BOLD!"