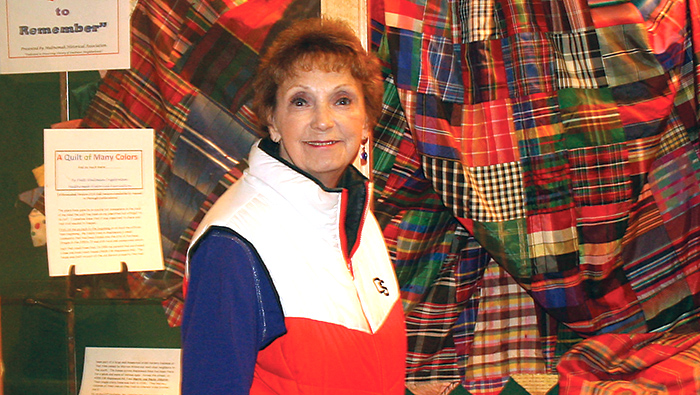 When Patti Waitman-Ingebretsen grew up in Maplewood in the 1940s and '50s, the neighborhood had a small-town, rural feel. Located west of Multnomah Village and bordered by Southwest 45th Avenue, Southwest Vermont Street and Southwest Multnomah Boulevard, the area was incorporated into the City of Portland during the 1950s.
Patti attended the Multnomah School in what is now the Multnomah Arts Center and gained a reputation as a stellar neighborhood babysitter. She and her brother became favorites of a childless couple who lived across the street.
"We always called them Mr. and Mrs. Shlaifer," Patti says. "He was a retired tailor. On my 13th birthday, he arrived on our doorstep with a gift. It was an amazing reversible quilt made of plaid umbrella silks. The matching pillow was from a design on the top of an umbrella. The most significant part of the pillow was that Mr. Shlaifer said the down filling had come from the old country. Which old country, I never asked."
The down filling's origin and the history of the Shlaifers turned into a lifelong interest. An active member of the Multnomah Historical Association and a passionate genealogist, Patti set out to learn about her neighbor's roots. She sorted through spelling variations like Schlaifer, Schliefer, Schlaiffer and Shliefer and found records from Ellis Island, the census and city directories. She researched newspaper archives and contacted relatives she discovered in Portland and beyond. She drove around the Old South Portland immigrant district to identify buildings where the couple had lived and worked. "I wanted to flesh this out to make them into real people, not just facts on paper," she says.
Not much is known. Moritz Schleifer and his brother, Jacob, emigrated from Odessa in 1910 and made their way to Oregon with the help of the Industrial Removal Office. This organization, founded by trustees of Baron de Hirsh, helped disperse Jews from the lower East Side of New York to Jewish communities throughout the country. Moritz later changed his name to Morris Shlaifer. He worked as a tailor and in 1930 married Becky Bernstein, who had immigrated with her family from the Russian Empire. Morris and Becky belonged to Congregation Shaarie Torah and are buried in its cemetery. According to Oregonian articles, Morris engaged in real estate development, and Becky became active in a committee to aid the Jewish National Medical Center in Los Angeles.
Patti's big regret is not finding a single photograph of the couple. The only image she has is from Morris' citizenship papers. She is by no means finished and plans to continue her research. "Just because they didn't have children doesn't mean nobody should remember them," she says. "I don't want them to be forgotten. I feel connected to them."
MULTNOMAH ARTS CENTER
The Regional Arts Resource
EXHIBITS
Through January
Multnomah Historical Society Display
Jan. 6-31
Main Gallery: Tatyana Ostapenko's Open Air: Oils on canvas and wood
HOURS
9 am-9:30 pm, Monday-Friday
9 am-5 pm, Saturday & Sunday
LOCATION
7688 SW Capitol Hwy.
Portland, OR 97219
PHONE
503-823-2787