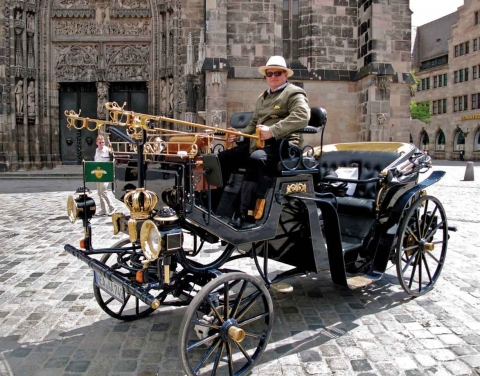 From the hilltop battlements of stately Kaiserburg Castle, it's possible to gaze down upon the home of late medieval artist Albrecht Dürer, circa 1420, in a neighborhood that resembles a storybook village. At the Tucher Mansion, a Renaissance museum with original furnishings and tapestries, an actress dressed in period costume conducts tours playing the role of Katharina Tucher, the 16th-century mistress of this house.
This and similar relaxing scenes in Nuremberg (or Nürnberg) remind us of the outstanding contributions German citizens have given to the world in the fields of art, literature, music and technology. On the other hand…
More than any other German city, Nuremberg is linked to the rise and fall of the NSDAP – Hitler's Nazi Party. It rose to prominence with the Parteitag rallies held every September from 1933 to 1938, which eventually became week-long orgies of militaristic, nationalistic extravagance involving hundreds of thousands of participants and onlookers.
During the 1935 rally, Hitler ordered the Reichstag to pass anti-Semitic laws revoking German citizenship for all Jews. He also promised that his glorious "Third Reich" would reign for a thousand years; it barely lasted 12 (1933-1945). The final extermination of this evil era was the Allied military's war crimes tribunals in Nuremberg, where Nazi leaders such as Hermann Goering and Rudolf Hess were convicted and sentenced for their crimes against humanity.
Hitler's choice of Nuremberg was by no means accidental. Positioned in the center of Germany, the city held great emblematic meaning as the unofficial capital of the Holy Roman Empire (962-1806). Kaiserburg, Germany's most significant imperial palace of the Middle Ages, was home to every king and emperor of the H.R.E. from 1050 to 1571. Following the absorption of Austria into Germany in 1938, the Nazis shifted the sacrosanct regalia of the H.R.E. to Nuremberg from its decades-old home in Vienna.
Today, Kaiserburg Castle is filled with art treasures and is the centerpiece of any visit to Nuremberg. To reach it from the station-side Meridian Grand Hotel, I chartered a machine that few people have ever seen before. The locally produced, mechanically driven "Aaglander" is a wonder of German automotive ingenuity, an elegant echo from the past, yet totally modern in technology and purpose.
The driver, Rudolph Mauderer, explained, "I know the Aaglander appears to be a wonderfully contradictory backward step, but that's exactly what we intended. Just like the Slow Food Movement is gaining international popularity as a reaction against unhealthy fast food, this is a new class of vehicle that celebrates the luxury of a slower pace of life."
As we drove along historic Weissgerbergasse, every head turned to stare in our direction. "True, the Aaglander can only travel at a leisurely pace of 10 kilometers per hour," Rudolph laughed, "but what you lose in speed, you gain in instant celebrity status!"
Ironically, our route echoed the path that Hitler's marching columns ceremoniously followed on their way to the Hauptmarkt, or city square, which was named Adolf-Hitler-Platz from 1933-1945. We passed the double steeples of Lorenzkirche (St. Lorenz Church) and, a few meters beyond, a picturesque fountain called Der Tugendbrunnen.
"It means Fountain of the Virtues," Rudolph said, "built to remind citizens how to act properly, back in the days when such things still mattered."
Well, maybe. The fountain's date was 1589, about two and a half centuries after Nuremberg's Jews were blamed for an outbreak of plague and subjected to a pogrom that slaughtered hundreds. Not very virtuous.
We rumbled down a slope in the Aaglander to the Pegnitz River, which is crossed by several charmingly antiquated bridges. Yet, one is distressingly called Hangman's Bridge (Henkersteg).
Rudolph explained, "From the 16th to 19th centuries, the executioners of Nuremberg had to live in the tower of this bridge, apart from other people, since the hangman's trade was considered unclean."
Standing opposite, a distinguished-looking building arching over the river once held another kind of outcast. "That's the Hospice of the Holy Spirit (Heilig-Geist-Spital)," Rudolph said. "In the Middle Ages, lepers were kept here, segregated from other patients. Today, it's a home for the elderly."
Before the bridges, back in 1298, the Pegnitz River divided the northern and southern parts of the city. The citizens decided to link these sections, but there was a problem. Evidently, a Jewish neighborhood was in the way. Solution: accuse the Jews of having "desecrated the host." This was a common ploy in medieval Europe, used when a Jewish presence became "inconvenient."
Here's how it worked: It was claimed that Jews stole consecrated bread or wafers used as "hosts" (i.e., the body of Christ, also called Holy Communion, consumed during a Catholic mass) and, by stabbing or burning, desecrated them. And why would Jews risk their lives doing this? Because, it was claimed, they had a mad desire to reenact the crucifixion of Jesus. All that was needed for proof was some despoiled "hosts," never mind that they might be mouse-eaten or falsely planted evidence.
Accused and tortured, some Jews confessed. As punishment, they were condemned to burn, sometimes with all the members of their community. In Nuremberg in 1298, that number was 698 slain to make way for urban renewal.
To its credit, Nuremberg does not shy away from repudiating these stains upon its past. At the DB Railway Museum, director Dr. Rainer Mertens spoke to me amidst an amazing collection of 160 historical rail vehicles. "German railways began in Nuremberg 176 years ago, and for the most part, it's been a very positive history," he said. "But we also have displays examining the disastrous years of NSDAP dictatorship, including a wall-size photo of empty tracks running into the gateway at Birkenau death camp. I believe the rail workers themselves could have done more to disrupt that genocide."
Of the former Nazi Party Rally Grounds, only the front building remains now, and it's been converted into a haunting museum called the Documentation Centre. It's filled with films, photos and sounds of Germany's darkest hours, decrying the events that led up to World War II and carrying through to its aftermath.
As the exhibits show, there was great symbolic value in holding the Allied Military Tribunal here, making Nuremberg the burial ground of Nazi dreams of power.
Joseph Lieberman is a freelance writer who lives in Eugene and travels frequently.