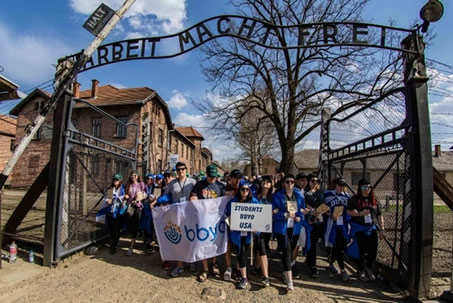 With most in-person Yom HaShoah ceremonies and events canceled due to the coronavirus outbreak, BBYO will be hosting a record number of online events via its digital content platform, BBYO On Demand, beginning at 1 PM ET on Monday, April 20, 2020. With over 40 confirmed events planned by BBYO chapters, regions, communities, and partners around the world, programs will bring participants together to bear witness to the testimonies of Holocaust survivors, and to think, sing, talk, and most importantly, listen to their stories together.
Yom HaShoah, or Holocaust Remembrance Day, takes place this year from sundown April 20
to sunset April 21. BBYO teens in countries including Argentina, Australia, Austria, Bosnia and Herzegovina, Bulgaria, Canada, Colombia, Croatia, Czech Republic, Denmark, Finland, Germany, Hungary, Israel, Latvia, Mexico, the Netherlands, North Macedonia, Poland, Serbia, Slovakia, the United Kingdom, the United States, and Uruguay, will be leading commemorative programs throughout the week designed to create a virtual community of remembrance for all those who perished during the Holocaust.
"Although face-to-face activities are on hold this year, we're still able to make connections and hear powerful stories from survivors who live around the world," noted Jill Goldwasser, BBYO's teen vice president of Jewish enrichment. "This past Saturday, I joined BBYO Australia's Havdalah ceremony where I heard a local teen share the inspiring story of how his grandmother survived the Holocaust. Connecting this way, through a digital platform, makes it accessible for even more teens to hear stories of strength and perseverance at a time when we need it most."
Partners participating in BBYO's Yom HaShoah programs include Zikaron BaSalon, the March of the Living, the Jewish Agency for Israel, Colegio Colombo Hebreo, the World Union of Jewish Students, and Maccabi Tzair Israel. Zikaron BaSalon (Hebrew for "Living Room Memories") is an innovative and meaningful way to commemorate Yom HaShoah which allows Holocaust survivors to share their stories with subsequent generations from the comfort of a living room.
Highlights of this year's Yom HaShoah programming, details of which can be found on BBYO On Demand, include:
Remembering Together: Zikaron BaSalon and Yom HaShoah Opening Ceremony—Monday, April 20 | 1 PM ET (live on Facebook)
GEC: Kindertransports and the Righteous Gentiles, featuring U.S. Holocaust Memorial Museum Curator Suzy Snyder, and Survivor Eva Paddock—Monday, April 20 | 4 PM ET
Yom HaShoah Ceremony for Latin American Jewish Day Schools—Tuesday, April 21 | 9 AM ET
International Zikaron BaSalon with Holocaust Survivor, Sami Steigmann, hosted by BBYO Lonestar Region—Tuesday, April 21 | 5 PM ET
An Evening to Remember: Yom HaShoah 5780, Closing and Reflections—Tuesday, April 21 | 9 PM ET (live on Facebook)
Since the outbreak of the coronavirus, BBYO has transitioned from an event-driven organization to an organization focused exclusively on connectivity, and launched BBYO On Demand, a 24/7 virtual hub in which any Jewish teen can create or participate. Called a "Jewish Netflix for live-streamed programming" by the press, BBYO On Demand gives teens worldwide access to an innovative digital space filled with activities, events, and experiences they can tune into from anywhere, anytime. These experiences include art classes, video game tournaments, book clubs, chapter meetings, coffee house/open mic performances, cooking demonstrations, community service projects, prayer services, esports matchups, TikTok challenges, voter registration drives, and more. Since launching the platform, nearly 50,000 users have participated in 2,500 programs in just under five weeks.
Additional information about the range of Yom HaShoah programs being held throughout the week can be found on the website. Participants are also encouraged to follow @BBYOInsider on Facebook, Twitter, Instagram, and Snapchat, to stay up to date on events and information.