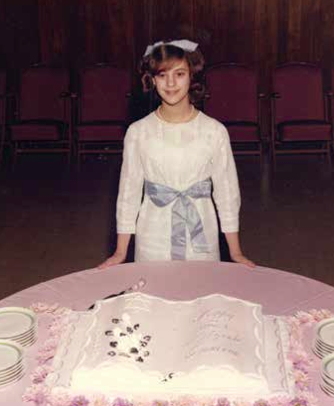 To mark the 90th anniversary of the very first bat mitzvah, the Oregon Jewish Museum is hosting a traveling exhibition, "Bat Mitzvah Comes of Age," featuring the remarkable story of how, in less than a century, individual girls, their parents and their rabbis challenged and changed communal values and practice to institute this now widely practiced Jewish ritual. The exhibit was organized by the National Museum of American Jewish History and Moving Traditions.
"Bat Mitzvah Comes of Age" opens Oct. 9, 2013, and continues through Jan. 26, 2014, at the Oregon Jewish Museum.
On a Saturday morning, March 18, 1922 – two years after American women earned the right to vote – Rabbi Mordecai M. Kaplan summoned his daughter, Judith, to the front of the synagogue sanctuary where she read from her own Bible in Hebrew and English along with the requisite blessings. With this revolutionary act, Judith Kaplan and her father initiated what would become the widespread American Jewish practice of bat mitzvah.
The exhibit is based on more than 150 responses to Moving Traditions' "Bat Mitzvah Firsts" survey. The selected personal stories range across the American-Jewish spectrum, from secular to ultra-Orthodox and from small town to urban center.
"In conducting research for the exhibition, we heard from women who were willing to raise their voices and challenge the gender expectations of their time; these 'bat mitzvah pioneers' moved girls and women from the margins to the center of Jewish life," says Deborah Meyer, Moving Traditions founder and executive director. "That bat mitzvah – once a radical innovation – is now a nearly universal tradition shows how Judaism continues to evolve in each generation."
"Bat Mitzvah Comes of Age" fits with the Oregon Jewish Museum's mission to explore themes in Jewish history that provide relevance and meaning to our lives today.
"The exhibit illustrates an important connection between the movement for women's equality and the development of American Judaism," says OJM Director Judith Margles, adding it is "a link that emerges when looking at the tradition of the bat mitzvah in Oregon." OJM is creating a companion exhibit that focuses on the Oregon story. In 1956 Congregation Beth Israel in Portland welcomed Karen Sue Sholkoff as the first recorded bat mitzvah in the state. Other bat mitzvah ceremonies followed, but it wasn't until the 1980s that the ritual became a regular part of religious practice for many Oregon Jewish girls.
Jewish law states that girls automatically reach religious maturation at 12 years and a day, and boys at 13 and a day. This milestone is commonly known as bat or bar mitzvah, meaning "daughter or son of the commandment." Public rituals for bat mitzvah developed in the 20th century, while bar mitzvah ceremonies have existed since the Middle Ages.
Most early b'not mitzvah (Hebrew feminine plural for bat mitzvah) were held on Friday evening, when Torah is traditionally not read. Today, in egalitarian congregations, a bat mitzvah ceremony generally looks identical to a bar mitzvah, with girls chanting Torah on Saturday morning. More traditional congregations might observe any of a diversity of practice, such as a girl delivering a shiur (lesson) or chanting Torah in the presence of women only.
The exhibition includes oral history recordings of bat mitzvah stories from around the country and across Jewish movements, a timeline of relevant historical milestones and an interactive component in which visitors can share their coming-of-age stories and photos.
Weaving the stories of the evolution of American Jewish life with 20th century feminism, the exhibition includes narratives and artifacts from everyday trendsetters to prominent women, such as Supreme Court Justice Elena Kagan, Facebook COO Sheryl Sandberg and activist Ruth Messinger, to illustrate the substantial impact of bat mitzvah on Jewish life across the reli- gious spectrum, and on the girls (now women) themselves.
"I have always felt very proud to have had a bat mitzvah. It was groundbreaking and I believe helped formulate my thinking about what it meant to be a Jewish woman," says Phyllis Teicher Goldman, whose 1960 bat mitzvah was the first on a Friday night at Beth-El Synagogue in New Rochelle, NY. A telegram that Teicher Goldman received from her family in Miami congratulating her on her bat mitzvah is reproduced in the exhibition.
The Oregon Jewish Museum, the Pacific Northwest's only Jewish museum, examines and preserves the rich cultural heritage of one of Oregon's earliest immigrant groups.
Oregon Jewish Museum | 503-226-3600 | 1953 NW Kearney, Portland | ojm.org