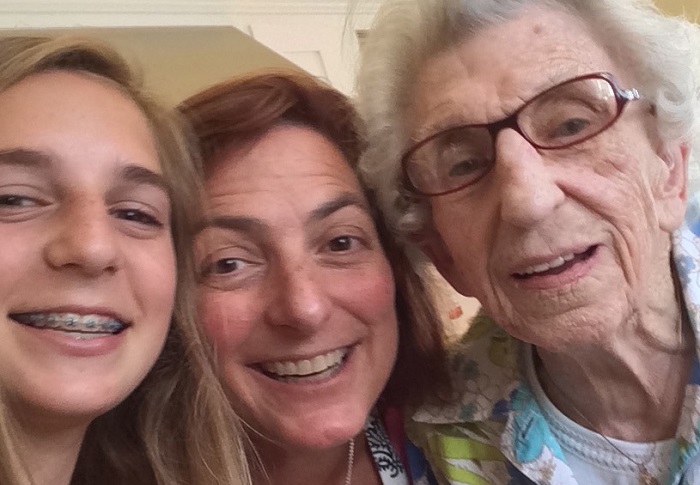 PHOTO: Emily Wanderer Cohen with her mother, Hannelore Wanderer, z"l, and daughter, Rachael Cohen.
By Emily Wanderer Cohen
It all began with this innocuous statement: "Em, I'm getting my left knee replaced in April, right after the first night of Pesach."
My mother (I called her Mutti, which is German for mom) had no concept of how she had just turned my world upside down. To her, the surgery on her knee was going to be a blip on the screen, and she'd be back to her usual routine in no time. To me, however, it was anything but. She'd had her right knee replaced three years before, and it was a harrowing ordeal.
What I know now is that this was a fairly typical scenario for an adult child and her aging parent. While I saw the signs of Mutti's mental and physical decline, many adult children write off multiple, minor incidents as isolated accidents and tell themselves that the problem either isn't real or will go away.
No one wants a real emergency – a fall resulting in a broken hip, a short drive to the grocery store that turns into a search operation – to be the catalyst for creating a caregiving plan. But sadly, that's all too often what happens.
On one hand, we want to respect our aging parent's wishes to 'age in place' – staying in her own home as long as possible. On the other hand, we need to ensure her health and safety. As the keynote speaker at Jewish Family & Child Service's fundraising luncheon last month, I learned about the innovative ways in which JFCS addresses these issues, particularly by encouraging seniors to stay active in their community.
I knew that Mutti adamantly wanted to stay in her apartment in Seattle, but I could also see the costs of her lack of social engagement. She was depressed and her increasing confusion due to dementia along with severe hearing loss meant that it became difficult, if not impossible, to ensure from my home in California that she was safe. More than once I had to call the police for a wellness check because she forgot to wear her hearing aid and couldn't hear the phone ringing.
So, just like a high-wire artist, planning your course in advance and making sure you have a safety net below can make your caregiver journey and your parent's aging significantly smoother. If your parent is a Holocaust survivor like Mutti, a proactive, thoughtful approach is even more important.
With that in mind, here are some tips based on my personal experiences, as well as those of my clients:
Have the hard discussions long before there's an emergency. It's the rare parent who wants to talk about her care plan when she's still socially active and mobile, but at least know your parent's wishes so that you are not blindsided.
Get siblings on the same page (or at least in the same book). Competition between and disagreements among siblings only distract from the parent's well being. Make every effort to come to some agreement.
Create a plan for the "what ifs." Know your options for helping your parent age in place as well as for assisted living and memory care. Consult a financial expert if needed and amend all legal documents before your parent loses her ability to make decisions.
Make your parent's social engagement a priority. Studies show that isolation increases the risk of heart disease by 29% and stroke by 32%. On the other hand, social engagement stimulates the cardiovascular, cognitive and neuromuscular systems. The more active and engaged your parent stays, the healthier they'll be.
Be realistic about when their safety and your sanity trump your parent's wishes. Is your parent routinely getting lost on his daily walk that he's been taking for 25 years? Did your mother forget that the iron was on and start a fire? These are signs that an increased level of care is needed to keep your parent safe.
Know the sensitivities and triggers for Holocaust survivors. Caring for a Holocaust survivor adds another level of complexity to the caregiving equation. Aging in place becomes even more important for those who were forced from their homes and lost family in the Holocaust. Triggers related to showering/bathing, food, smells, doctors, standing or waiting in line, striped clothing (such as that worn by prisoners in concentration camps), and more can arise with greater frequency or intensify with age.
Helping seniors live on their own terms
Through PEARLS (the Program to Encourage Active, Rewarding Lives for Seniors), JFCS offers free, in-home counseling to isolated seniors. Over the course of eight sessions, participants learn to self-manage depression while expanding their social ties. And by providing "house calls," PEARLS counselors can offer more companionship and ensure regular contact.
The licensed clinical social workers at JFCS help seniors and their caregivers cope with the complexities of aging. Common issues include bereavement, isolation, anxiety, depression and family dynamics.
Most Holocaust survivors are now in their 80s and 90s, and the vast majority of them want to grow old in their own homes. Last year JFCS provided local survivors with a total of 14,350 hours of homecare services, helping them age with dignity and autonomy.
You can help JFCS continue this important work by making a donation at jfcs-portland.org.
Emily Wanderer Cohen, author of From Generation to Generation: Healing Intergenerational Trauma Through Storytelling, is the daughter and granddaughter of Holocaust survivors. She was the keynote speaker at the April 17 JFCS Celebrating Our Caring Community lunch. At the JFCS event, she spoke about her own experiences as they relate to helping her mother age in place – and the associated services needed – as well as her insights into trauma-informed care.