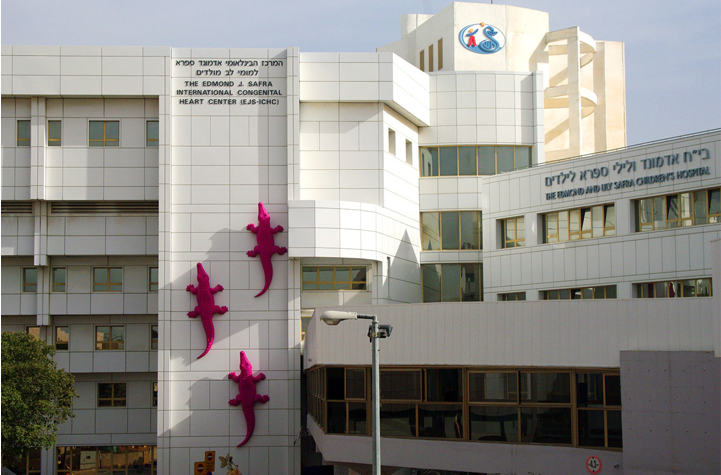 Photo: Safra Children's Hospital at Sheba Medical Center
As schools open slowly on different dates and in different forms, a panel of experts from the Sheba Medical Center's Safra Children's Hospital answers commonly asked questions. The experts are Dr. Itai Pessach, director of the Safra Children's Hospital at Sheba Medical Center; Dr. Galia Barkai, director of the Department of Infectious Diseases in Children at Sheba Medical Center and Prof. Doron Gothelf, director of the Department of Child and Teen Psychiatry.
Now that the children are going back to school, how can we prevent them from bringing home the coronavirus?
Dr. Barkai: The good news is that children, especially those under 10, have a significantly less chance of catching the virus and of becoming ill with it. Overall, the number of cases of children with COVID worldwide has been very low. At Sheba, the majority of the children had been hospitalized for a different reason entirely and a routine test showed that they were COVID-positive.
Nevertheless, they certainly can be carriers as we've seen numerous times. What we need is collective responsibility which implies, among other things, following the safety rules: wearing masks, maintaining distancing (I don't like to say "social distancing" because school is a social experience; but rather, physical distancing), and hand hygiene, which I think is the most important thing. Habituate children to hand-washing with soap or sanitizing with gel. Once we do this, we greatly reduce the chance of infection.
Dr. Pessach: Another important regulation that applies to older children is keeping them in capsules, and we've seen that this can significantly reduce the rate of infection.
In the coming few weeks, as summer turns to fall and we enter the flu and cold season, we have to be much more vigilant. It's never a good idea to send a child with a runny nose, cough or fever to school, but these days, it's a must.  I know of many parents who would give a mildly ill child a Tylenol and send him to school; this is not an option these days. If a child exhibits any symptoms that could be COVID, he must be kept at home as long as those symptoms persist.
Dr. Barkai: The schoolbus can also be a source of infection. Try to make sure that the bus is not crowded. Children should have their masks on in the bus and sit as far away as possible from one another. If possible, the windows should be kept open.
What do you recommend for a child with asthma or a child with a weakened or suppressed immune system?
Dr. Pessach: Children with chronic illnesses or who have weakened immune systems due to special medications or chemotherapy are at higher risk of developing a severe case of coronavirus, but overall, the chances are still slight. That said, parents must consult with their health provider to receive specific advice and guidelines related to their individual issues.
How do you recommend that teachers keep themselves safe?
Dr. Barkai: First of all, teachers should know that if they wear a mask and the children also wear a mask, they are very well protected. We found that in the hospital, whenever infections did occur, they could be traced not to the clinical areas but to the common rooms, where the staff took breaks. So, it's the same thing at school. Teachers should adhere to safety rules in the classroom but also in the teacher's room.
Teachers of children who are not of the age required to wear a mask can gain additional protection with a plastic shield. Nothing is 100%, but I really think that is sufficient.
Dr. Pessach: I want to stress that masks do work. In the Safra children's hospital, the medical staff was extremely strict about wearing masks and not one clinician caught COVID or even had to go into quarantine. If you wear a mask and a plastic shield, know that you are protected. This is how we protect high-risk patients.
How often should we change masks?
Dr. Pessach: The recommendation for disposable surgical masks is to change them twice or three times a day. At the hospital, we are required to switch every shift, which is every 8 hours.
How can I keep my child safe while taking part in sports?
Dr. Barkai: It's impossible to do sports with a mask, because of the increased output of carbon dioxide. For this reason, sports are best done outside to reduce the chance of infection. Alternatively, they can be done inside a large auditorium, where it is possible to keep a distance between students. If the only place for physical activity is inside the classroom, it's better to forgo the physical activity.
How can I help my child who has to be in quarantine?
Prof. Gothelf: Quarantine is not a normal situation and it is never pleasant. The following are a few important steps to take:
First, explain to the child, in an age-appropriate manner, the reason for quarantine and its importance. When we grasp the significance of what we do, it gives us the strength to do it. Lacking a full explanation, the child is liable to imagine all kinds of scenarios. It's also important to clarify to the child that he did nothing wrong, so that he shouldn't feel guilty.
Try to keep up a regular routine that is as close to the child's regular routine, including normal sleep/wake times.
Limit the child's exposure to media. Children who read the news may become unduly anxious; it's better for them to hear the news through the filter of their parents.
In the event there the school offers Zoom classes, try to encourage the child to participate so that he will continue to feel involved in the class and won't fall behind with his schoolwork.
How can I prepare my child for the transition from preschool to first grade?
Prof. Gothelf: Children become anxious mainly when they don't know what to expect. It's important to prepare a child for any transition, especially one in which there are COVID regulations added to the mix. Hang the school schedule on the fridge, tell him about the new rules at school and explain their importance. Personal example here is of utmost importance. You can't expect your child to adhere to the rules if you don't.
Small children often have trouble managing their masks. Make sure they fit well, that the elastic isn't too loose or too tight, that the material doesn't irritate the child's skin. Allowing the child to choose a fabric mask in the color or design of their choice can help.
Preschoolers should have at least one visit to school before the start of the year to help them make the transition from kindergarten to school — to meet the teacher, learn where the washrooms are, etc. In the COVID era, schools have skipped this stage. Remember that and try to fill in those gaps by taking the child to school in the first days.
How can I help my child get the most out of distance learning?
Prof. Gothelf: Let me begin by saying that distance learning is challenging for both parents and children. Relax. Now is not the time to insist on children getting straight A's. Let's lower our expectations; our children will have plenty of time to catch up.
Unlike in a classroom situation, teachers cannot see when the children are experiencing difficulty. You as the parent must try to keep in touch with the teacher to keep her in the loop. Often, children need more help with distance learning, and this can be challenging for working parents. Try to get the help of an older sibling, or a neighbor. And again, keep in touch with the teacher.