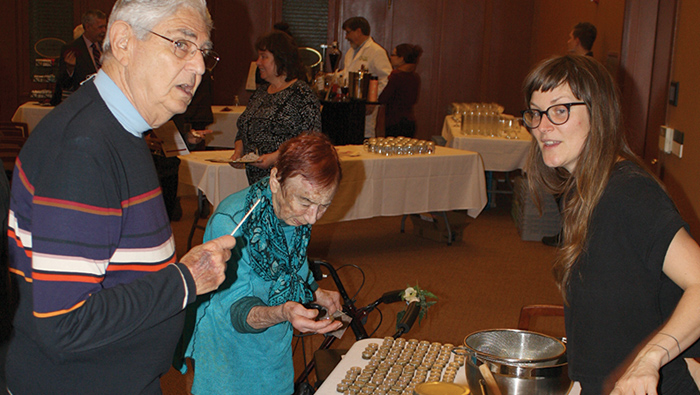 "Old age is not a disease nor is it a diagnosis."
— AgeWiseInstitute.com
On a rainy November night, a gray-haired woman leaned over her walker to study the assortment of teas before her. She was part of a crowd of residents, guests and supporters of Cedar Sinai Park in Portland who gathered at the Rose Schnitzer Manor to check out an array of "Inspired Living" classes from the Age Wise Institute.
The instructor introduced the individual teas, each with its own scent, taste and, more to the point of this gathering, medicinal properties. She encouraged sampling and helped each person put together a unique blend to take home to try. Need to have your tummy soothed? Want more energy? Arthritis getting you down? Satisfied, the woman took her tea blend and her walker and moved on to the next booth to check out the natural honey selection.
The event was as much a celebration as an introduction, reflecting CSP's excitement about the Inspired Living Series.
"We have great staff and life-enrichment coordinators," says CSP CEO Sandra Simon, noting they work hard to provide a selection of interesting and stimulating classes ranging from a book club to yoga. But, she says, "Part of their role is to bring in thought leaders on how to age wisely and live well. We are stronger when we collaborate and partner with other experts."
Eddy Shuldman is on the CSP board and chairs its Spiritual Life Committee. She is also an artist, and she met Amy Henderson, the lead gerontologist at the Age Wise Institute at the National University of Natural Medicine, through their work together at the Geezer Gallery. The gallery's tagline is "a whole new old" and it celebrates senior artists and offers art as therapy programs designed, they say on their website, "to enable brain-cell growth, dexterity and an opportunity for personal self-expression."
Eddy and Amy believe that is possible.
"Look at the demographics," Amy says. According to the National Council on Aging, 92% of older adults have at least one chronic disease, but while "chronic diseases account for 75% of the money our nation spends on health care … only 1% of health dollars are spent on public efforts to improve overall health."
The question is, Amy says, "How do we keep ourselves living healthy lifestyles regardless of our age?" And can we stave off debilitating illnesses rather than just treating them when we get them? To that Amy says, "Yes, yes, yes!"
"Amy has partnered with OHSU to do formal neurological research about what happens to the aging brain when people are exposed to art, music, writing," Eddy says. "She brought the programming to a variety of senior residences; OHSU did pre- and post-testing. (The research showed) that when elders are engaged in the arts, you can delay onset of a number of mental debilitations (with ongoing stimulation)." Amy founded The Age Wise Institute in January 2016 and now divides her time between The Geezer Gallery and the institute.
"We are looking at the whole person," Amy says. "Old age tells a story of aging, but it doesn't have to be a story of decline." So Amy told Eddy, and Eddy told Jennifer Felberg, the life program director at CSP, and the ball started rolling from there.
Jennifer had already heard of Amy because Amy had been involved in a 12-week research program and CSP staff training called "Journaling Your Journey" at one of CSP's affordable housing buildings downtown, funded by Min Zidell, z'l. It was, Jennifer says, a "huge success." She was, coincidentally, trying to find people to train the CSP staff when Eddy called her about Amy.
Jennifer notes that CSP is already an innovator in elder care, and she cites their current partnership with the Oregon Symphony as one example. "We have a grant to bring music to some of our more advanced-stage dementia patients in a program that studies brain stimulation through music therapy. The symphony has done this once before, as an experiment, but we are first to work with the finished product. Symphony musicians and a music therapist will conduct sessions in February with 10 CSP residents. Baseline and post-testing to evaluate the effects of the program are also part of the grant."
Because healthy eating is an integral part of the Age Wise picture, when Jennifer met with Amy she brought in Jennifer Evans, CSP's culinary services director, who is totally sold on offering hands-on food experiences as well as lectures and classes.
"My background is in nutrition, and I've always believed that food is the best medicine, in the pure 'comfort food' sense and also in the true medicinal sense," says Jennifer Evans. "Our food choices do affect how our bodies function and, ultimately, how they feel, for better or worse. I think that by educating our aging population on proper food choices, we can impact their quality of life for the better."
Jennifer Evans wants the Age Wise programming to influence the menus on campus, and she is excited about CSP leading the way.
"I don't hear of many facilities offering blended cocktails with fresh herbs or mixing loose-leaf tea that can help reduce inflammation – and tastes good, too," she says. "Plus, this is Portland! We are the city of healthy, delicious, trendy food! Just because our focus is on the elderly doesn't mean we have to be separate from the rest of the Portland food – and health – scene."
The buildup may take a while, however. "In other places, residents pay a surcharge for Age Wise classes," says Jennifer Felberg. "We won't do that. I have some money in my budget, but for the time being we will be asking our residents which classes we should bring in, one or two at a time. We are working hard to find underwriters and grants to extend the program so everybody on campus can enjoy these experiences and be empowered to take care of their own health rather than rely solely on the decisions of our staff."
Amy Henderson is looking forward to the partnership. "This programming dovetails beautifully with the Green House Project philosophy that is an increasing part of life on the entire CSP campus," she says. "It brings additional health and wellness education and workshops to places that really believe in the power of strategic healthy initiatives. Places like Cedar Sinai Park."
Liz Rabiner Lippoff is a marketing consultant, freelance writer and community volunteer, including serving as the president of the Cedar Sinai Park board. LizInk.biz