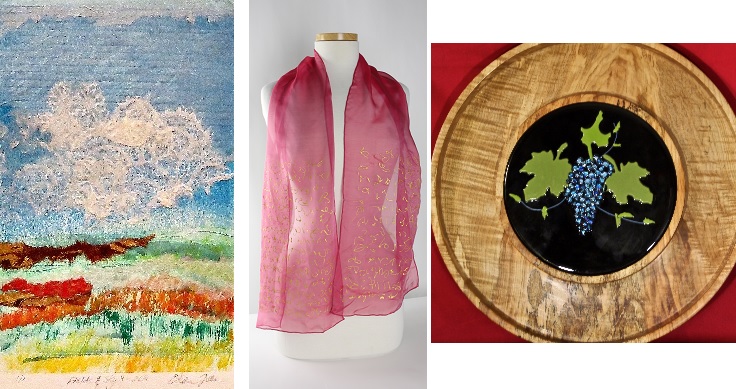 Jewish Arts Month returns to the Mittleman Jewish Community Center for the eighth year with a series of weeklong exhibits by local Jewish artists. ORA: Northwest Jewish Artists organizes the event.
"ORA's Jewish Art Week was first held at MJCC for one week in March of 2009," says ORA President Esther Liberman. "It featured an exhibit of work by members of ORA, which was a small group at that time."
The next year the event was expanded and became Jewish Arts Month. The monthlong celebration of Jewish art included partnerships with art, theater, music and lecture events throughout Portland. The year also saw the introduction of a different set of artists being featured each week at MJCC.
"This rotation format was very well-received by the public and continues to this day," says Esther.
As ORA membership grew, the exhibits became more extensive and JAM shifted its focus to the exhibits at the MJCC. Beginning in 2012, sale of the artwork became part of the month.
In 2016 ORA kicked off the month with a weeklong exhibit by local middle-school artists. Another innovation that year was the sale of "6 x 6 for 36." ORA member artists each created and donated artworks on 6" x 6" cradle-board canvases, which were sold for $36 each to raise money for ORA's new scholarship fund. This year's show will again feature these small canvases with
all sales benefitting the scholarship fund.
Following are the artists who will be exhibiting during the month. The show is open during MJCC hours. Artists will be available sporadically to answer questions about the exhibit. All art is available for purchase at the MJCC front desk.
The show changes every Sunday and closes on Friday. The artists and the media they work in will be on display the following weeks.
Feb 25-March 2:  Portland-area Jewish artists in seventh and eighth grade – juried art exhibit. March 4-9; Ellen Green, painting and monotype; Shirley Racker, fused glass; Jack Liskear, wood turning; Joyce Shields, painting; and Brauna Ritchie, fused glass.
March 11-16: Diane Moeglein, fused glass; Sharon Segal, painting; Jane Means, painting; and Wendelin Russell, painting/photography/scarves.
March 18-23: Diane Russell, painting; Eddy Shuldman, fused glass; Buff Medb Neretin, painting/mixed media; and Martha Decherd, weaving.
For more information, visit northwestjewishartists.org.