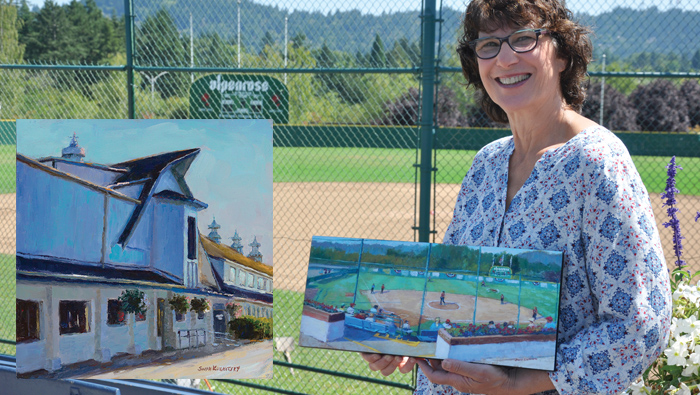 Over the past 18 years, artist Susan Kuznitsky has watched a timeless peace descend on people as they visit her neighbor, Alpenrose Dairy.
Now as the family-owned dairy celebrates its 100th anniversary, Susan is capturing this slice of a bygone era in oils and pastels. She has created a series of 14 oil paintings and one pastel, with possibly more to come, of the sights and events that make her neighbor special in Portland's past and present (see box for brief history).
"So many people have special memories from this place, and she has really captured all that," says Tracey Cadonau McKinnon, who serves as communications and events director of her family's business. "It's neat to have all those memories and feelings so vibrant and alive in her paintings."
The frequent free activities the family hosts on this 55-acre parcel of country in the midst of a metro urban area draws visitors from around the region and even the world. With milk now trucked to the dairy, the farm is no longer home to vast dairy herds. Now the dairy is home to baseball fields, a velodrome, a quarter-midget racing track and Dairyville, the re-creation of an Old West town complete with boardwalks, storefronts, opera house and storybook lane.
For more than a decade, hundreds of Jewish families turned out for the annual Lag B'Omer celebration in this quiet, pastoral setting between Beaverton and Portland.
The dairy is a family affair for Susan's family, too. Her son, Jacob Heiteen, now 22, became an Eagle Scout in 2012 and built a chicken coop for the Hens and Hares 4-H Discovery Farm at Alpenrose Dairy for his Eagle Project.
Susan and her husband, Steven Heiteen, moved with their sons Jacob and Matthew, now 18, from Sellwood to Southwest Portland to be closer to the preschool at the Mittleman Jewish Community Center and their synagogue, Congregation Neveh Shalom. Gaining Alpenrose as a neighbor was an unexpected bonus.
A graduate of the America Academy of Art in Chicago, Susan says she was inspired to commemorate the dairy's centennial because of her own fond memories and experiences. She says her almost daily walks take her through the farm and past people enjoying a range of experiences.
"It's like stepping back in time when you go there," she says. "It's Americana. Everything is from another time. It has a whole charm you don't see anymore, and it's my neighbor."
Most of the original paintings are available, though two of them have already sold. The tribute to Rusty Nails, the popular clown who entertained a generation of children at Dairyville, was purchased by his daughter. One of her paintings of the Little League Softball World Series was sold to the mother of a player featured in the painting. But prints on cradled birch panels are available for those and other paintings in the series.
The dairy's website features Susan's Alpenrose series on its homepage, and she frequently has a booth at dairy events. The paintings and prints will also be on display at Susan's Studio in the Woods the second and third weekends in October, when she participates in Portland Open Studios (portlandopenstudios.com). Studio visitors will also be able to see her working on other projects; recently she was finishing a commission for the official portrait of this year's Rose Festival Queen.
Oct. 8 and 9 is also an opportunity to visit her neighbor for one of the biggest events on the dairy's calendar – the annual cyclocross event that last year drew 1,700 cyclists to the dairy.
"It is a fun spectator sport because there is constant action to see," says Tracey, adding there are also plenty of food and vendor booths for visitors to enjoy. Susankuznitsky.com | alpenrose.com
Alpenrose history
The history of the Alpenrose Dairy dates back to 1891, when Florian Cadonau began delivering milk in three-gallon cans by horse-drawn wagon.
Then, in 1916, Florian's son, Henry Cadonau, and his wife, Rosina, took full ownership of the business and named it Alpenrose, after Switzerland's national flower. In 1946, Henry's son, Carl Cadonau Sr., took the reins and remained in charge of the company until his death in June 2004.
As the years have passed, Alpenrose Dairy has grown by leaps and bounds. Today, under the leadership of Carl Cadonau Jr. and Rod Birkland, both great-grandsons of Florian, Alpenrose Dairy continues its long tradition of providing the very best. To this day, Alpenrose remains a family-owned business, with many of Florian's great-great-grandchildren working daily to keep his spirit alive in everything
the company does.
(from alpenrose.com)