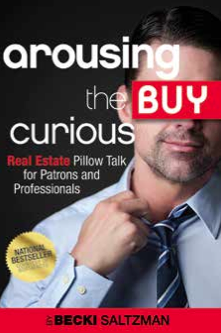 Portland author Becki Saltzman is arousing both curiosity and excitement with her new real estate guide: Arousing the Buy Curious due out Sept. 3.
Arousing the Buy Curious is an off-the-wall real estate manual aimed at buyers, sellers and aspiring real estate professionals, or as Saltzman would say "real estate wantrepreneurs." Filled with Saltzman's "sexy mind science," hilarious stories and unique advice, Arousing the Buy Curious is anything but average.
And Saltzman is not your average real estate agent. Her approach has resonated with both homebuyers and sellers for more than 20 years. Yet, Saltzman learned her techniques long before her award-winning real estate work.
"I come from a family of Jewish auctioneers. When I was 6 years old, they would dress me as a little boy and sneak me into auction sites. This is where I learned about the art of selling, and that it is the same whether you are in real estate, business or in the garment industry," says Saltzman.
In fact, the principles she uses today are the same ones her grandfather used to sell industrial equipment. "I thought it was amazing that I could use the same principles I learned when I was 6 years old."These ideas were only compounded when she studied mathematical models of behavior prediction while receiving her master's degree in psychology from Washington University in St. Louis.
Saltzman's psychology research also taught her that humor and provocation are the superglue for remembering the best persuasive techniques. "I knew that if I wanted to teach my grandfather's selling techniques, I would need to use humor and provocation to get the method across. And that's where my approach for Arousing the Buy Curious came from," explains Saltzman.
Saltzman set out to create a book that would be both provocative and humorous – and that might be an understatement. Arousing the Buy Curious is sprinkled with sexual innuendos and X-rated language. Yet, the naughty bits don't detract from the helpful advice. Saltzman's primary mission is to educate her readers.
"In some ways I feel like in order to be a good salesperson, you have to have a Yiddish accent. But if you don't have that, you can still learn the science of real estate," encourages Saltzman. She hopes the principles espoused in her book will save readers from making costly mistakes. Saltzman explains, "Buyers and sellers are both making mistakes costing them tens of thousands of dollars. I'm going to teach you how to avoid these mistakes. So, I promise I will at least double your $18.95 investment in the book."
One of Saltzman's tips for buyers is to do research ahead of time by looking at what she calls "real estate porn," or online real estate resources. She also teaches buyers how to find a superior agent. "Clients ask good questions, but not great questions. I want to arm clients with great questions, so when they hear a great answer they know they have the right agent," says Saltzman.
Saltzman also gives sellers a behind- he-scenes look into the world of agents. Her honest and direct voice is refreshing for the industry.
"You'll probably want to buy this for all your (not-so-uptight) buyers and sellers. Not only does Saltzman guide clients on how to pick good agents, but she teaches them a whole lot about how to be good customers as well," wrote book blogger, Meg White.
Saltzman's Jewish heritage features prominently in Arousing the Buy Curious, which worried her 95-year-old Jewish grandmother. Saltzman explains, "My grandmother calls me after reading the book and says, 'I know your generation is a little different, but there sure is a lot of Jewishness in here. I know you're proud, but do you really think it should be so much?' "
Saltzman says the "Jewishness" of Arousing the Buy Curious was not a choice. "You can't take the Jewish out of me, so I couldn't take it out of the book. This book is written in my voice and my voice is decidedly, unabashedly Jewish," she says.
Grandma Potter's only other comment was what she thought was a typo. "My grandma also told me that I misspelled boobs as moobs on page 186. But then I had to explain to her that moobs are a nickname for manboobs," says Saltzman.
Saltzman hopes that this kind of wacky language and the funny stories will help people learn her tricks and tips: "In the end I just want people to know that persuasive communication is an art and science, and it can be applied to real estate, business or any area of life."
To see Saltzman's speaking events visit her website: arousingthebuycurious.com