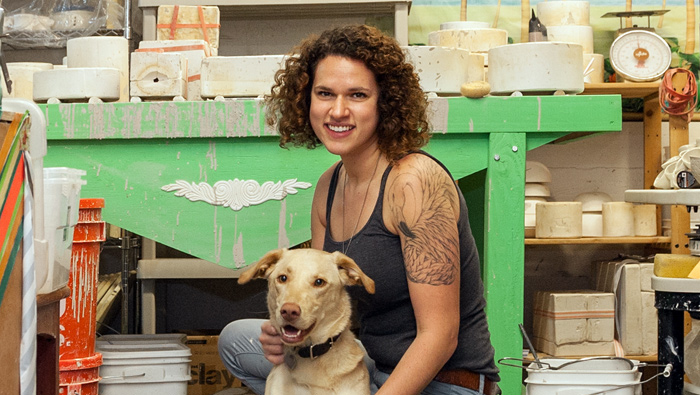 When cannabis became recreationally legal in Oregon, Portland ceramic artist Ariel Zimman decided to create a spin-off from her ceramic home décor business, Relm Studios, to create aesthetically focused ceramic smoking wares.
After Bernie Sanders won the Democratic primary in New Hampshire (her parents Robert and Marilyn Zimman live in Portsmouth, NH), Ariel wanted to support Sanders' presidential bid. So she created the "Bernie Pipe," which is sold through her Stonedware Company.
She created the Bernie Pipe "as a fun way to show support for Mr. Sanders and to help raise money for his campaign."
The mainstream and cannabis press quickly latched onto her pipes as a new way to "Feel the Bern."
"Watching the pipes go viral was well beyond my wildest dreams," says Ariel. "But with such attention I have had to scale my business much faster than ever anticipated, which has been a challenge but a welcome one!"
Sales were so high (pun intended), she soon hit the federal contribution limit. (The federal government puts a $2,700 cap on individual political contributions to a federal candidate per election).
"Because of the wonderful support of the Bernie community, we have reached the maximum legal donation, " says Ariel. "All donations past the legal limit are being focused toward charities that support girls and woman in STEM (Science, Technology, Engineering and Math) and the arts."
Ariel grew up in Reston, VA, attending services at Beth Emeth, the synagogue her parents helped found, and attending Gesher Jewish Day School from kindergarten through fifth grade. After becoming a bat mitzvah, she participated in USY throughout high school and went on Birthright during college.
She became interested in clay in third grade during a pottery class and went on to graduate with a Bachelor of Fine Arts with a concentration in sculpture and ceramics from the School of the Museum of Fine Arts, Boston & Tufts University, in 2009.
Through Relm Studios, Ariel offers craft custom pieces and site-specific installations by hand building, slip casting and throwing on the pottery wheel to create pieces ranging from utilitarian design to ones inspired by life under the sea. She continues to sell the Bernie Pipes as well as other pipe designs on her Stonedware website.