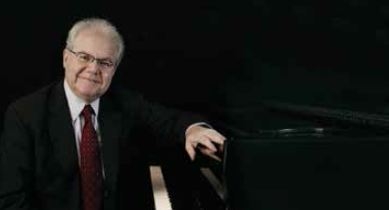 The Oregon Symphony welcomes pianist Emanuel Ax. Ax has an unusual double feature: he plays Johan Sebastian Bach's Concerto for Keyboard in D minor, BWV 1052, alongside Richard Strauss' Burleske for Piano and Orchestra with the Oregon Symphony on Jan. 11-13.
Ax combines unsurpassed musicianship with a self-effacing, almost diffident approach to making music, whether with an orchestra or as a chamber musician. He has been performing duo recitals with his long-time friend, cellist Yo-Yo Ma, since 1974; the two men met as undergraduates at the Juilliard School of Music.
"Being modest is the easiest thing in the world for a pianist," says Ax. "It's a very tough profession, and you very rarely get anything right." One might expect such an attitude from an up-and-coming pianist, but Ax has played with the world's finest musicians and orchestras and has won an impressive seven Grammy awards, for both chamber and solo piano recordings. Few musicians are held in higher esteem by their colleagues, a sure indication of Ax's tremendous musical abilities. How does he keep a sense of proportion about his accomplishments when the world continually showers him with acclaim?
"My job is not to assess myself," Ax maintains, especially when it comes to praise. "My job is to find things that are wrong with me, not right with me. I feel good about getting good reviews or awards, but that doesn't mean that I've mastered anything. Music is an ongoing process. You're always balancing a certain amount of confidence in your ability with admitting that things can be improved."
Ax demonstrated his collaborative – as opposed to soloistic – attitude toward music making in the unusual encore he chose when he last appeared with the Oregon Symphony three years ago. Pianists usually give encores that display their virtuosity, but Ax chose to share the spotlight with the symphony's principal cellist, Nancy Ives. The two performed a short piece by Robert Schumann, in which the piano takes a back seat to the cello's primary role. It was an example of graciousness rarely seen on the concert stage.
Aside from his monumental talent, Ax embodies another rare quality: the ability to seek out and find the best in people he meets. It's an uncommon trait, all the more so given Ax's family history. Born in Lvov in 1949 to Polish-Jewish parents in what was then the U.S.S.R., he is the child of two Holocaust survivors. Like many who endured the concentration camps, Ax's parents raised their only child without a religious identity. The family left Europe for Canada when Ax was 10 and later relocated to New York City. Ax became an U.S. citizen in 1970 and considers himself an assimilated American, but he also acknowledges Jewish cultural attitudes his parents imparted to him. "I think Jews are very much involved with the arts, education and charity. Education was very important to a lot of people from my parents' background, and I share all those values."
Ax sees the rise of Asian soloists like Chinese pianists Lang Lang and Yuja Wang as a continuation of the immigrant story that gave rise to a host of legendary Jewish classical musicians. Ax continues to challenge himself musically. In addition to the standard repertoire, he is currently working on several new commissioned works by young classical composers like 32-year-old Nico Muhly. He also teaches piano on a limited basis, and, in typical Ax fashion, says he learns as much from his students as they do from him. "I think it's wonderful to be able to share music with younger generations. They sometimes have fabulous fingerings that I copy."
For more information about Ax's performances with the Oregon Symphony, go to orsymphony.org.