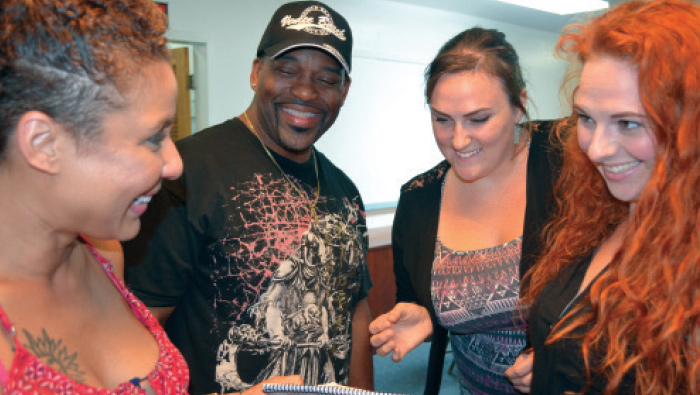 When she reads "Brighton Beach Memoirs," Drammy Award-winning actor and director Andrea White feels the rhythms and knows the characters – they might have been drawn from her own family. Yet she knows she's unlikely to be cast in any of the great plays that reflect the stories of her mother's family.
On the other hand, when she was cast in three August Wilson plays at Portland Playhouse, she gained an understanding of her father's family. Researching and becoming Dussie Mae in "Ma Rainey's Black Bottom" and Black Mary in "Gem of the Ocean," she says she finally understood why her grandfather spoke sparingly, her father was emotionally unavailable and her grandmother fought for everything with such tenacity.
"I have been straddling two worlds all my life," says 42-year-old Andrea, a Portland native. "I grew up here with my mom's side of the family and was taught to walk into any situation with an open mind and the thought, the gift, that it could be changed."
"When I'd visit my dad, I tried to understand the way society saw me as a black or brown person," she says. "Then entering into Wilson's Century Cycle, I would hear the voices of my family in the dialogue.
"Art helped me have such an understanding of who I am," says Andrea, an instructor and associate director at Portland Actors Conservatory.
With that deep knowledge of two worlds, she is directing a play that may expand Portlanders' views of those same worlds. She hopes that those who see "Tommy J & Sally" will go on to have meaningful conversations about race relations, prejudice and the potential for acceptance.
PassinArt: A Theatre Company describes the play as a "two-character play on race relations. A modern twist on Sally Hemings and Thomas Jefferson that unleashes a tsunami of anger and emotion leading to cleansing."
PassinArt Artistic Director Jerry Foster describes Andrea as the best choice to direct this intense play.
"I love seeing her on the stage and the compassion she brings to every character she portrays," says Jerry. "I knew this play would need someone who could capture the essence and the passion of this work."
Written by Mark Medoff (see story page 31), the play is an angry, yet ultimately hopeful, 90-minute confrontation between a black man and a pop star, who he insists is the Jewish girl he grew up with and who has changed her speech and nose to forge a new identity – a luxury he does not have.
"I can't change how people see me," says Andrea. "Some people dehumanize others. That is part of what this play is looking at. …TJ can't hide; Sally can. … It is like he is coming back as her conscience."
Andrea says many of her friends have reached the age where their children are heading off to college or getting a driver's license. "For those with 'brown children,' it's a different conversation. … Friends with young brown males have to tell them, 'You do not have the luxury of being disrespectful' – not that anyone should be disrespectful. It is not an even playing field for everyone."
Andrea says the play pulls no punches. "I read it and in some sections, I'm oof," she says, holding her stomach with a look of shock and pain. "It should do that."
The beautiful prose of the play makes it both more palatable and more shocking.
"He (Medoff) is saying hateful things with beautiful language," says Andrea. "It cuts more to the quick when said eloquently."
When Andrea called Sarah McGregor to tell her she had been cast as Sally, the actor told her, "There are so many things my character says that are hard for me to imagine saying." To which Andrea replied, "Good, but we must. You must explore why the character feels the way she does; otherwise we are not having an honest conversation."
Talking, asking questions and being willing to explore hard truths are values Andrea says were instilled in her from a very young age.
"Not talking has the possibility of being just as destructive," she says.
Both sides of Andrea's family faced the dehumanizing discrimination of evils not confronted until millions of lives were destroyed.
"My father's family is from Talula, LA," she says. "I visited the plantation where they were slaves and the shack where he grew up in a family of 10. My dad was born in 1937 and went through the Jim Crow South. He grew up very black and very poor. … He was the first in his family to go to college."
Isaac White, Andrea's father, went on to become the second black principal in Portland, which is where he met her mother, theater teacher Adele Etlinger, in 1971.
The fact that interracial marriage only became legal in all U.S. states with a Supreme Court decision in 1967 seems shockingly recent to Andrea, who was born just six years later in 1973. Her parents married when she was 2 and divorced a couple of years later.
Her mother's family also knows the horror of people unwilling to speak out against prejudice.
Andrea says the person whom she is most like and approaches life like is her grandmother Irene, who grew up in Vienna, Austria. As the Nazis rose to power, Irene and her friends at school talked about the dangers, but "it was being pooh-poohed by their parents. My great grandfather said 'I fought in the army for Germany (in World War I).' "
When the Nazis took over Austria, Irene and her mother were at the opera. At intermission the Austrian flag was lowered and the Nazi flag was raised.
"As soon as the tide changed and everyone had to sign in, my grandmother told her friend (who had family in America willing to sponsor immigrants), 'I want to be sponsored, too.' " The Paley family in Portland agreed to sponsor the 15-year-old Irene. The journey, via England, took two years, but she escaped the Holocaust that "wiped out 88% of our family." Thankfully Irene's parents survived in the ghetto thanks to help from their former maid, a Christian who smuggled food to them throughout the war. They arrived in Portland in 1947 when Adele was 2. A few other relatives who survived moved to Australia and Israel, where one of Andrea's cousins is now a rabbi.
As things fell apart, Andrea says, "My great grandmother said 'just turn on the oven.' Had my grandmother not had the wherewithal she did, I would not be here."
Andrea's grandmother, now 94, believes it is important to really listen to people.
No matter how ludicrous someone's bigotry sounds, Andrea says her grandmother reminds her that other people share those views and "no one who spews bigotry should be dismissed."
Irene lives at Terwilliger Plaza "on a floor of activists," where a retired philosophy professor hosts monthly gatherings for dialogues reminiscent of Plato. Andrea says her grandmother is saddened not so much by friends who die but by those who stop thinking and become a ghost of someone she has known.
Germany has addressed its past, and America must do the same, Andrea believes. Slavery dehumanizes and still has an impact on this country. "We all have to be willing to have the conversation. I don't see how it will stop till we all sit down and lay out our grievances, our heart and our pain. We have to unify as a people and take ownership in our part in it – and we all have a part.
"Instead of needing to be right, we need to be ready to understand," she says. She believes many conversations about race are too polite – "I don't hear enough outrage.
"If we just dismiss people, we lose the opportunity to possibly find common ground – that's optimistic, but I try and live in that realm of possibility."
She says anti-Semitism and racism still exist in this country. "It is ingrained in the fabric of our society. That is what we have to deconstruct."
She believes art offers that opportunity.
"I am an artist to make sense of it and to explore different stories and learn to reconcile characters I wouldn't want to speak to, but I am responsible to understand without judgment."
Theater is the passion she learned growing up as the only daughter of a single mom/theatrical director. Andrea became adept at sleeping between two rows of theater seats while her mother directed rehearsals. Adele retired last year after teaching for 17 years at the Vancouver School of Arts and Academics. She founded two performing arts programs including the VSAA's Children's Theatre Company for middle school students.
When Andrea decided to forgo college and move to Los Angeles to pursue acting, her parents were appalled. But Irene told her she would fully support her decision if she would continue educating herself and promise to continue reading, listen to NPR and read the Sunday New York Times.
Andrea says she has continued to follow those rules, and she believes acting is a good opportunity to gain an education. "When I played Cleopatra, I had to immerse myself in Egyptian history," she says. While in LA she appeared on "NYPD Blue," "Family Matters" and "Living Single," and was Dr. Algeria in the film "Extraordinary Measures." The two years she spent performing in the 30th year revival of "Hair" taught her a lot about the important time of the '60s and "having an effect on an audience."
When the run ended in 2000, she decided becoming a TV star was not her goal, and she returned to Portland to "rest for six months." She remained and has performed on many Portland stages, including the Portland Playhouse August Wilson shows. She twice won a Drammy for Best Supporting Actor for her roles in "Two Sisters and a Piano" at Artist Repertory Theatre and "Hell Cab" at Theatre Vertigo. She was Judith in Wendy Wasserstein's "An American Daughter." She is an associate director and instructor at Portland Actors Conservatory and a co-founder of Bad Ass Theatre.
She says that talkbacks after most theater performances are too polite and usually end where she feels they should have begun. She thinks the talkbacks slated after two of the "Tommy J & Sally" performances have a chance to be different.
"We all just saw this play, so let's start from there," she says. With the play's frank, angry dialogue, she feels politeness could be forgotten. "My dream is for someone to say the truth for them, even if it is unappealing. Then we could discuss and either agree to disagree or maybe someone's mind will be changed."
"This play is applicable to today," says Andrea, "but not any more applicable than to 10 years ago. I hope it is less applicable 10 years from now."
PassinArt Presents:
WHAT: Tommy J & Sally
WHO: By Mark Medoff, "Children of a Lesser God" playwright; Directed by Andrea White
WHEN: Oct. 9-Nov. 8: 7:30 pm, Fridays and Saturdays; 3 pm Sundays
TALKBACKS: Immediately following shows on Oct. 17 and 18
WHERE: Interstate Firehouse Cultural Center, 5340 N Interstate, Portland
TICKETS: $25 from passinart.net | 503-235-8079