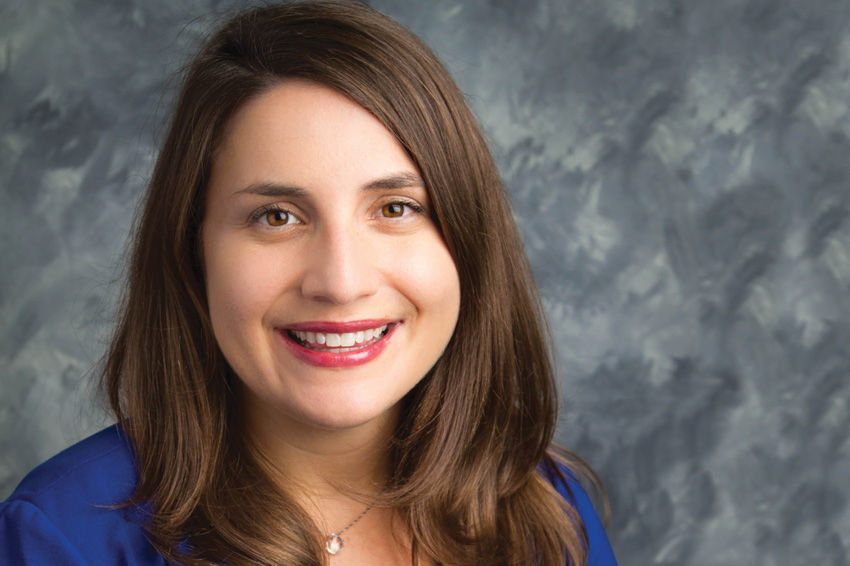 A family and synagogue that instilled a dedication to social service combined with an impressive professional resume made 32-year-old Amy Shlossman an ideal fit for her current post as CEO of the American Red Cross of the Cascades Region.
Before her move to Oregon last August to assume leadership of the Red Cross in Oregon and Southwest Washington, Amy had racked up a decade of experience leading large, complex state and national organizations.
When she became Chief of Staff for the White House Office of Management and Budget shortly before the 17-day government shutdown in October 2013, Amy was thrust into the center of key decisions about "what can stay operating and what can't." Agencies with multi-year revenue sources and those funded by fees could stay open. Services essential to life or safety had to continue to function, though for those Amy had to "address a workforce required to show up but not get paid." And when the shutdown was over, restarting government was a complex operation.
During normal government operations, Amy says it was an incredible experience to help manage the federal office responsible for developing the president's annual budget and setting fiscal and management policies for more than 100 agencies in the executive branch.
As the White House Chief of Staff for Homeland Security for the previous five years, Amy oversaw operations and policy development for the third largest department of the federal government, with 240,000 employees in more than 75 countries – more than ample training for leading the 35 Red Cross staffers and 1,700 volunteers in two states.
Working with Homeland Security she saw the Red Cross in action at multiple natural disasters and during national security threats, for which she led the response efforts and crisis communications.
"I worked closely with the Red Cross wherever disaster struck—flood, fires, hurricanes, tornadoes – also non-natural disasters such as the BP oil spill, Boston Marathon bombing and school shootings," says Amy. "(Through) that experience with the Red Cross, I was so impressed by the mission, service delivery, and incredible dedication of the staff and volunteers."
The organization's infrastructure, capacity to respond when needed and humanitarian focus made the Red Cross a compelling next step when she was ready to leave Washington, D.C.
The very things that impressed Amy are likely the same reason March has been proclaimed Red Cross Month by every president since President Franklin D. Roosevelt issued the first such proclamation in 1943: "I request that during that month (March) our people rededicate themselves to the splendid aims and activities of the Red Cross."
The special month affords an opportunity to honor the everyday heroes who help the Red Cross fulfill its mission.
"We could not deliver these services without our volunteer corps of people, who get up in the middle of the night to go to a house fire or deploy to a natural disaster for three to five weeks at a time," says Amy. "They are an exceptionally dedicated corps of people devoted to this humanitarian mission."
In addition to the volunteers, those who donate funds or blood and those who take a Red Cross health and safety class such as first aid or CPR help make communities safer.
In fact, a babysitting class she took when she was 11, followed by a lifeguard class a couple years later, were Amy's first experiences with the Red Cross.
Those classes coincided with her early attraction to public service.
"I've spent my career in nonprofit and public service sectors," says Amy.
She attributes that interest to the things she learned growing up in Phoenix, where she became a bat mitzvah at a Reform congregation that emphasized social justice and participated in Jewish youth groups through high school. She spent several summers at a Jewish sleep-away camp in New York.
Her experiences in the organized Jewish world dovetailed with her family's focus on service. Her parents, Dr. Marc and Karen Shlossman, played a key role in her desire to help others: "It's in my family's blood."
"My mom is a retired social worker," she says. "My dad is a periodontist. He was in private practice for 30 years, but now he teaches at a dental school and takes his students on service projects around the world. Last year he took students to South Africa to set up a dental clinic."
After graduating from the University of Arizona with a degree in public administration/public finance, she worked in youth development and service learning programs before she joined the staff of Arizona Gov. Janet Ann Napolitano. As director of policy in the governor's office, Amy worked with 40 state agencies to balance the state budget and implement initiatives on education, health care, transportation and economic development.
She first experienced Red Cross disaster relief when Arizona was an evacuation site for those fleeing Hurricane Katrina.
"We set up a large shelter at the Arizona fairgrounds," Amy says. "I was given the job of writing the daily shelter newsletter with information on what services were available and to help people integrate into the community."
Joining Gov. Napolitano to campaign for Barack Obama in 2008, she met the then-senator from Illinois. But as Homeland chief of staff in the White House, serving under U.S. Secretary of Homeland Security Napolitano, Amy says she was very much "a staffer." Interactions with the president were through the members of his cabinet, such as Sec. Napolitano.
Having seen the impact of the Red Cross during her stint with Homeland Security, Amy was already well aware of the compelling importance of the Red Cross mission. Then, when she came to Portland for an interview last summer, "I fell in love with the Portland area."
Even though the rains arrived a couple months after she moved here in late August, she still loves Portland. She enjoys the Portland art scene and likes to visit the various art fairs. She walks the two blocks to work every day and has put "a bike on my Portland list." When she moved to D.C., she left her 90-pound Australian cattle dog/husky mix with her parents. Now she's on the lookout for a rescue dog to add to her home here. She's also checking out the city's synagogues and says she enjoyed High Holiday services at Neveh Shalom soon after she arrived.
She's also discovered that, in addition to the longstanding volunteer corps, the Red Cross has plenty of opportunities for day-of-service projects. This month she hopes the community will participate in "a great mitzvah project" to prevent home fires. After a morning training session, teams of adult volunteers will spend March 14 walking through the Lents neighborhood, offering free smoke detectors and helping families evaluate their preparedness for fires and other disasters.
"The most common disaster is home fires," says Amy. "The Red Cross responds to 60,000 disasters a year. The most common on a daily basis is home fires. We are the first call the fire department makes when a family is displaced. Our volunteers are on call and trained and ready to respond at any time. … We provide emergency and immediate housing and financial help to buy clothes, glasses, medicine."
The average cost to help one family after a house fire is $1,250. In 2013, the Cascade Region Red Cross responded to 700 fires that impacted 900 families. This past December there were 60 home fires in the region. "Fire Hurts/Red Cross Helps" raises awareness and funds to meet that local need.
"We raise our local budget," explains Amy. "Dollars that come into the local office stay local."
Cascades Region Director of Communications Paula Fasano Negele says, "Amy has done some amazing programs. She has really helped us to focus. She is an amazing woman."
For her part, Amy is pleased to be in Portland and leading the regional Red Cross.
"It's a real honor to be part of the Red Cross team," says Amy. "The work we do is really powerful."