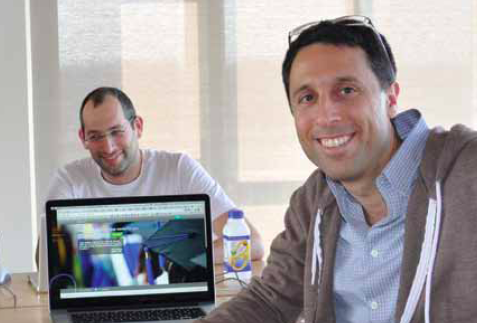 The three Jewish co-founders of Alum.ni have moved from Israel to Portland to start their innovative online platform for alumni networks. Alum.ni is an online social network that provides alumni with tools to keep in touch, network and better leverage their connections.
Edoe Cohen, Ori Weiss and Pauline Vorms were tired of inadequate alumni platforms and poor optimization of their graduate networks. Co-founder Pauline Vorms is native to France and graduated from the College of Europe, the European Law School of Maastricht and the Institute for Political Sciences of Lille. She felt that the tools available to her from her universities to contact fellow alumni were useless. "All of the existing alumni solutions are underused and outdated for real use by alumni," says Vorms. Fellow co-founders Edoe Cohen and Ori Weiss also felt that alumni networks had untapped potential and simply weren't being optimized by organizations and current online solutions. Cohen, a graduate of Columbia University and the Kellogg School as well as numerous professional fellowships, was especially frustrated with the lack of ability to leverage his alumni networks.
"Our alumni networks are communities we've earned access to. These are communities of trust, where members are eager to help one another and contribute back to their alma mater," says Cohen. And trust is a major part of what makes Alum.ni different from existing social networks. The company's homepage includes a quote from one satisfied user, Agilite CEO Elie Isaacson: "Just wanted to tell you I'm a fan! My request today got me loads of great leads and it wasn't the type of thing I'd feel comfortable posting on Facebook."
Alumni networks have a unique combination of loyalty and camaraderie based on a shared alma matter. The strong sense of connection to fellow alumni was especially relevant to Israeli co-founders Weiss and Cohen, who served in the Israeli army. Cohen served as company commander for an IDF infantry and didn't have an easy way to connect with his fellow soldiers. The trio decided to start their company in Israel, but quickly
found that the majority of their market was in the United States. They began searching for an American city that was highly educated, had a low cost of living and featured a young liberal population. Portland seemed to be a perfect fit, and when they got accepted to the Portland Seed Fund – a local incubator – they decided to make the move.
The team has now joined Portland's Silicon Forest and fallen in love with the community. "The people here are so willing to pay it forward and help.
The community makes it a nice place to live and start a business. People have been extremely supportive of our company," says Vorms. And the company is off to a great start. Already they have 10 alumni communities and five more are in the pipeline. However, the team is hoping that Alum.ni can tackle bigger issues beyond just alumni connectivity. They hope the platform can be used by alumni looking for employment and job growth, as well as schools that want to have more fundraising opportunities.
Cohen adds that both universities and individuals could use the support: "In a time of economic stress and uncertainty, the need for a strong network and a tool like Alum.ni is clear." If Alum.ni can tackle its lofty goals, it would be a win-win-win– a win for alums, a win for schools and a win for Alum.ni
itself. On what kind of help they hope to get from the Portland community, Weiss says: "We are looking to expand our community of users and to offer Alum.ni to additional communities of trust. Any help with intro or connection to alumni communities would be greatly appreciated!" To get your alma matter on the platform, visit Alum.ni.
Vanessa Van Edwards is an author and techpreneur in Portland. She consults with businesses on body language, human lie detection and communication skills. For more info: ScienceofPeople.org.