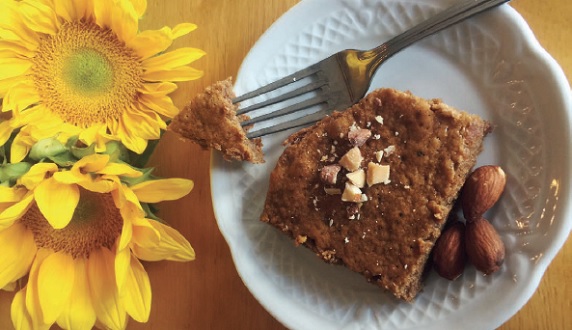 THIS FLOURLESS ALMOND cake may be the best-hidden secret for a Passover dessert! There are plenty of almond cake recipes on the internet, but most of them use finely ground almonds or almond flour for the base ingredient. This cake uses almond butter instead. The result is a dense, moist cake that is sweet and full of almond flavor. This recipe is also gluten-free, sugar-free and paleo diet friendly. Try it for a new treat during Passover this year.
ALMOND BUTTER HONEY CAKE
Ingredients
½ cup creamy roasted almond butter
2 large eggs
2 tablespoons honey
(Optional: substitute with all xylitol or stevia)
1 tsp xylitol or stevia
¼ teaspoon vanilla extract
¼ teaspoon sea salt
¼ teaspoon baking soda
1 tablespoon ground cinnamon
Instructions
Preheat oven to 325 degrees.
In a large bowl mix almond butter until creamy.
Mix in eggs, honey, xylitol and vanilla extract.
Add salt, baking soda and cinnamon. Mix well until
all ingredients are combined. Transfer batter into a
well greased 8 x 8-inch baking dish. Bake for 12-15
minutes or until cake tester comes out clean.
Garnish with chopped almonds.
Makes 12 servings.