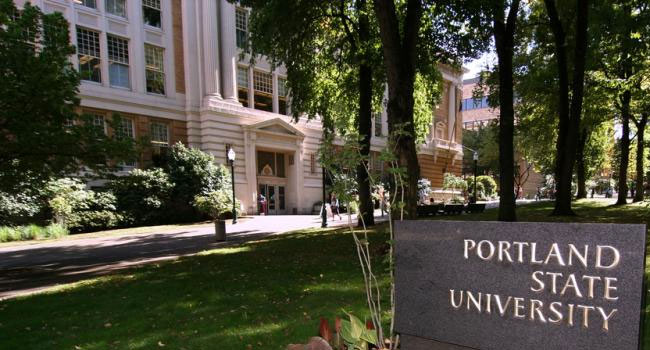 After The Weekly came out last Thursday on May 27, we were contacted by Hannah Sherman, executive director at Greater Portland Hillel and Natan M. Meir, Lorry I. Lokey Chair in Judaic Studies at Portland State University about a video that we had shared.
The video contained a social experiment where documentary filmmaker and activist, Ami Horowitz, approached students at Portland State University and asked them to donate to Hamas.
The content seemed relevant to current situations happening on college campuses, and the date on the video's release was noted as May 24, 2021. We also saw the video shared on several other Jewish media sites, so we decided to post it in The Weekly.
When Hannah reached out to us, she informed us that the video was initially made in May 2016. At that time, the video had quite a negative impact on Jewish student life on campus. Also, later that same year, in Oct. 2016, Portland State University's student senate passed a resolution urging divestment from companies that "profit from human rights violations" by Israel against Palestinians, also known as BDS (Boycott, Divestment, Sanctions).
"Since this video was filmed five years ago, we at PDX Hillel have participated in numerous conversations with campus student leaders and administrators about the complexity of the conflict and how to create meaningful dialogue and partnerships on campus," Hannah wrote to us in the email.
Debbie Plawner, president of Greater Portland Hillel, shares that Hillel had trouble attracting leaders and couldn't even get students to come for Shabbat when the BDS movement was strong on campus. "We decided what our students needed, after facing antisemitism face-to-face, was that we were done fighting it through hatred and divisiveness – we became the light," says Debbie.
"Since BDS hit Portland State, we have been working very hard to build trust and unity, and we have become the safe place for community building," says Debbie. "We won outstanding Hillel in 2019 because of these efforts."
Debbie explains that they have purposely taken an approach to unify people and address hatred; instead of focusing on the problem, they focus on finding common ground. This approach has helped build "a diverse group of students who call Hillel home at PSU."
"So much of our success is through creating partnerships," adds Hannah. They have partnered with a diverse group of student organizations on campus in addition to working with the administration. "Helping our students feel as if they have a home, as if they have a space. We want to focus on the real issues that our students are focusing on now."
"People who haven't been on campus for a year, or it's their first time on campus, we want them to know we're their home," says Debbie. "Not all of our students have a strong Jewish foundation, and we welcome that exploration. We're committed to helping them with their Jewish journey."
For more information on PDX Hillel, visit pdxhillel.org.