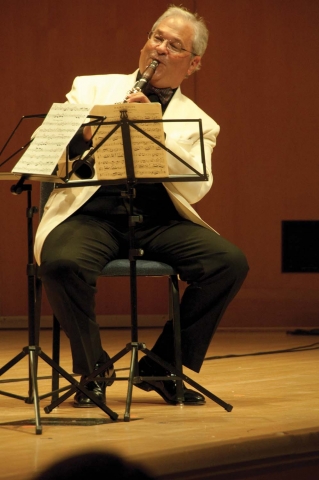 David Shifrin could say he owes everything to his mishpocha (extended family). The world-renowned clarinetist is also a professor at the Yale School of Music and artistic director of Chamber Music Northwest, Portland's summer chamber music festival. His official bio is studded with more notable accomplishments than we have room to print, but suffice it to say Shifrin has worked with some of the world's finest musicians, including Emanuel Ax, Wynton Marsalis, and the Guarneri and Emerson String Quartets.
It was Shifrin's distant relative, Argentinean-American film and television composer Lalo Schifrin, best known for writing the Mission Impossible TV show theme, who first encouraged Shifrin's musical interests (the two families spell their surnames differently). Shifrin explains, "Lalo Schifrin's family emigrated to Buenos Aires, and mine moved to New York. When Lalo first came to New York in the late 1950s, he opened the phone book and found my grandfather, who had the same name as his grandfather. So Lalo called us and we invited him over for Shabbat."
Schifrin encouraged Shifrin's parents to get their son his first clarinet, an instrument he describes as "the chameleon" for its versatility and adaptability. Shifrin spent weekends with Lalo's family as a teenager after Lalo moved to Beverly Hills, CA. In the 1980s, when Shifrin moved to Los Angeles himself, he maintained ties to Schifrin and his family. In 2005, Shifrin commissioned Dances Concertantes for Clarinet and Orchestra and another work for clarinet and strings from Schifrin. The two works were released on the Aleph label in 2006 as Shifrin plays Schifrin.
As Shifrin approaches his 32nd summer as artistic director of Chamber Music Northwest, he takes a moment to reflect on his tenure with one of Oregon's most established summer festivals. "In 1981, when I became artistic director of CMNW, I was 31 years old," says Shifrin. "At that time, CMNW seemed to have enormous promise and potential. The musicians who played there recognized what a great fit Portland was for chamber music … We had the resources to produce concerts at the very highest level, which attracted both musicians and audiences to Portland in the month of July, the best weather anywhere, and friendly welcoming audiences who were very happy to have us."
As an artistic director, Shifrin focuses on CMNW's administrative, artistic and financial concerns. But Shifrin does more than oversee CMNW; he is also one of its regular performing artists. This summer he'll play at least six different works over the festival's five weeks, including Stravinsky's A Soldier's Tale, Schubert's Shepherd on the Rock, clarinet sonatas by Poulenc and Brahms, and a newly commissioned work from Portland composer David Schiff. In any given season, Shifrin performs in roughly a third of the concerts at CMNW, and freely admits to the occasional difficulties inherent in juggling his performance and administrative duties.
"You have to allow a certain time to prepare for both, and it's always a challenge. The switch has to be turned on for public speaking or performing or sitting at a desk."
All classical music ensembles and their artistic directors face the existential challenge of growing and broadening their audience. For Shifrin, nurturing younger audiences is a fundamental goal.
"It's important to bring music to the next generation, especially when music isn't prevalent in public schools," he acknowledges. "It's difficult to attract audiences who haven't been exposed to classical music at a young age."
Through CMNW's Protégé Project, which launched in 2010, the festival also grows the talent pool of rising professional musicians. According to CMNW's website, "The Protégé Project has brought to Portland some of the country's most accomplished young classical musicians. The Protégé Project has rapidly become an integral part of CMNW, attracting listeners to alternative venues all across Portland with adventurous programming and groundbreaking artistic collaborations."
With their Young Artist Fellowships, CMNW also cultivates the talents of local school-age musicians between the ages of 12 and 22 "who demonstrate an exceptionally high level of playing ability and musicality." These Young Artist Fellows "receive placement in a chamber music ensemble with other young artists, master classes and/or coachings with CMNW artists and other esteemed professional musicians, passes to select CMNW rehearsals and concerts, performance opportunities and opportunities to interact informally with CMNW artists."
Shifrin's ongoing efforts to attract younger chamber music audiences and mentor younger musicians are one expression of his own family's lifelong support for his musical career. He will continue to communicate his love of music, through the prism of Lalo Schifrin's and his parents' encouragement, to future generations of CMNW musicians and audiences alike.
Elizabeth Schwartz is co-host of the Yiddish Hour on 90.7 FM KBOO Community Radio and a freelance writer living in Portland.
___________________________
Shifrin's picks for Chamber Music Northwest's 2012 Season:
André Watts and Friends
– Saturday, June 30, and Sunday, July 1
BodyVox/Stravinsky's L'Histoire du Soldat
– Friday, July 20; Saturday, July 21; and Sunday, July 22
Heights of Romanticism with pianist Gilbert Kalish
– Monday, July 9, and Tuesday, July 10
Time For Three
– Thursday, July 19
Bassist Edgar Meyer
– Wednesday, July 25, and Thursday, July 26
The Virtuoso Recorder: Michala Petri and Friends
– Saturday, July 28
For a complete list of concerts for Chamber Music Northwest's 2012 season, which began June 25 and continues through July 29, go to www.cmnw.org.