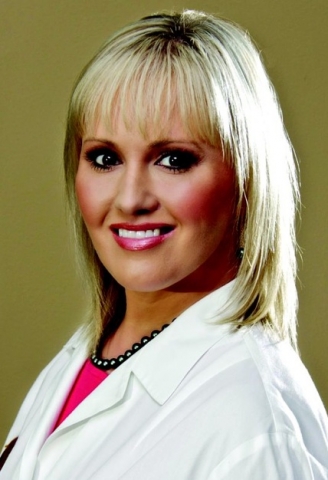 Q: My wedding is one month away. What are some things I can do to make sure I look my best for the big day?
A: Great question. One of my favorite quotes is, "Anyone can learn from their own mistakes, but a wise person learns from others' mistakes." My hope is that you will learn from me.
When I was married in New York in 1987, I made some mistakes I would like to share, so that you might avoid these easy pitfalls and decrease your post-wedding regrets.
First, consider your hair and makeup. This is not the time to try a new hairstyle or wear your hair in a way you will never repeat. Likewise with makeup, don't overdo it, and do not avoid makeup entirely. Hiring a makeup artist may seem like a great idea, but if you do, be sure to do a trial run with him/her that includes photography! Fortunately, with today's digital technology (as opposed to 1987) it is easy to quickly check your makeup for Goth black eyes; too-frosty lipstick; or the rouge that makes you look like you have rosacea.
Avoid drastic changes with your hair and makeup, and you will significantly increase the pleasure you derive from your photos at a later date.
Second, wear comfortable shoes! No matter how much you might love a beautiful pair of high heels that match your dress perfectly – no one is going to be looking at your feet – even when you are sitting on the chair as your guests dance the hora! You must prepare to stand on your feet for endless hours and to stand on multiple types of surfaces. Also plan for significant swelling of your feet. Wearing "frumpy" but comfortable shoes from start to finish is far better than going shoeless halfway through your event. Trust me, I know.
Finally, as hard as it may be and no matter how politically incorrect it feels, do not hesitate to ask your family (and anyone else who will be in formal pictures) exactly what they plan to wear to your wedding. And, do not hesitate to speak up! I made the mistake of not even thinking about my family's attire, and my future sister-in-law (not in the wedding party) wore a bright red floral dress and a matching round, two-foot-diameter hat! I was shocked and horrified when I saw her as we lined up for pictures.
Even today – when I look at my wedding photos 25 years later – her outlandish outfit makes me cringe. Not only did she display poor etiquette in choosing that outfit, but it essentially ruined my winter-wedding pine green and maroon color scheme. For the colors I chose, however, I must be forgiven. For it was the '80s, after all.
So, learn from others' mistakes. I'm sure I made many more, but that will have to wait for another column. Mazel Tov!
Elizabeth VanderVeer, M.D. is a board-certified internist and president/medical director at VanderVeer Center. A native Oregonian, she is a fourth-generation doctor who has dedicated her practice exclusively to aesthetics for many years and specializes in non-surgical cosmetic medicine. Dr. VanderVeer is a published author and a sought-after international lecturer, as well as a national trainer for numerous industry leaders.