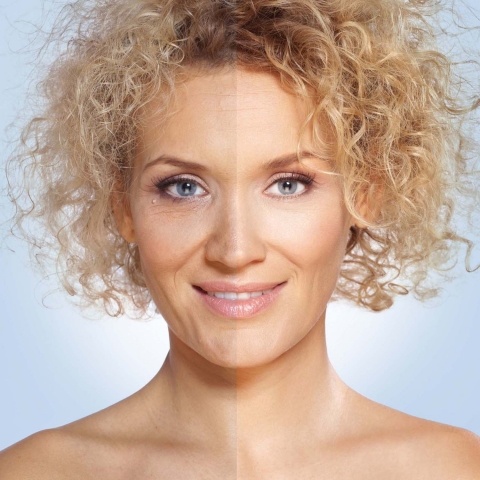 The topic of "Health & Beauty" may seem frivolous. My own medical practice appears to most outsiders to focus only on "outer health." But, I know the care of my patients is anything but solely cosmetic. When my patients come to me, I view/evaluate/treat their outer health as seriously as I treat their internal health.
For centuries, physicians have known that "The external is a representation of the internal." In other words, you can often tell someone's internal health status – including how they are feeling – by their outer appearance. To the physician, this is a powerful tool to help us diagnose both internal and external diseases. When evaluating a patient in the world of cosmetic medicine, I am not only looking for the "cosmetic problem," but I also keep in mind rare diseases, such as a lump or bump that may be the only sign of an inflammatory condition; or the significant change in the shape of a patient's face caused by a Pituitary Tumor (both are diagnoses I have made in my patients in the past few years).
According to Merriam-Webster, a disease is: "a condition of the living body or of one of its parts that impairs normal functioning and is typically manifested by distinguishing signs and symptoms." (I would add "feelings, thoughts and emotions" to this definition!)
This definition is but one way of saying there are innumerable things occurring on the inside of our bodies that affect the outside of our bodies. To me, and just as important, are how my patients are feeling, and how those feelings are represented in their outer appearance. Very few of us have a true "poker face," so when we are feeling tired, ill, stressed, angry, upset or even just fine, our bodies and faces may reflect both symptoms and emotions we'd rather not show. The beauty and magic of what I do every day, allows me to help my patients look and feel, much better about themselves – despite what is going on around or inside them.
For years, we have all heard the buzz phrase, "Look as good as you feel." Personally, I hate this saying – hearing it is like nails on a chalkboard to me! I prefer to say, "Feel as good as you look!" It seems to me that we have enough pressure on ourselves everyday – why should we have the pressure to feel good? As one of my patients aptly said, "If I had to look as good as I feel, it wouldn't be pretty!" Meaning, we usually don't feel great every day. There are millions of things that chip away at our internal feelings about our day, our self-esteem, our careers, our family, our friends, our life and so on. But, that shouldn't stop us from looking our best or even great, every day! Nor should it mean that we must adhere to an unobtainable or unnatural ideal – the goal should always be to look our best for our individual appearance and desires.
Over the past eight years, I've had patients tell me that their visits to see my staff and me have "changed their life." Recently, I had the pleasure of seeing a new patient – a dedicated mother, grandmother, philanthropist, board member and more. Initially, she came in to accompany her daughter and decided to become a patient after I treated her daughter. She said to me after just one treatment visit, "Because of what I've had done with you, I no longer get up in the morning and look in the mirror and want to go back to bed with the covers pulled over my head. Now, I get up, look in the mirror, and want to start my day!"
Of course, this is highly gratifying for me to hear, but most importantly, I have helped effect a change in how this woman feels about herself, how she looks at the world, and how the world views her. This woman is a 74-year-old single, healthy, vibrant lady who had neglected her appearance for decades while raising a family and living a very busy, complex life. What she learned by entering the world of "cosmetic medicine" is that she could take years off her appearance; take away the tired and stern look; look like herself – only younger and happier. She also learned that cosmetic medicine is not always the stigmatized arena reserved for the bored, the unhappy, the young, the vain or the rich. Looking good – and thereby feeling good – is practical, and just one of the reasons why I love going to work every day!
Elizabeth VanderVeer, M.D. is a board-certified internist and president/medical director at VanderVeer Center. A native Oregonian, she is a fourth-generation doctor who has dedicated her practice exclusively to aesthetics for many years and specializes in non-surgical cosmetic medicine. Dr. VanderVeer is a published author, and a sought after international lecturer as well as a national trainer for numerous industry leaders.