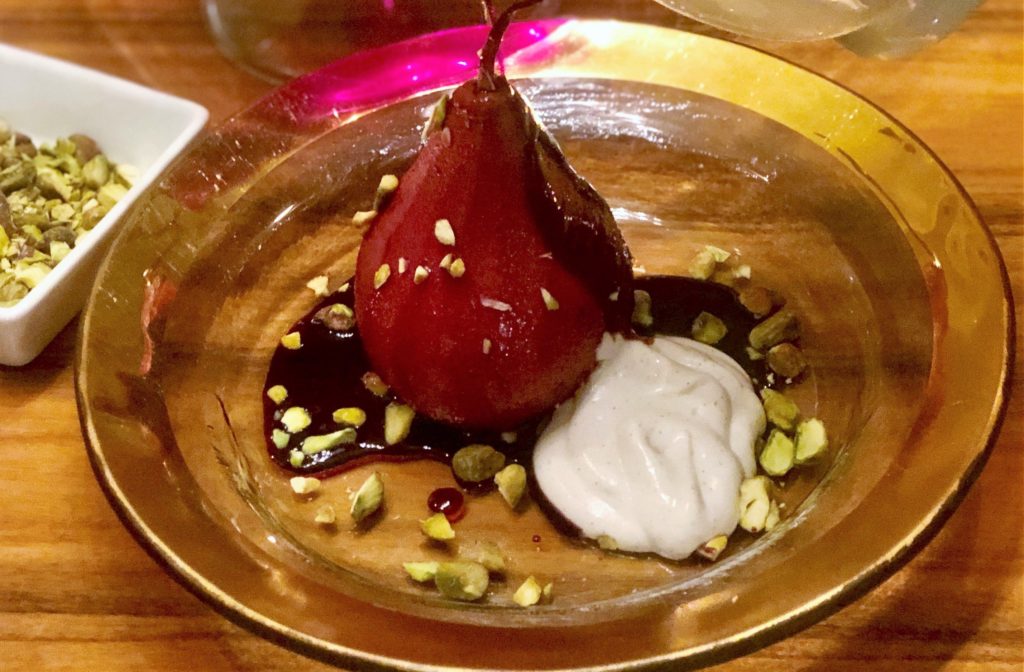 At the Passover seder, we ask the question "Why is this night different from all other nights?" On this night, we eat only matzah. On this night, we especially eat bitter herbs and dip them twice. On this night, we dine with special ceremony.
The story of Passover represents the journey from darkness into light. With all the seriousness, I like to add a smidgen of fun. When our kids were little, my friends and I would try to come up with fun things to do to incorporate our little ones into the service. For instance, we made frog finger puppets for them to play with during the reading of the Haggadah to take their minds off how hungry they were getting.
The kids are grownups now, but we still can try to incorporate fun into our seder. Many Haggadot tell the story of Passover with just a little tongue placed firmly in cheek. These can add a touch of levity to what can be a somewhat somber evening. I even found a 30-second Haggadah on Haggadot.com if your group has a collective, excessive lack of patience.
This year I ordered wine labels from Etsy.com. They came in a package of eight sticky labels that go right over the label of your Manechevitz or other Kosher for Passover wines. They include labels that say: "PASS that wine OVER," "Goes well with Matzah" and "This is how we Jew it."
Foodandwine.com has a list of Passover cocktails with names such as "Beats Manna," "Samson's Riddle" and "Dayenu" that look delicious and are made with San Francisco's Distillery 209 spirits. The distillery makes gin and vodka that are kosher for Passover.
I have always loved our Passover seder. We may not all observe in the same fashion, but we can all agree it is a time to come together and commemorate the inspiring story we revisit year after year. Collectively we say, "Next Year in Jerusalem." I actually have a wine label for that … I think I'll open that bottle first!
RED WINE POACHED PEARS WITH SWEETENED MASCARPONE CHEESE* AND PISTACHIOS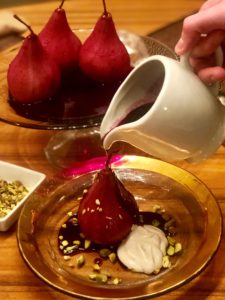 *Vegan/non-dairy option recipe, too
Poached pears
4-5 Bosc pears
1 bottle kosher red wine such as Zinfandel or Merlot
½ cup sugar
2 cinnamon sticks
2 star anise buds
1 orange, juiced, plus 3 1-inch-wide strips of rind
Carefully peel pears using a vegetable peeler, leaving stem intact. Carefully slice off a small portion from the bottom of each pear so they stand upright. Place wine, sugar, cinnamon stick, star anise, orange juice and rind in a deep saucepan. Bring to a boil to melt sugar, then turn down to a simmer. Place pears in spiced wine and cook for 20-30 minutes. Remove pears from wine and set aside. Turn wine back up to a boil and reduce by half. Allow to cool completely. (Sauce will thicken a bit when cooled. If too thick, add some water and warm slightly.) Plate pears and spoon sauce over. Serve with one of the following toppings.
Mascarpone cheese topping
1½ cups mascarpone cheese
2 teaspoons vanilla paste or vanilla extract
¼ superfine sugar (To make superfine sugar, place about 1 cup sugar into high-speed blender. Blend on high for a few seconds. Store remaining sugar for another use.)
½ cup shelled pistachios, coarsely chopped
Mix mascarpone, sugar and vanilla together until smooth and thoroughly blended. Serve dollop alongside pears and sprinkle with chopped pistachios.
Vegan/nondairy topping
1½ cups raw cashews
½ cup water
¼ cup superfine sugar
2 teaspoons vanilla paste or vanilla extract
2 teaspoons lemon juice
¼ teaspoon kosher salt
Cover cashews with boiling water and soak for 2-3 hours. Drain cashews and place into high-speed blender along with water, sugar, vanilla, lemon juice and salt. Blend until very smooth. Refrigerate for at least an hour before serving.
Serve dollop alongside pears and sprinkle with chopped pistachios.