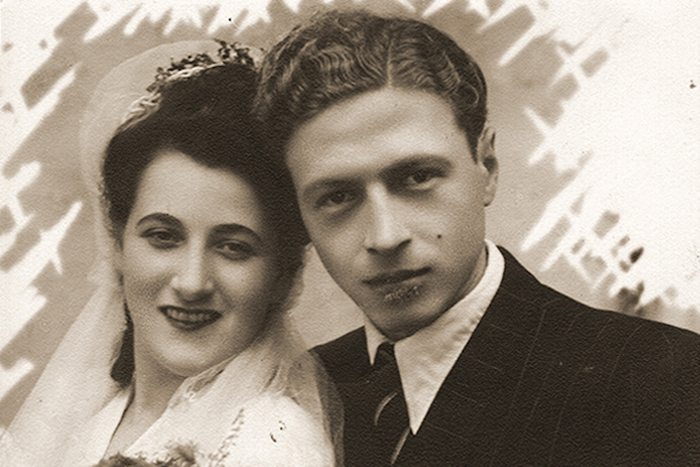 Photo: A wedding photo of Holocaust survivors married in the Weiden displaced persons camp in 1947. US Holocaust Memorial Museum, courtesy of William and Helen Luksenburg
In celebration of love and friendship on Valentine's Day this weekend, the U.S. Holocaust Memorial Museum will be presenting its forthcoming Facebook Live virtual event on exploring how love during the Holocaust gave many the will to survive and to hope for a better future, on Friday, Feb. 12, at 6:30 am.
The discussion is part of the Museum's innovative and award-winning Stay Connected series.
Join Museum historians on Facebook Live to learn how love became an act of resistance for people persecuted by the Nazi regime.
Speakers
Dr. Lindsay MacNeill, Historian, United States Holocaust Memorial Museum
Moderator
Dr. Edna Friedberg, Historian, United States Holocaust Memorial Museum
Watch live at facebook.com/holocaustmuseum. You do not need a Facebook account to view our program. After the live broadcast, the recording will be available to watch on demand on the Museum's Facebook page.
Topics that will be discussed:
A couple talked through the fence in the Gleiwitz labor camp between the men's and women's barracks and wrote letters. William Luksenberg read reports that Germany was losing the war in discarded newspaper scraps and feared he would not live through it. But he told Helen Chilewicz that they would survive and he would later marry her.
The Nazis persecuted homosexual men as enemies of the "Reich." Gad Beck and Manfred Lewin met in a Jewish youth group. They spent many nights together, before events of the Holocaust ripped them apart.

Artifact: An excerpt from Gad's booklet expressing his love for Manfred: "Night exists for more than sleep which is why, my love, we stayed awake so often."

From 1945 to 1952, more than 250,000 Jewish displaced persons lived in camps and urban centers in Germany, Austria, and Italy. After liberation, the attempt to reunite families went hand-in-hand with the creation of new ones.

Artifact: This wedding dress was made from a parachute and worn by Lilly Lax for her wedding to Ludwig Friedman in a displaced persons camp.
More info on the Facebook Live virtual event:
https://www.ushmm.org/online-calendar/event/vefbstayconlove0221