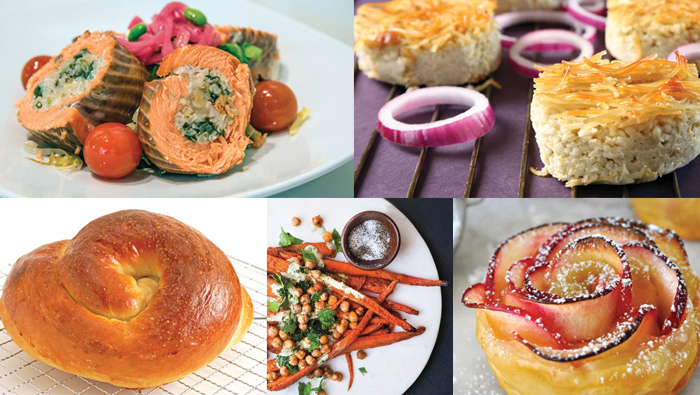 (To turn this visual feast into a culinary feast for your Rosh Hashanah table, see the recipes online at orjewishlife.com/rosh-hashanah-feast/)
BRISKET
Brisket has become standard Rosh Hashanah fare across North America. Recipes abound for this main dish staple, but we've selected a Savory Roast by Brynie Greisman that originally appeared in Mishpacha Magazine Family Table.
PHOTO courtesy of Kosher.com.
STUFFED SALMON-WALNUT ROLLS
The tradition to eat fish (originally the head of a fish) on Rosh Hashanah likely grew out of the fact that Rosh Hashanah literally means "head of the year" in Hebrew. Fish is also an ancient symbol of fertility and abundance. Prepare this dish as an appetizer or to accompany the main meal.
Recipe by Lucia Schnitzer; Photo by Matthew Strauss.
ROUND CHALLAH
While Shabbat challah is braided, on Rosh Hashanah, it becomes round or spiral, symbolizing the continuity of Creation. While years and seasons simply go round and round, we can aspire to rise ever higher spiritually, hence a spiral that rises to higher levels with each turn. An option would be to add raisins to the holiday challah, reflecting the desire for a sweet New Year.
ONION NOODLE KUGEL
Kugel is one of those traditional dishes that many people can't imagine a holiday table that doesn't include it. Instead of a more traditional sweet kugel with a fluffy texture, this one is savory with a denser consistency.
Appeared originally in Mishpacha Magazine Family Table Courtesy of Kosher.com
ROASTED CARROT AND CHICKPEA SALAD IN HARISSA-TAHINI SAUCE
The Yiddish words for "carrots" and "more" – mern and mer – are so similar that many believe carrots symbolize the desire for increased blessings in the New Year. The topping of roasted chickpeas gives this salad an unexpected and delicious crunch.
By Sina Mizrahi / gatheratable.com
Originally  published in Binah Magazine, recipe provided courtesy of Kosher.com.
APPLE ROSES
This sweet dessert uses the Rosh Hashanah staple – an apple, which symbolizes the Garden of Eden. According to Midrash, Gan Eden has the scent of an apple orchard, and it is called "the holy apple orchard" in Kabbalah. As a change from the traditional apple cake, this recipe uses apples thinly sliced and combined with puff pastry to form these delicate blooms.
Photo and recipe courtesy of cookingwithmanuela.blogspot.com.