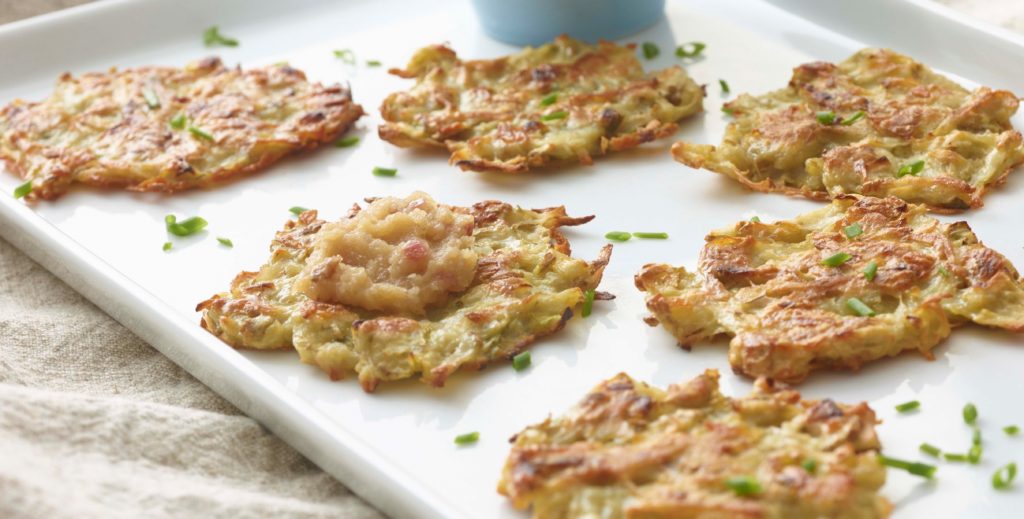 In the original Hanukkah miracle, a small amount of oil miraculously burned for eight days when the Maccabees rededicated the Temple in Jerusalem after defeating the Greek-Syrian invaders. In a modern cooking miracle, kosher chef Paula Shoyer uses a small amount of oil to fry crisp latkes in the oven.
"Oven frying uses two tablespoons of oil on a pan to bake latkes that are so crispy and not soaked in oil," says Paula. "It celebrates the miracle of a small amount of oil."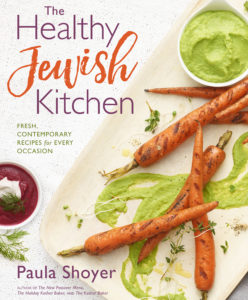 The recipe (see below) is from Paula's latest cookbook, The Healthy Jewish Kitchen.
"The whole approach to The Healthy Jewish Kitchen is to take traditional foods we love and preserve them by making them healthier and easier and more contemporary," says Paula. "I don't want someone to never eat another latke because there is too much fat."
Paula says her career as a cookbook author took off thanks to a culinary conference she attended in Portland. Brandeis University Press published Paula's first cookbook in August 2010. She brought a galley of the book to the International Association of Culinary Professionals meeting in Portland that spring.
"I was just a young, not seasoned, cookbook author with one cookbook at a small publisher," she says. "I showed my book to an agent and have done three book with that agent and publisher."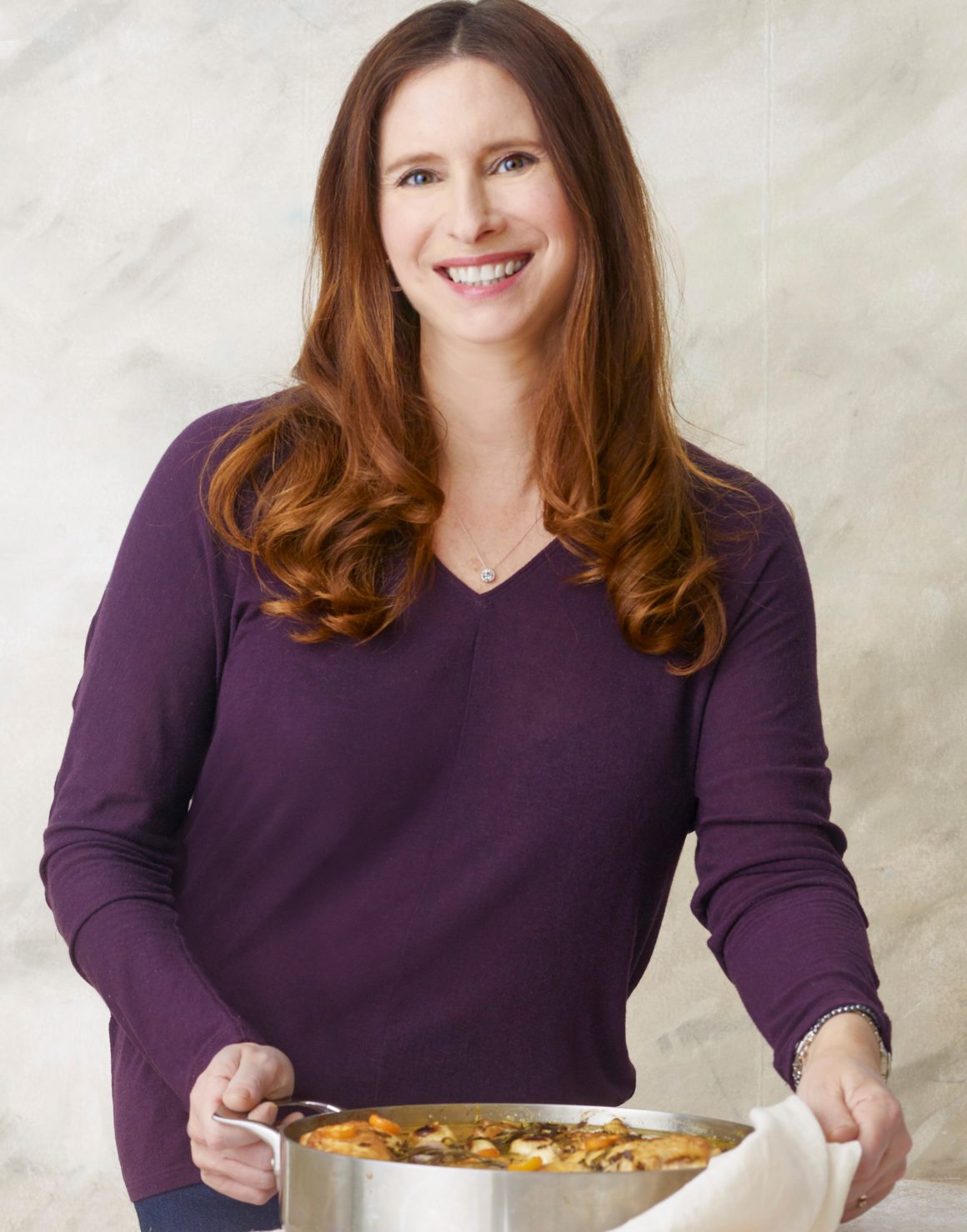 That publisher, Sterling Epicure, is known for its food and wine titles with upscale packaging and a focus on lifestyle. Paula's latest book focuses on Ashkenazi and Sephardic classics that are made with fresh, nutrient-dense ingredients.
While living in Switzerland during the 1990s, she saw the Swiss serve their version of a potato pancake, Rostis, with a wide variety of toppings, sometimes creating a meal or an open-faced sandwich. That inspired her to suggest a diversity of latke toppings far beyond the traditional applesauce and sour cream. However, the following latke recipe does include instructions for applesauce with a twist.
POTATO AND SCALLION LATKES WITH PICKLED APPLESAUCE
Parve, Gluten-free, Vegetarian, Passover • Serves 6
Everyone loves potato latkes but no one likes the mess of frying them, or the guilt associated with eating them. These latkes are baked in the oven and easily won over my kids. You do need to watch them so they do not burn; they were done at different times in different ovens. The Pickled Applesauce is basically a tangy-spicy applesauce, which we also eat with schnitzel.
PREP TIME: 10 minutes • COOK TIME: 20 to 24 minutes • ADVANCE PREP: Latkes may be made 2 days in advance and reheated in the oven or frozen; applesauce may be made 4 days in advance • EQUIPMENT: Cutting board, knife, vegetable brush, measuring cups and spoons, citrus juicer, vegetable peeler, 2 jelly roll pans, food processor, medium bowl, box grater, wooden spoon, oven mitts, slotted spatula, small saucepan with lid, immersion blender
Latkes
2 tablespoons sunflower or safflower oil, or more if needed
½ medium onion, quartered
3 scallions, ends trimmed, cut into thin slices or chopped into small pieces
3 medium potatoes (about 1½ pounds), scrubbed clean and unpeeled
2 teaspoons fresh lemon juice
2 large eggs
½ teaspoon baking powder
2 tablespoons potato starch
½ teaspoon salt
¼ teaspoon black pepper
Pickled Applesauce
1 teaspoon sunflower or safflower oil
⅓ cup red onions, chopped into ¼-inch (6-mm) pieces
2 tablespoons apple cider vinegar
2 tablespoons light brown sugar
2 apples, peeled and cut into ½-inch (12-mm) cubes
¼ teaspoon ground coriander
¼ teaspoon ground ginger
1 cinnamon stick
¼ teaspoon salt
Pinch black pepper
To make the latkes, preheat the oven to 450°F. When the oven is hot, pour 2 tablespoons of oil onto 2 jelly roll pans and turn them in every direction so that the oil coats the pans. Heat the pans in the oven for 5 minutes.
Place the onions and scallions in the bowl of a food processor and chop them into small pieces. Place them in a medium bowl. Shred the potatoes by hand on the large holes of a box grater or in a food processor with the shredding blade, and place in the bowl. Add the lemon juice, eggs, baking powder, potato starch, salt and pepper, and mix well.
Very carefully (I mean really carefully; move very slowly) remove one of the pans and use your hands or a spoon to scoop up and drop clumps of the potato mixture, a little less than ¼ cup, onto the pan. I use my hands. Press the mixture down to flatten it a little.
Place the pan in the oven for 10 to 12 minutes and immediately remove the second oiled pan. Repeat the same process with the remaining potato mixture and bake the second pan of latkes for 10 to 12 minutes. Bake them until the edges are well browned, and then with a slotted spatula turn them over and cook the latkes for another 8 to 10 minutes, or until the bottoms are browned. May be made 2 days in advance and reheated in the oven.
Meanwhile, to make the applesauce, heat the oil in a small saucepan over medium heat. Add the onions and cook them for 3 minutes, until they soften. Add the vinegar and brown sugar and cook for another 3 minutes. Add the apples, coriander, ginger, cinnamon stick, salt and pepper, and cook, covered, on low heat for 15 minutes, or until the apples are soft. Let the mixture cool for 10 minutes and then purée it, using an immersion blender or a food processor. May be made 4 days in advance and served warm or cold.
Reprinted with permission from The Healthy Jewish Kitchen by Paula Shoyer, Sterling Epicure 2017, photos by Bill Milne
Suggested Latke Toppings:
• smoked salmon, labne and microgreens
• mashed sweet potatoes and cranberry sauce
• guacamole with arugula and chopped colored tomatoes
• goat cheese, figs, honey and pomegranate seeds