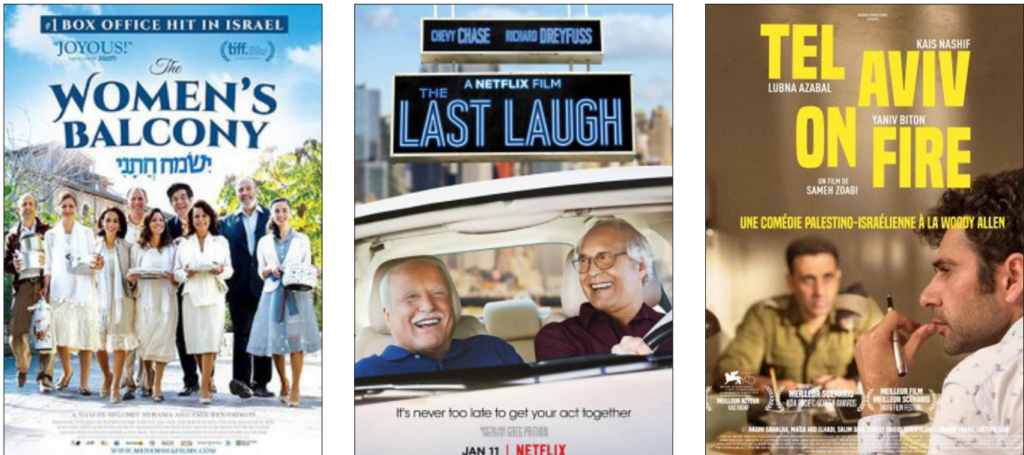 In the streaming universe, as with all entertainment, there's the stuff that everyone watches and talks about. But that's just the tip of a vast catalog, a lot of it quite good, that doesn't get the hype and the buzz. Here's an eclectic list of accessible Jewish-themed movies that received some hosannas on their initial release. The more obscure (and great) Jewish films of recent years will be on a future list which, alas, we'll have ample time to watch after catching up with these.
"The Women's Balcony" (Chai Flicks) – Menemsha Films, the savvy U.S. distributor of Jewish-themed films from around the world, offers a free 30-day trial of their streaming platform. (A subscription will then run you $5.99 a month.) There's enough first-rate stuff to carry you to Shavuot and beyond, and I suggest you begin with Israeli director Emil Ben-Shimon and screenwriter Shlomit Nehama's warm and wonderful romp set among a small Orthodox congregation dislocated by structural damage to its Jerusalem shul.
"The Last Laugh" (PBS' Independent Lens) – It's one thing, a daring thing, to explore the most taboo subject in comedy – the Holocaust – though the considered insights of Jewish comedians from Mel Brooks ("The Producers") to Sarah Silverman. It's another to integrate that seriously irreverent investigation with Renee Firestone's real, scarring Holocaust experience in a way that respects and amplifies the suffering of millions. Ferne Pearlstein's 2016 documentary is both an entertaining and deep work.
"Tel Aviv on Fire" (Amazon Prime) – Sameh Zoabi's clever comedy about a Palestinian soap-opera writer trying to navigate the demands of both his bosses and an Israeli checkpoint commander will lift your spirits without insulting your IQ. Make a batch of hummus first.
"1945" (Amazon Prime) – This extraordinary black-and-white Hungarian film parlays the postwar arrival of two exhausted Jews at a small village into an exposé of guilt, betrayal, corruption and murder. One of the most acclaimed European films of 2017, "1945" is a gripping and haunting reckoning with dark history.
"Mike Wallace Is Here" (Hulu) – One of the smartest and best documentaries of 2019 examines, entirely through archival television footage, the ambitious journalist who made "60 Minutes" essential viewing. Not a Jewish film, oddly enough, but a riveting one.
"Disobedience" (Amazon Prime) – Sebastian Lelio's taut, understated 2017 drama, adapted from Rebecca Lenkiewicz's novel, is a remarkably nonjudgmental story that follows a volatile, adrift woman's (Rachel Weisz) return to London after the death of her estranged father, an Orthodox rabbi. Community, identity, responsibility, sexuality – everything is on the table.
"Prosecuting Evil: The Extraordinary World of Ben Ferencz" (Netflix) ­– The last surviving U.S. attorney from the Nuremberg trials has an impeccable memory, a spotless moral compass and enormous gravitas. If your fortitude is at a low ebb, Ben Ferencz will give you the strength to persevere.
"A Serious Man" (Netflix) – The Coen Brothers' most personal and most Jewish film, filmed in and around their childhood stomping grounds of Minneapolis–St. Paul, is a painfully hilarious moral fable guaranteed to provoke a cross-generational dinner table conversation. One politically incorrect question that this devious 2009 movie poses: Are Jews our own worst enemies?