Spring is officially here, and that means it's time to dust off your flirty floral dresses, ruffled skirts and your sunny sandals. But most of us spend the majority of our time within the confines of an office or in a professional environment, so I figured it might be a good time for a bit of a business wardrobe update.
There are countless options for work outfits that are easy, appropriate and show off your fabulous fashion sense. Just because the dress code may be business casual, doesn't mean you have to dress business boring. I'm going to show you how you can incorporate the season's coolest trends into your everyday office outfits.
1. Flats That Mean Business
Heels have earned a reputation as the shoe women wear at the office. But, powerful women don't necessarily need to wear power heels. Every business woman knows what it's like to deal with the aches and pains of walking around an office all day in pumps or giving a presentation in a slingback heel. Lucky for all of us, there are options for fabulous flats that look polished and sophisticated, and are also versatile and comfortable for long-wear. Whether you choose black leather mules, color blocked ballet flats or slip-on loafers with pompoms; there are fashionable flat options for the working woman.
2. Belt It Out
Belts have been a staple accessory for a long time and one that's no stranger to the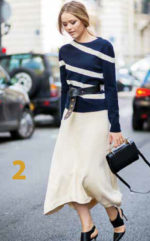 office. But this season, put a fresh spin on the way you wear your belts to work. Are you following our tip by layering your go-to blazer over a flirty floral maxi skirt? Well, this spring, try belting your blazer at the waist. You no longer have a boxy shape, but are showing off your figure. The belt works in two ways: first, it adds style as a chic accessory and second, it gives you shape.
3. The Go-To Shirtdress
Go for a feminine flair in one of the season's countless shirtdresses. These easy button down or wrap-style dresses are wonderful for work because you can quickly throw them on and wear them casually or dress them up depending on what you pair with them. Try a button-down striped style with a bold belt that accentuates your waist. Or try a wrap dress if you have a curvy figure. These are the easiest dresses to throw on for work in the morning. I promise you'll be grabbing for a shirtdress at least once a week!
4. Pants, Please
Just because spring is here, doesn't mean you have to trade in your pants for skirts and dresses altogether. Opt for a pair of head-turning pants instead. Try wide-leg, high-waisted pants in a statement-making color that instantly brightens any look. Or go for a bold stripe in a straight style that will elongate your legs for days! Pair these pants with a blouse, sweater or jacket, and you'll have a look your co-workers will be jealous of.
5. Throw A Blazer On It
A menswear-inspired blazer can take just about any outfit and dress it up as a business casual look. Take your favorite springtime floral dress or maxi skirt, or maybe a tailored jumpsuit with a belt, and layer your favorite black silk blazer over it. You've just transformed your look from weekend-wear to office-appropriate. But you don't have to settle for a black blazer only. Try mixing suit separates for a bold look. Layer a plaid jacket or maybe one with a fun detail on the lapel or a bright lining instead. Tailored outerwear is an easy way to take you from brunch to boss.
So stop worrying about what you can wear to work that is as stylish as your typical looks outside the office. You can say goodbye to your stuffy suits and patent leather pumps and use these work-wear tips to find your perfect office-appropriate outfit, whether your job is corporate or creative.